Grilled shrimp and scallops with mint make a healthy, delicious dinner when you steam them on the grill in this easy recipe for grilled seafood packets. Bonus points: almost no clean-up involved! How scrumptious is that?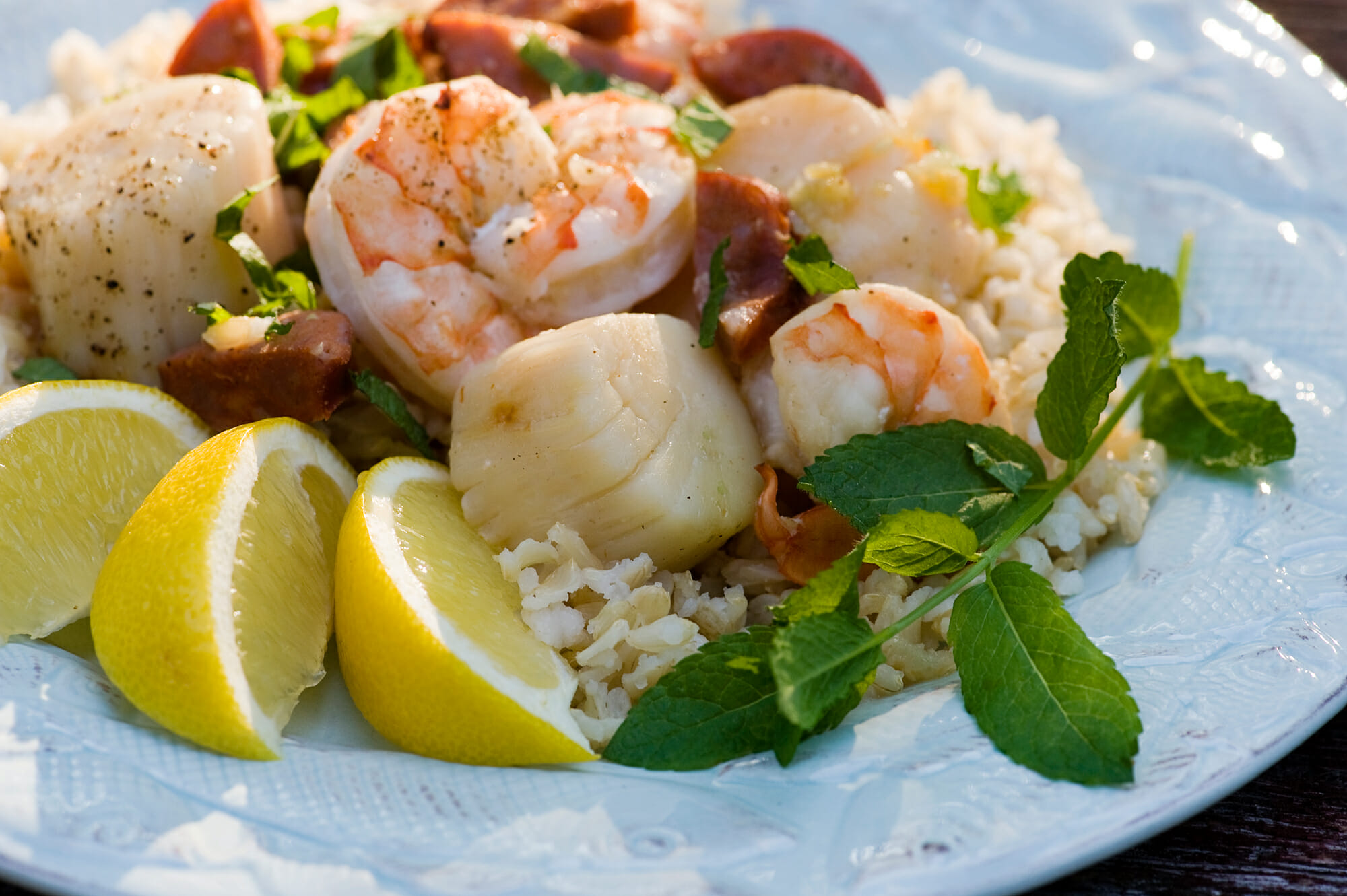 I used to be very wary of anything that combined seafood with my grill. Oh sure, I had all the stuff that's supposed to keep it from sticking to the grill like a magnet (yes, I have that grill basket shaped like a fish…somewhere…), but this particular recipe takes a different approach that makes it pretty dang foolproof.
In this case, you are not putting your beautiful seafood right on the grill. Nope, you are putting them into nice little foil packets that steam your shrimp and scallops into perfection.
here's how you make grilled seafood packets!
Get the nice, big version of both shrimp and scallops. Now grab a roll of heavy duty foil, and rip off two biq squares per person. (We're using two squares so our delicate seafood gets nicely steamed without being scorched.) Now divide your shrimp and scallops between the foil squares.
I like to add some chopped chorizo sausage for a teeny little bit of spiciness, but that part's up to you…seafood alone will work just fine. Now scatter some chopped garlic on top of your seafood pile. Squeeze on some lemon juice, grind on some fresh pepper, and then bring out your secret summer weapon.
Mint! Beautiful, fresh, aromatic mint. Take a stalk or two and rub it between your palms until it is slightly crushed. This will both release the oils in the mint and also make your hands smell glorious. Now drop the crushed mint onto one of your seafood piles, grab another couple of pieces and repeat until every packet has some mint on top.
Now comes the fun part. Gather up the edges of the packets and seal them up nice and tight. Now crank up your grill to high and when it is hot hot hot, carefully place the packets on the grill and close the lid. Eight to ten minutes later (eight if your shrimp and scallops are on the smaller side, ten if they are the biggest kind) grab your tongs and take them off.
Working really carefully, open up those packets. I like to do this with a set of tongs in each hand, just to keep a respectful distance from the steam inside. When your packets are open, you'll see that not only is your seafood steamed perfectly, there is a lovely pool of seafood juices at the bottom.
Now the only thing you have left to do is pour each one of those packets, juice and all, onto plates of hot rice or pasta (we like brown rice, ourselves). Don't be tempted to leave the juice out…it's what makes this dish so rich and wonderful! You can leave the mint stalks in there…I usually take them out just because it looks nicer, but that's up to you.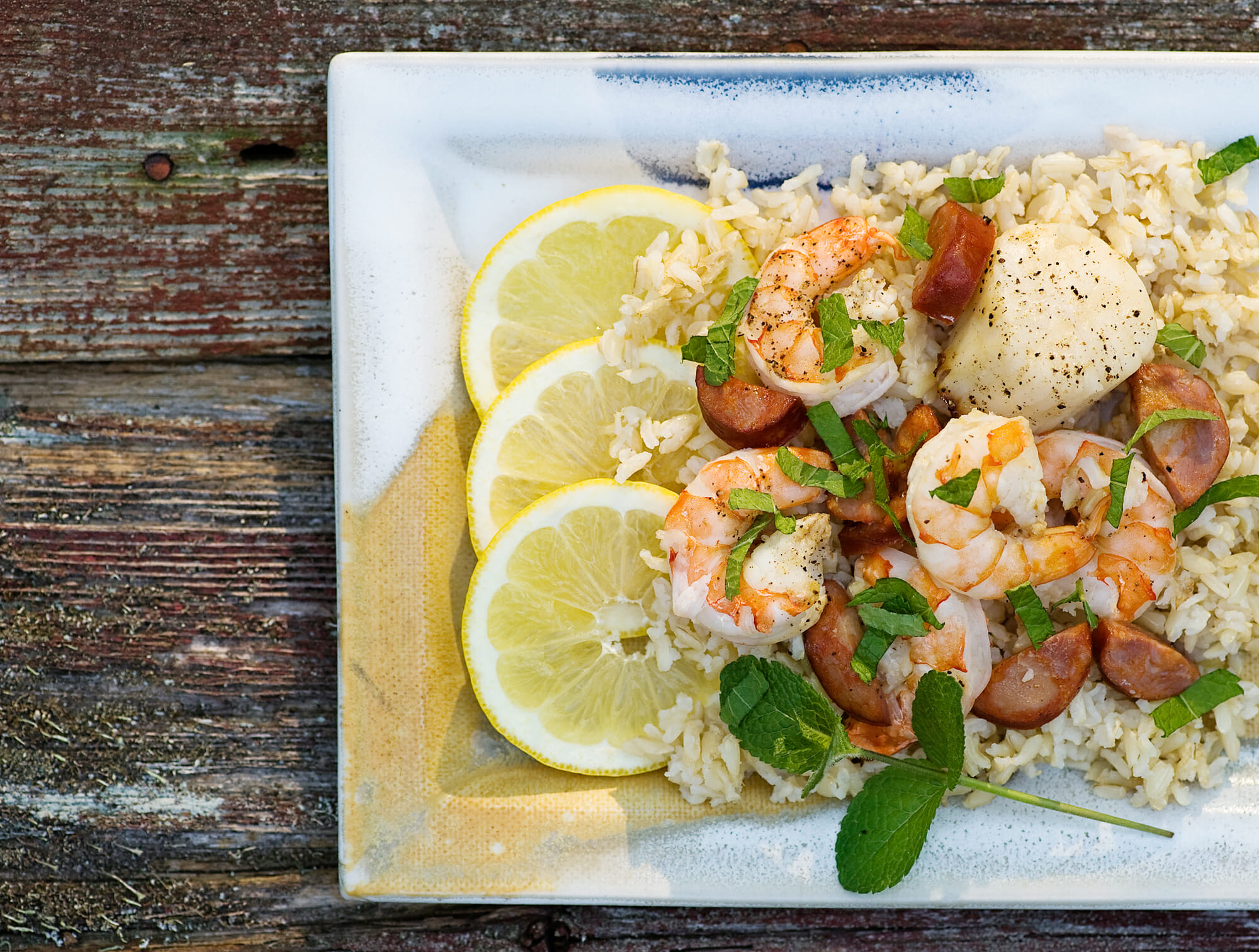 Drizzle about a tablespoon of good olive oil over each serving, scatter a little fresh chopped mint on top, give everything another grind of fresh pepper, give everyone a few lemon slices to squeeze over the top of their dinners, light some citronella candles and eat this one outside. Happy, happy supper!
Print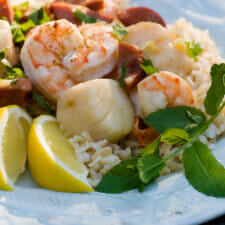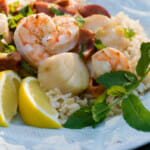 Grilled Seafood Packets
---
Author:

Prep Time:

15 minutes

Cook Time:

6 minutes

Total Time:

21 minutes

Yield:

4

servings

1

x
Category:

Dinner

Method:

Grill

Cuisine:

American
Description
Grilled shrimp and scallops with mint make a healthy, delicious dinner when you steam them on the grill in this easy recipe for grilled seafood packets. Bonus points: almost no clean-up involved! How scrumptious is that?
---
Ingredients
20

large shrimp, peeled and de-veined

16

large sea scallops

1 cup

chorizo sausage, cut into bite-sized pieces

4

cloves minced garlic
Juice from

two

lemons

8

stalks fresh mint, plus extra leaves for garnish

4 cups

freshly cooked pasta or rice

4 tablespoons

good quality olive oil
Freshly ground pepper
Lemon wedges for garnish
---
Instructions
Heat grill to high.
Take eight pieces of heavy duty foil (about one foot each) and stack them in sets of two to make a double layer of foil for each packet. Divide shrimp, scallops and sausage evenly among the four foil packets.
Top each seafood pile with equal amounts of garlic and lemon juice. Take two stalks of mint per packet, crush them gently between your palms and add to packet. Grind a little fresh pepper on top, and then bring up the edges of each packet and seal tightly.
Put the packets on the grill, close the lid and cook for 6 to 8 minutes, depending on how large your seafood is.
Remove the packets from the grill and using tongs, carefully open the packets. Don't get your fingers too close to the steam. Pour the contents of the packets, including all juices, onto plates of rice or pasta.
Drizzle each plate with a tablespoon of olive oil, scatter a little fresh chopped mint on each, grind some pepper on top and serve at once with lemon wedges on the side.