Add some bacon and blue cheese to your next batch of deviled eggs to make them positively heavenly! Bacon blue cheese deviled eggs  – three great tastes that taste great together!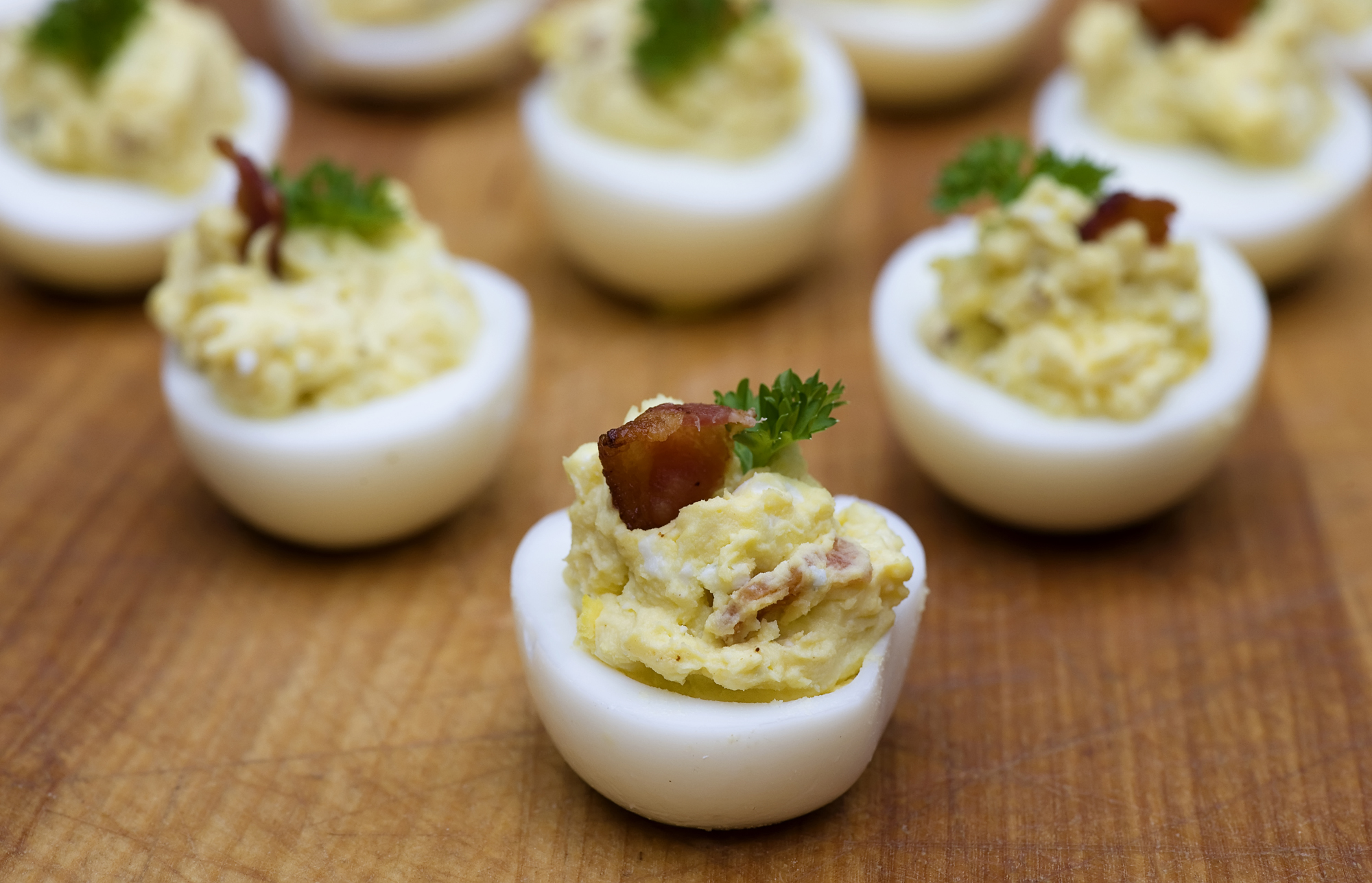 You know those days when you come home from work, and you just…can't….do…dinner?  But you don't want to have take-out, and on top of all that, you really, REALLY don't want to set the table?  Those are the days that I break out the bacon blue cheese deviled eggs.  They are easy.  They are fast.  They don't require silverware.  They DO require bacon.  And you can eat them on the sofa.  Yep, deviled eggs are your friends, and when you toss in some bacon and some blue cheese, they are your best friends…at least on a tired Thursday night. 
That was my plan the night I made these scrumptious little guys.  It had been an endless Thursday, and whatever was on the dinner menu…well, it wasn't going to be.  Whenever I get that feeling, I turn to eggs, and since I had a nice chunk of blue cheese in the fridge (and you KNOW I had bacon), I decided to calm the day down by making these deviled eggs.
Deviled eggs are pretty much as easy as it gets…you boil them up and give them a reasonable period of time to cool down (during which you can have a nice soothing glass of wine and entertain your Southern husband with the trials and tribulations of the day).  Now peel them, cut them in half and pop the yolks out by pressing oh so gently on the bottom of the un-cut side.
Mash up the yolks with the mayo, a little mustard, some bacon and crumbled blue cheese, and then spoon the yolk mixture back into the whites.  If you have the energy, put a festive little piece of parsley on top.  I did all this, and was just about to pop them on a plate and head for the sofa, when what always happens happened.
I looked at them, and they looked so, well, photogenic.  I looked at my camera.  I looked at the eggs. I looked at the sofa.  And I knew that if I didn't take their picture, I would be eating them with a little twinge of regret that I didn't share them with you guys.  How long could it take, really?
So out I went to the back yard (I do love using natural light in the summer) accompanied by my loyal photography companion.
She's always ready for her close-up.  And she is always keenly interested if I am shooting anything that involves bacon.  Anyway, I arranged the eggs on a serving board, picked up the camera and…it started to rain.  A little sprinkle.  A little more than a sprinkle.  Meantime the dog was edging closer and closer as I took shot after shot.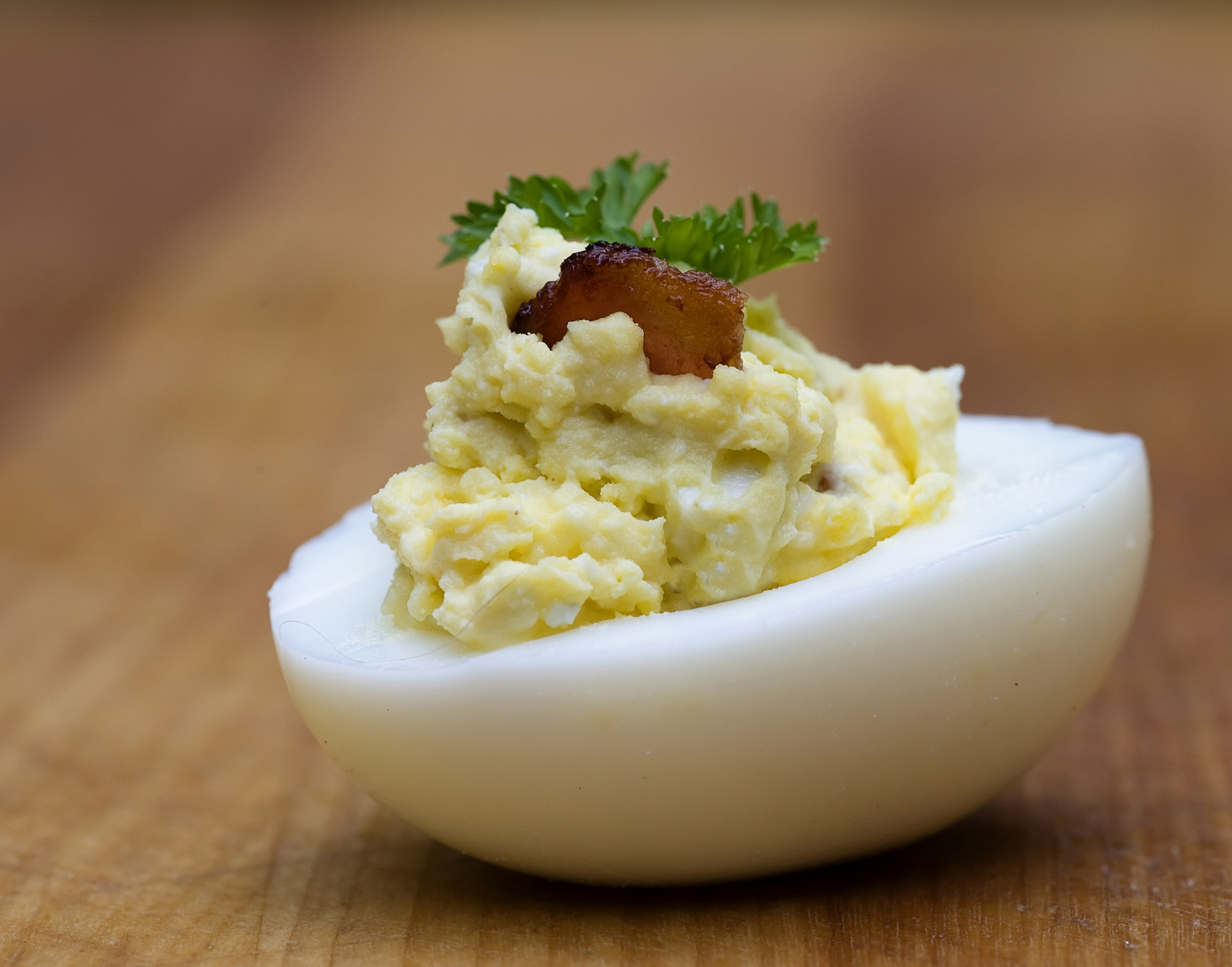 So just know that this lovely little egg was photographed in a pretty good-sized rainstorm with a damp hound dog panting heavily into my left ear.   I don't recommend this at ALL for when you make them, as it doesn't do much for that whole "make something for dinner that helps you chillax after a long day" thing…but I very much DO recommend these creamy, dreamy, bacony, cheesy deviled eggs.
Onward to Friday.
Print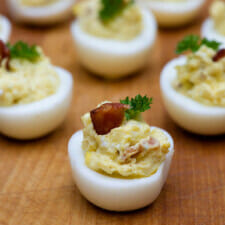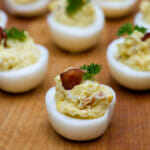 Bacon Blue Cheese Deviled Eggs
---
Author:

Prep Time:

20 minutes

Total Time:

20 minutes

Yield:

24

deviled egg halves

1

x
Category:

Appetizer

Method:

No Cook

Cuisine:

American
Description
Add some bacon and blue cheese to your next batch of deviled eggs to make them positively heavenly! Bacon blue cheese deviled eggs – the best!
---
Ingredients
12

hardboiled eggs, peeled and chilled

8

slices bacon, cooked and crumbled

6 ounces

blue cheese, crumbled

3/4 cup

mayonnaise

1/2 teaspoon

Dijon mustard
Fresh parsley for garnish
---
Instructions
Cut each egg in half lengthwise, and carefully remove yolks by pressing gently on the bottom of the egg white and popping them out.
Mash egg yolks with cheese, mayo and mustard. Save a few pieces of bacon for garnish and stir the rest into the egg yolk mixture.
Divide yolk mixture between the egg white halves. Garnish with bacon and parsley. Whatever you do, don't photograph them in the rain, but if you must, leave your hound dog inside.
Still Hungry?
Deviled Eggs with Tarragon and Shallots from Framed Cooks
Curried Deviled Eggs from Leite's Culinaria
Caesar Salad Deviled Eggs from Smitten Kitchen