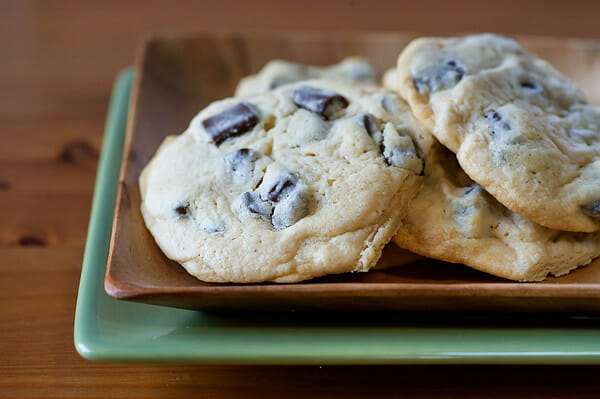 Once upon a time, in a galaxy far, far away, the Southern husband and I were just the two of us. The teenager was just a twinkle in our eyes, and we were footloose and fancy free. Not that we don't love and adore her, not that we would trade one single second of our charmed life together. Except maybe for the part that involved listening to Barney the Purple Dinosaur sing the I Love You song about 14 million times. But nothing else.
However, parenthood did put an end to our days traipsing through various and sundry bed and breakfasts, and we did spend a lot of happy weekends in a lot of those. And if you put us in separate rooms and asked us each which was our favorite, I know for a fact that we would both say the Blue Dory Inn on Block Island, Rhode Island. The Blue Dory is a little bit of heaven right in the center of the tiny town. Rocking chairs on the porch, antique furniture in the rooms, walking distance to the beautiful New England beach…and Blue Dory Cookies.
Every afternoon we would come back from wherever we had been that day and there would be a plate of these warm, wonderful cookies on the kitchen table. They are chocolate chunk cookies, but they are lighter and not as sweet, and totally addictive. Finally one day I asked the owner what the secret was, and she told me the only sweetener was maple syrup. Which you can't really taste in the cookie, but it is the perfect ingredient. And then she wrote out the recipe on a piece of the inn stationary, and I have treasured it ever since.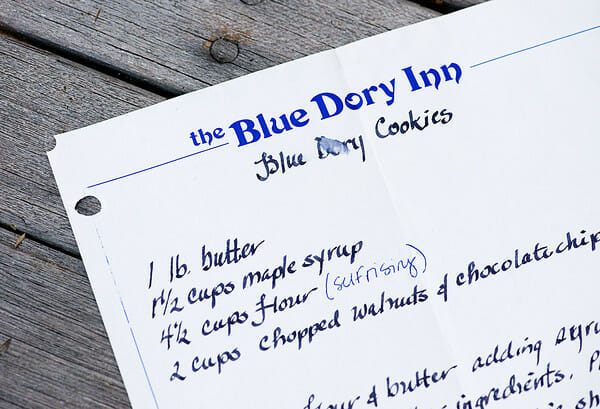 Now, I know that piece of paper says chopped walnuts, and you are perfectly free to put those in if you like — I'm sure they would be lovely. But the Blue Dory cookies we had back in the day only had chocolate chunks, and so that is the only way I have ever made 'em.
So if you are looking for the perfect, peaceful, romantic bed and breakfast getaway, the Southern husband and I highly recommend the Blue Dory. And in the meantime, make their wonderful cookies for someone you love.

Print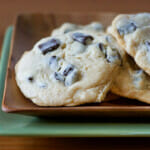 Blue Dory Cookies
---
Ingredients
1 pound butter
4 1/2 cups self-rising flour
1 1/2 cups maple syrup
2 cups chocolate chunks
---
Instructions
Cream butter in mixer until fluffy. Stir in flour at low speed.
Add maple syrup in a slow, steady stream.
Stir in chocolate chunks
Drop onto greased cookie sheets 2 inches apart and bake in preheated 350 degree oven for 15 minutes
Cool for 5 minutes on cookie sheet, then cool on wire cooling racks
Give the first one to your sweetheart with a kiss and a hug. Make vacation plans.