This recipe for bacon and egg soup comes out of my steadfast belief that bacon and eggs in any form are a beautiful thing, and soup in any form is a beautiful thing, so it stands to reason that if you put two beautiful things together, you have one perfect bowl of deliciousness.  In this case, a light and lovely soup that also has a handful of cheese and some baby spinach to make sure we get our veggies.  And to make things even more wonderful, it all comes together in about 5 minutes, making it a perfect quick lunch or supper when you or someone you love just can't wait for dinner.  Ready to bacon and egg up your soup?  Let's make it!
Turn everyone's favorite breakfast into lunch with this easy recipe for bacon and egg soup!
Click To Tweet
I like to keep the kitchen clean-up down to a minimum (not that I actually clean up the kitchen – the beloved Southern husband does that for me – but I try and make it as easy on him as possible) so I cook the chopped bacon up in the same saucepan the soup is going in.  Cook it up until it is your favorite degree of doneness and then let it drain on paper towels for the few more minutes it is going to take you to make the rest of the soup.
Pour the bacon drippings out of the pan, and pour 3 cups of chicken broth and bring it to a simmer.  Now stir in the spinach until it is nice and wilted, and then stir in the cheese.  Last but definitely not least, drizzle in 2 beaten eggs – they will start cooking right away, making that gorgeous feathery shape you see in the picture.  Stir the soup for about 30 seconds more, and then dish it into bowls, garnishing it with the bacon.
If you want things extra heavenly, serve up some buttered toast on the side, ideally from a loaf of this super-easy almost no-knead bread recipe.  Realize that if you really put your mind to it, you could probably figure out a way to have bacon and eggs for three meals a day!
Print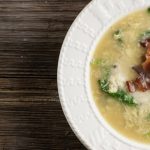 Bacon and Egg Soup
---
Author:

Yield:

4
Ingredients
6 slices bacon, chopped into 1 inch pieces
3 cups chicken broth
4 cups baby spinach
1/2 cup grated Parmesan cheese
2 eggs, beaten well
Salt and pepper
---
Instructions
Place bacon in a medium-sized saucepan and heat over medium high. Cook until bacon is done the way you like it, and remove to drain on paper towels. Carefully pour out bacon drippings and return saucepan to the stove.
Add chicken broth and heat to a simmer. Stir in spinach until wilted. Stir in cheese.
Drizzle beaten egg into the soup, stirring for about 30 seconds. The egg will form little feathery strands.
Season to taste with salt and pepper and ladle into bowls. Garnish with bacon and serve.