You know those times when you need to make a dinner that you can completely, totally rely on to come out in a perfect, elegant, delicious way without a lot of muss and fuss?  Every single time?  Without fail?  A dinner that tastes like it has all sorts of fancy exotic ingredients in it when really it doesn't?  Here Is That Dinner.
This concoction of sauteed chicken with a silky, decadent brandy mustard cream sauce was the second meal I ever cooked for the Southern husband.  (The first involved about 5 times as much pasta as any human being could reasonably be expected to eat in one sitting, because I was so worried about not having enough, and after he got over his initial shock he manfully made his way through a heroic amount of it.  And still wanted to go out with me.  That was my first indication that I might have found The Guy.)
Anyway, I've been making this recipe through dating him and marrying him and having our non-brandy-mustard-cream-sauce-loving daughter with him.  Through years of dinner parties and holidays meals and Tuesday nights when we just want a little special something…and this supper has never once let me down.  I love it with a love that knows no bounds.  And you will love it too.
It starts with a simple sauteed chicken…dunk it in some seasoned flour and cook it in butter until it is golden, and then keep it warm.  The magic is in the sauce, which you make right in the same pan.  Toss in some shallots along with a little white wine and brandy and simmer it up while you stir up all the nice little browned bits from the bottom of the pan.  Now swirl in some cream and a little salt and pepper, simmer it for about 5 minutes and voila!  Perfection.
I like to pour a little puddle of sauce on warmed plates, pop a chicken breast on, pour on a little more sauce, and scatter the whole thing with chopped shallots.  A generous amount of steamed green beans and slivered carrots sprinkled with sea salt…I promise you, this is the dinner that you will be turning to again and again.  Your dinner soul mate.  Make it for your human soul mate…often.
Print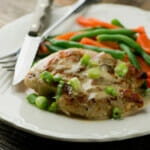 Chicken with Brandy Mustard Cream Sauce
---
Yield:

4 servings
Ingredients
4 boneless chicken breast halves, pounded to about 1/2 inch thickness
3/4 cup flour, seasoned with salt and pepper
4 tablespoons butter
1 shallot, chopped fine
3 tablespoons brandy
1/2 cup white wine
2 tablespoons grainy mustard
1 cup heavy cream
2 shallots, chopped
---
Instructions
Dip the chicken in flour until coated, and shake off the excess.
Put the butter in a large heavy skillet over medium high heat. When the butter is melted, add the chicken and cook until golden on each side, about 4-5 minutes per side. Transfer to a plate and keep warm.
Add shallot, brandy and wine to the skillet and bring to a boil, stirring to get all the cooked bits off the bottom. Simmer for 2-3 minutes – the liquid will cook down a little.
Stir in the mustard, and then the cream. Simmer for another 3 minutes. Season to taste with salt and pepper.
Spoon a little sauce on each plate, place a chicken breast on top, and spoon more sauce over the top. Garnish with chopped shallots. I like to serve this with slivered steamed carrots and green beans.