Melting moments cookies are a delightful little sugar cookie guaranteed to melt the heart of the lucky person you bake them for! Here's the easy recipe.
Valentine's Day is the Southern husband's favorite holiday.  By a country mile.  It probably has something to do with the fact that he is the most romantic guy on the face of the earth, and for him, a day that is all about love and romance and hearts and flowers plays right into how he is wired.  So when I first heard about a cookie with the name Melting Moments, I knew I had to make them for him, and I knew he would want me to share them with you in time for Valentine's Day.  Don't they sound romantic?  Romantic is his favorite.
Once I realized that a cookie named Melting Moments existed, the next step was to figure out how to make them.  I knew they were a sweet and simple sugar cookie, but that's pretty much all I knew.  And that's where once again, one of my wonderful readers came to my rescue.  Wonderful Karen was sweet enough to share her mom's recipe.  Karen's mom Eva was a fabulous Southern cook originally from Texas, and she loved trying new recipes.  Happily for me, one of those recipes was for Melting Moments, and while Karen shared this recipe with me around Christmas-time (and they would make a fabulous holiday cookie!), I've decided they are now my official Valentine's Day Cookie.
Because after 22 years of being married to this guy, he still melts my heart.  With his romantic Southern drawl, and his beat-up cowboy boots.  Because he gets up before me every single winter morning and turns on the bathroom heater so it is all toasty when I get in there.  Because he has a sixth sense about when I need a cup of tea or a glass of wine or a cookie.  Because he has never complained One Single Time about having yet another lukewarm dinner because I needed to take one more picture of it.  Because he still makes my heart beat fast and my knees go weak.  Because he makes me feel cherished and special every single day.  Because of more than I could ever tell you.  Because of all that.

Oh, and because he didn't mush any wedding cake into my face that day.  (Although that might have been his self-preservation instinct kicking in.)
So the least I can do is make the guy some Melting Moments, with extra love on the side.  And not to give him a hard time when he swipes one early.

Happy Valentine's Day everyone, and may your day be full of melting moments of all kinds!
Print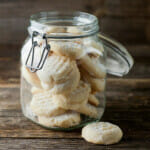 Melting Moments
---
Yield:

About 18 cookies
Ingredients
1/2 cup cornstarch
1/2 cup powdered sugar, plus extra for sprinkling
1 cup sifted flour
3/4 cup butter, softened
---
Instructions
Stir cornstarch, powdered sugar and flour together with a whisk.
Mix in butter until it forms a soft dough. Refrigerate for one hour.
Preheat oven to 300. Roll dough into small balls and place 2 inches apart on cookie sheet.
Press down slightly with a fork. Bake for 15-20 minutes until edges are lightly browned.
Cool for 5 minutes, then remove to a rack. Shake powdered sugar over the top (I like to do this by putting the sugar in a small fine mesh strainer and shake-shake-shaking over the top of the cookies!).
Immediately bring the first one to someone you love and give it to them with a kiss.