I'll explain the title of this recipe in a little bit, but the main thing that you need to know about it right from the start is that it is a light and lovely snacking cake that is filled to the brim with fresh and delicious blueberries and sprinkled with cinnamon sugar.  It's the perfect way to celebrate all those boxes of sweet-smelling, cheery blueberries that are starting to spring up all around us.  Move over, blueberry pie…the Blueberry Boy Bait is in town!
So start by getting yourself about three cups of those blueberries.  Or if you are like me, get 4 cups so that you still have enough blueberries to make this recipe after you have finished snacking on the irresistible blueberries.
The cake batter is a quick mixture of the usual suspects…flour, eggs, a little vegetable oil, sugar, baking powder…and it's going to mix up into a nice light yellow cake batter that is just the right amount of sweet…in other words, just enough to let the flavor of the berries shine on through.
Then you are going to stir in a couple cups of the berries, pour the whole thing into a baking dish, and then sprinkle it with the rest of the berries and a generous handful of cinnamon sugar.  Bake it all up until it turns into a lightly golden blueberry-laden pan of deliciousness.
As for the title –  legend has it that this recipe first appeared as one of the 1954 winners of the Pillsbury Bake-Off contest.  It was created by a teenage girl who said that whenever she wanted to attract some teenage boy admirers, all she had to do was whip up this cake.  My version uses a little more blueberries, a little less sugar, a mix of brown sugar and white sugar and swaps in canola oil for the shortening…so would it still work?  Shortly after it came out of the oven, look who appeared in my kitchen:
Southern Husband Bait, anyone?
Print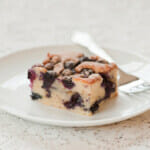 Blueberry Boy Bait
---
Ingredients
2 cups flour
1/2 cup white sugar
1/2 cup brown sugar
2 teaspoons baking powder
1/4 teaspoon salt
2/3 cup canola oil
1 cup whole milk
2 eggs, beaten
3 cups blueberries
1 tablespoon flour
1 teaspoon cinnamon mixed with 1/4 cup white sugar
---
Instructions
Preheat oven to 350. Grease a 9×13 inch baking dish.
Combine flour, sugars, baking powder and salt in a large bowl and whisk together until combined.
Add oil, milk and eggs to the flour and stir until well combined.
Gently toss two cups of the blueberries with one tablespoon of flour, then stir the blueberries into the batter and spread the batter in the prepared pan.
Sprinkle the remaining one cup of blueberries on the top of the batter, then sprinkle with the cinnamon sugar.
Bake for 45 minutes or until a toothpick inserted into the center comes out clean.
Cool in the pan, then cut into squares and serve.