This is most definitely a Thursday night recipe, and here's what I mean by that.  It's Thursday.  The weekend is so close, but so far.  You've made your way through MondayTuesdayWednesday with a fair amount of energy, but by the end of Thursday, you are, well, TIRED.  And every Thursday, the folks in your house are still expecting dinner.  Sure, you could just scramble up some eggs…or you could turn to this recipe, which is quick, delicious, super-easy comfort food and a whole new spin on eggs for supper.
And even better, it's made with things I'm almost positive you have in your kitchen right this minute, so bonus points for no extra trip to the supermarket required. Pasta (I used spaghetti but any long thin pasta will do). Eggs.  BACON.
And a little grated parmesan cheese.  Cook up the pasta the way you usually do, just make sure to salt the water really well – and I mean REALLY well – and save some of the cooking water before you drain it.  While you are cooking the pasta, cook the bacon until it is nice and crispy, and once it is done, cook your eggs up in the same pan.  You can make them sunny-side-up or over-easy, as long as the yolk is still nice and creamy, because that's going to help with your sauce.
Now toss the hot cooked pasta with the bacon, the cheese and enough of the pasta water to make a light sauce.  Taste it and then add salt and pepper to taste…if your pasta water was salty enough, it might not need any salt at all.  Divide the pasta among warmed plates, pop an egg on top of each serving and gently break the yolk so all the creamy goodness sinks into the pasta.  At this point you can take this wonderful supper to even higher heights by sprinkling some fresh toasted bread crumbs on top, which I did after I took that picture up there – but trust me, I did it and it was the extra perfect bit of crunch. Twirl a bite around your fork and taste.  Remember that tomorrow is Friday.  Be very happy.
Print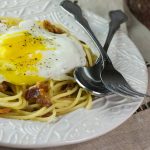 Bacon and Eggs Spaghetti
---
Yield:

4 servings
Ingredients
12 ounces spaghetti or other long pasta
8 slices bacon, cut into one inch pieces
4 eggs
1/2 cup grated parmesan cheese
Salt and freshly ground pepper
Toasted fresh bread crumbs (optional but so nice)
---
Instructions
Cook pasta in heavily salted water according to package directions. Scoop out a cup of pasta water before you drain it and set aside.
Cook bacon pieces in a large skillet until crispy. Remove from the skillet with a slotted spoon and drain on paper towels.
Cook eggs in the same skillet (yes, in the bacon drippings!) until soft set, about 4 minutes. You can cook them either sunny-side-up or over easy, so long as the yolk stays creamy. Remove from skillet and set aside.
Add bacon, cheese and pasta to skillet and add enough pasta water to make a light sauce. Toss, taste and and salt and pepper as needed.
Divide pasta among plates, top each with an egg and break the yolk so that it melts down into the pasta. Garnish with toasted bread crumbs if using (I hope you are!) and serve!
Notes
To make the bread crumbs, whirl a slice or two of fresh bread in your food processor and saute the crumbs in a small skillet with a teaspoon of olive oil and a little salt and pepper until they are golden. You can do this before you start the rest of the recipe so they will be ready at the end.