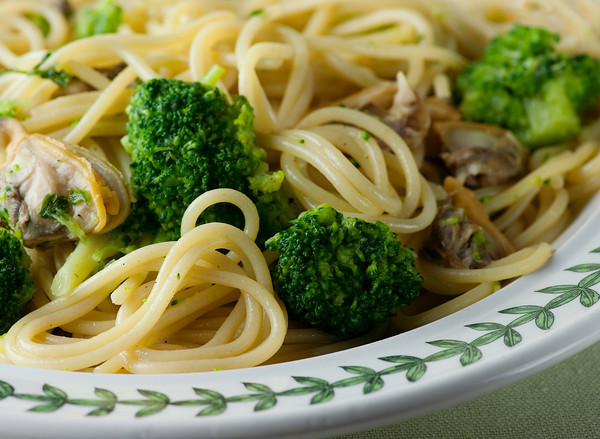 I am a big lover of that old classic, linguine with clam sauce.  The red kind, the white kind…either way, I am a happy girl.  And I do have
a recipe that I love and adore
for linguine with clam sauce, but that doesn't mean I don't keep an eagle eye out for variations on the theme.  So when I ran across this recipe, I hopped right on it.  It called for using fresh clams instead of the canned chopped kind, and so I had visions of the beautiful picture I was going to take with the pretty clam shells all nestled in the pasta.
Then I read the recipe, and realized that it called for steaming the clams open and taking the clam meat out of the shell before adding them to the pasta.  Which meant two things.
I had to take a picture of the clams before they were de-clammed, because they were so photogenic.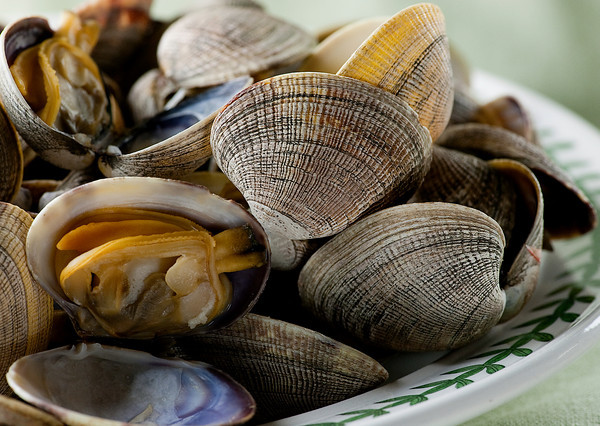 2. I had to tell the Southern husband that he won the lucky job of taking all the clam meat out of all the clams.  (Which he did with his usual happy attitude towards life, and which took him about 3 minutes, before you start feeling all sorry for him.)
After that it was smooth sailing.  The broccoli and pasta cooks up in the same pot.  Meantime you make a quick sauce of olive oil sauteed with lots of fresh garlic.  Toss the whole thing together – the pasta and broccoli, the clam meat, the olive oil sauce and a little reserved clam juice, parsley and red pepper and you are done!  The Southern husband went on and on about how delicious this one was, and I assured him it was primarily because of how the clams were removed from the clam shells.  Hey, it's important to keep the kitchen help happy and motivated, right?
So, shake up your pasta with clam sauce!
Spaghetti with Clams and Brocolli
Ingredients
¾ cup water
3 pounds littleneck clams
3 cups broccoli flowers
1 pound spaghetti
4 tablespoons olive oil, plus extra for drizzling
6 cloves garlic, sliced thinly
½ teaspoon red pepper
¼ cup chopped fresh parsley
Instructions
Bring water to a boil in a large pot or deep skillet. Add clams, cover and cook until clams are open, about 3-4 minutes. Discard any unopened clams, and remove the meat from the shells. Keep the cooking liquid from the pot.
Bring a large pot of water to a boil and salt it with about 2 tablespoons of coarse salt. Add the broccoli and cook until crisp-tender, about 2 minutes. Scoop out the broccoli with a slotted spoon and set aside in a bowl, keeping the water at a boil.
Add pasta to the water and cook according to package directions. Drain.
While pasta is cooking, heat oil in a large skillet and add garlic. Stir for one minute. Add broccoli and stir for 2 minutes more. Stir in reserved clam liquid and simmer for two more minutes.
Add pasta to skillet and toss until coated. Stir in parsley, red pepper and the clams.
Divide among plates, drizzle with a little more olive oil and serve.
Recipe adapted from My Recipes