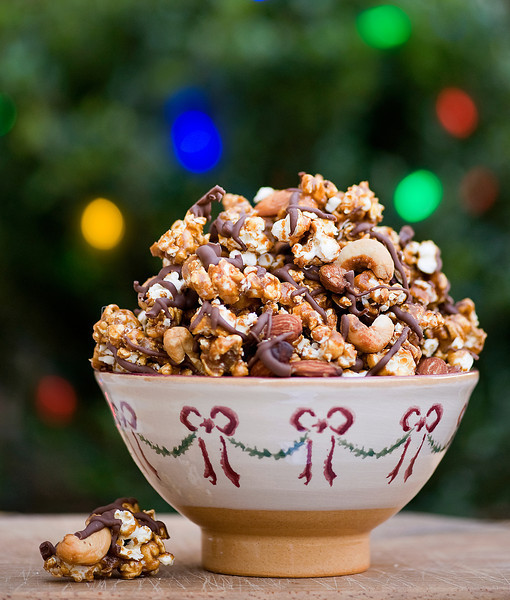 Okay, so if you are still looking around for one more holiday treat to make, this might be it.  The title of this recipe is Reindeer Crunch, and when I mentioned that I would be making it, one of my vigilant Facebook readers asked if I would be using real reindeer.
Nope.  No reindeer were harmed in the making of this recipe.  No deer of ANY kind were involved in the making of this recipe, even though I have flocks of them living in my yard.  (Flocks?  Herds?  Gaggles?  Whatever the right phrase is for lots and lots of deer…that's what I've got.  It's gotten so that they will now pose for the camera.)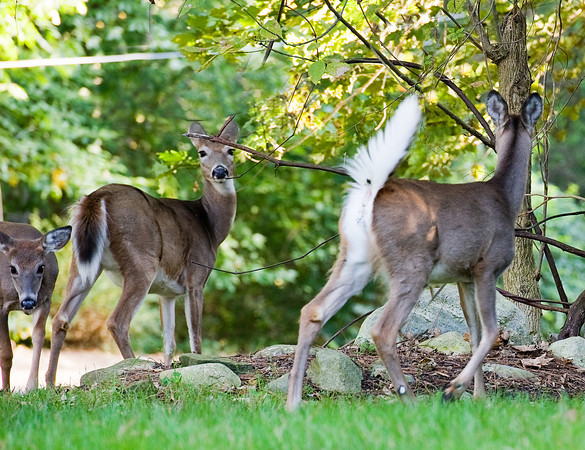 Anyway, I'm guessing reindeer might like to actually crunch some of this stuff, because it is made with popcorn and mixed nuts that have been coated in a brown sugar glaze, baked, and then drizzled with melted chocolate.
I now have to go on a brief rant about melting chocolate.  I seem to be completely incapable of melting chocolate without having it seize up (which means, having it melt and then instantaneously transform into a totally unusable clod of solid, grainy chocolate mess).  I've tried everything…the microwave at the defrost setting, melting it carefully over a double boiler…for some reason, it just won't work for me.  So thank goodness for candy melts, which are somehow made in a way that is especially designed for melting.  You can get them in bags of all different colors at Michael's craft stores, or you can find them by clicking here.  I always keep a bag of them on hand just for moments like this when I NEED to make things like reindeer crunch.  But if you are good at melting chocolate, go ahead and use regular chocolate chips, and please tell me your secret.
Anyway, that's my Reindeer Crunch tale…be careful with this stuff.  It's impossible to take just one bite!
Reindeer Crunch!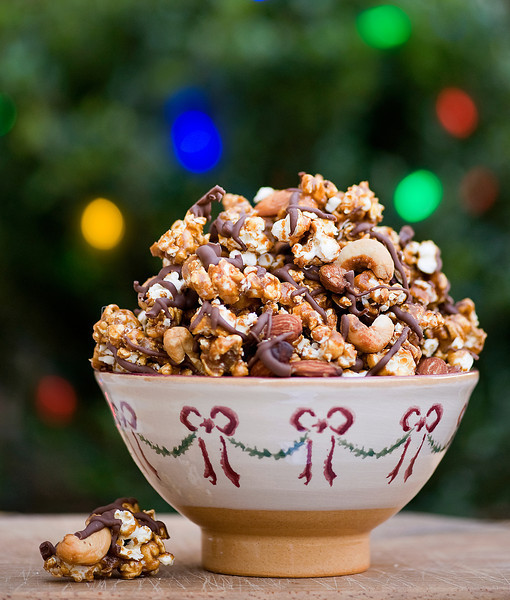 Ingredients
12 cups plain popped popcorn
1 1/2 cups salted mixed nuts
1/2 cup butter
2 cups packed brown sugar
1/4 cup light corn syrup
1/4 teaspoon salt
1 teaspoon vanilla extract
12 ounces chocolate chips or chocolate candy melts
Directions
1. Preheat over to 250.
2. Combine popcorn and nuts in large bowl
3. Melt butter in medium heavy saucepan. Stir in brown sugar, corn syrup and salt and bring to a boil over medium heat, stirring constantly. Boil for 5 minutes, stirring now and then. Stir in vanilla.
4. Working quickly and carefully (sugar mixture is super-hot!), pour sugar mixture over popcorn and nuts. Stir with a wooden spoon until coated.
5. Spread mixture in a single layer on two lightly greased two baking pans. Bake at 250 for 30 minutes, stirring once.
6. Cool in pans on wire racks for 15 minutes and break into chunks.
7. Melt chocolate in a double boiler or in the microwave (if you use the microwave, melt on 50% power for 30 second increments, stirring after each 30 seconds until melted). Drizzle melted chocolate over popcorn.
8. Cool until chocolate hardens (this goes faster in the fridge.) Store in airtight container
.

Recipe from CHRISTMAS WITH SOUTHERN LIVING 2011