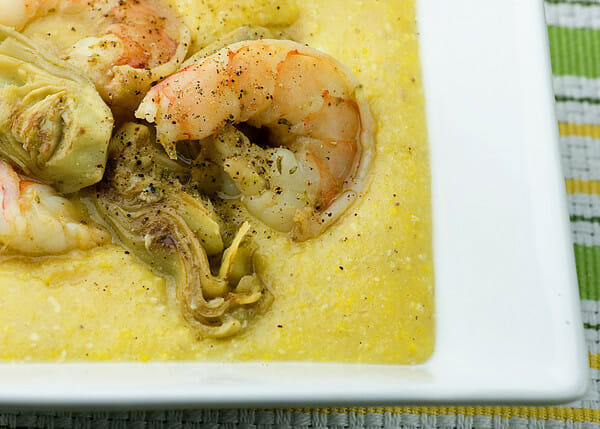 Shrimp and grits, I love you way more than a Northern girl should. Maybe it is the Southern husband's influence, but I have never met a shrimp and grits recipe I didn't like, and this one is no exception. The shrimp and artichokes are cooked in a delectable lemon garlic butter sauce, and then you spoon the whole thing over some grits that have been kicked up with a little butter and parmesan cheese.
The fact that I made this recipe did not, however, stop me from making another shrimp and grits recipe with andouille sausage and roasted tomatoes several days later. I can't help myself. Stay tuned to this channel for that one, but in the meantime….

Shrimp and Grits with Artichoke Hearts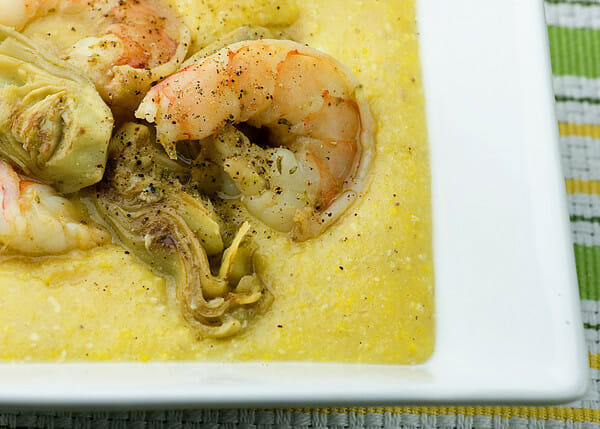 Ingredients
1 tablespoon olive oil
1 package artichoke hearts, thawed
1/2 cup chicken broth
8 ounces large shrimp, peeled
2 garlic cloves minced
1 1/2 teaspoons lemon juice
1/4 teaspoon salt
1/4 teaspoon black pepper
1/2 stick butter
2 cups cooked grits
1/3 cup freshly grated Parmesan cheese
Directions
1. Heat oil in a large non stick skillet over medium high heat. Add artichokes and saute 5 minutes. Add chicken broth, shrimp and garlic and saute 6 minutes. Add lemon juice, 1/8 stick butter, salt and pepper. Remove from heat, cover and keep warm.
2. Cook grits according to package directions and reduce heat to low. Cook 7 minutes or until thick Stir in cheese and remaining butter and stir until melted.
3. Ladle grits onto plates and top with shrimp and artichokes. Grind fresh pepper over all.