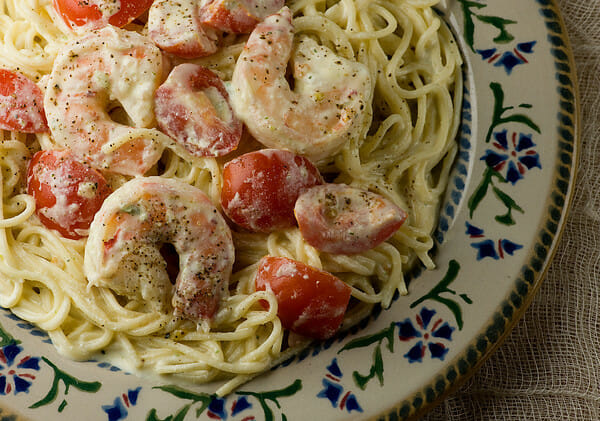 This recipe is so quick and so easy and SO delicious, and it's all about one of my favorite appliances. The food processor. Yep, as long as you can boil water and push the on button, you are all set with this one, and that's my kind of dinner on a weeknight.
First the water-boiling part. Fill up a good sized pot with water and put it on to boil. While you are waiting for it to boil, cut up some tomatoes and toss them in a bowl. Any kind of tomato will do. I had some nice cherry tomatoes when I made this.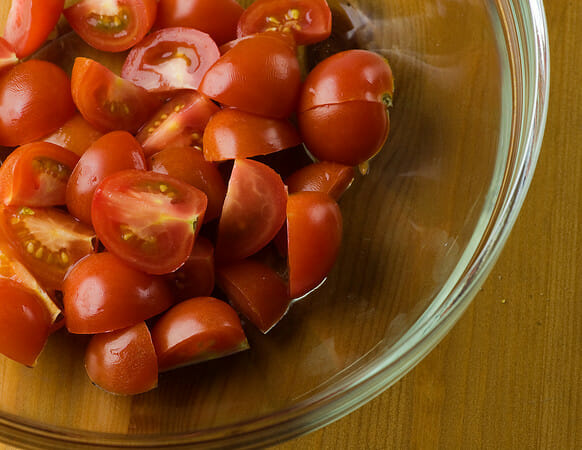 Ok, now comes the fun part. Toss the following into your food processor: scallions, fresh thyme, feta cheese, cottage cheese. Press the button until it is all nice and creamy, and then taste it to see if it needs any salt and pepper. Then scoop it into the bowl with the tomatoes.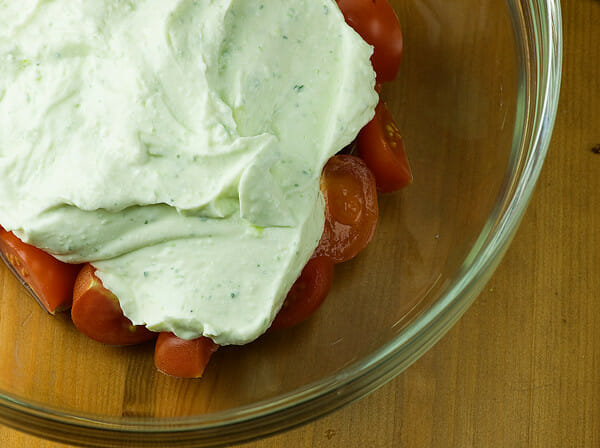 Your water should be boiling by now. Drop your shrimp in and cook them for about 2 minutes, just until they are nice and pink. Without turning the water off, scoop them out with a slotted spoon, drop them into the bowl with the sauce and give it all a stir.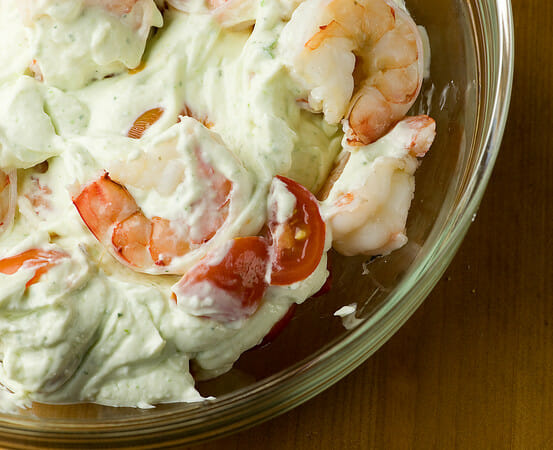 Drop some of this into the still-boiling water….
And when it is done, drain it, toss it with the sauce, and dinner is served. Grind a little fresh pepper on top, and nobody will ever know that this involved exactly one mixing bowl and a pot of boiling water. And your trusty food processor, of course!

Pasta with Shrimp and Feta Cheese Sauce
Pasta with Shrimp and Feta Cheese Sauce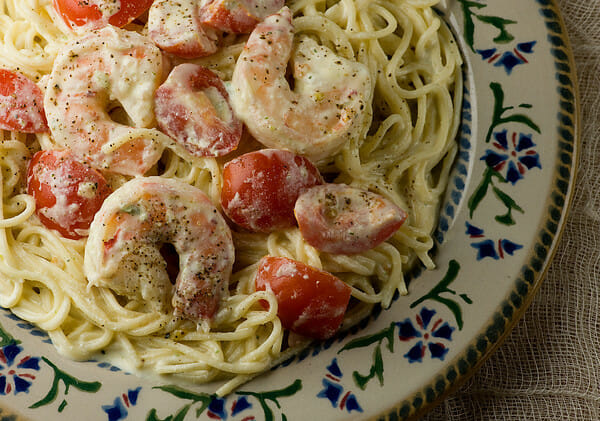 Ingredients
4 scallions
1 tablespoon fresh thyme or 1 teaspoon dried
6 ounces feta cheese
9 ounces cottage cheese
12 ounces raw shrimp, shelled
12 ounces tomatoes, chopped
Salt and pepper to taste
9 ounces spaghetti
Directions
1. Boil water for pasta.
2. Chop scallions and thyme together in food processor.
3. Add feta and cottage cheese to processor and blend until creamy.
4. When pasta water boils, add shrimp, cook for 2 minutes or until done, and remove from water with slotted spoon, keeping water at a boil. Add shrimp to cheese sauce.
5. Cook pasta until al dente. Drain and add pasta to sauce, toss thoroughly and serve.