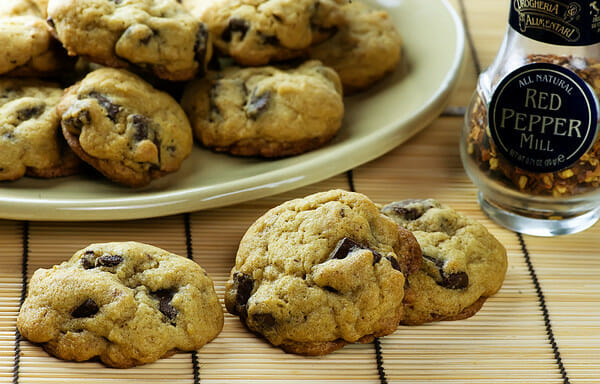 I do love all my food blog friends, and one of my newest ones is Tiffany over at the National Cookie Network. Tiffany is doing the world a great service by finding, testing and posting about rocking great cookie recipes she finds. She posts almost every day (and one day I need to ask her what she does with all those cookies, because I am pretty sure she tests every recipe to make sure it is wonderful before she posts it. I picture her kitchen as one giant cookie paradise.)
I got to know her when she asked if she could post my Pumpkin Bars post on her site, and I have been sending cookie recipes her way ever since…and finding a lot of great ones while visiting her site. Which is how I came across these Mexican Chocolate Chip Cookies.
I was pretty sure I had tried every variation on chocolate chip cookie there way to try, so I was delighted to find this new version. In addition to all the good standard chocolate chip cookie stuff that goes into these, you also put in cinnamon and (get ready)…a small spoonful of red pepper.
Before you get all skeptical on me, just hear me out. For those of you who like chai tea, it's kinda the same concept. There is just enough pepper in these to leave you with a slightly spicy sensation in your mouth that you LOVE but just…can't…quite put your finger on. If you didn't know in advance about the pepper you would never guess that was what it was, you would just think you were not eating your garden-variety chocolate-chipper, but something with a fun little kick to it. I love 'em. So all you adventurous cookie-bakers out there, give these a try!
MEXICAN CHOCOLATE CHIP COOKIES, from Epicurious via Montcartvia the National Cookie Network.
Print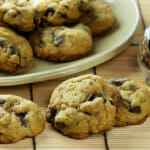 Mexican Chocolate Chip Cookies
---
Ingredients
1 cup (2 sticks) unsalted butter, room temperature
1 cup (packed) golden brown sugar
2 large eggs
1 teaspoon vanilla extract
2 cups all purpose flour
1 teaspoon baking powder
1 teaspoon baking soda
1 teaspoon ground cinnamon
1/4 teaspoon salt
1/4 teaspoon red pepper
1 12-ounce package semisweet chocolate chunks
---
Instructions
Using electric mixer, beat butter and sugar in large bowl until fluffy. Beat in eggs 1 at a time, then vanilla.
Sift next 6 ingredients over butter mixture; beat just until blended. Mix in chocolate chips. Refrigerate dough until cold, at least 1 hour and up to 1 day.
Preheat oven to 350°F. Lightly butter 2 large baking sheets. Drop dough by rounded tablespoonfuls onto sheets, spacing 1 1/2 inches apart.
Bake cookies until golden brown but still soft to touch, about 10 minutes (for crisper cookies, bake 12 minutes). Let stand on sheets 3 minutes. Transfer cookies to racks and cool.