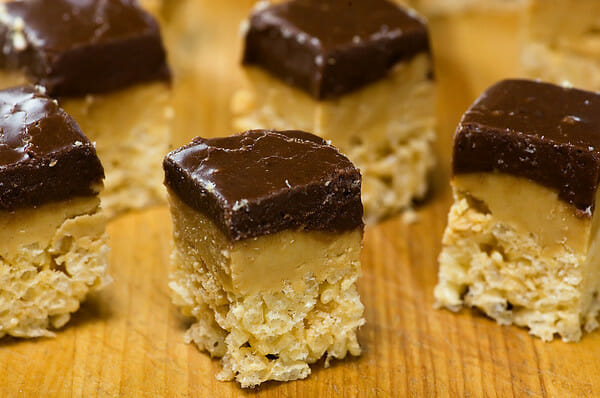 Yes, these ARE what you think they are. Rice Krispy Treats, topped with a layer of peanut butter fudge, topped with a layer of chocolate fudge. Oh, baby. It's practically too much to wrap your mind around, right??
This recipe comes via one of my favorite websites for sinfully sweet stuff, Joy The Baker, and she credits them back to a combination of the classic Rice Krispy Treat plus a peanut butter fudge recipe from Alton Brown, plus a standard recipe for chocolate fudge. As you can see, it takes a village to make something so incredibly, decadently good. They are really, really easy to make — the hardest part, quite honestly, is waiting in between stages for the various layers to cool.
When you make these (because let's be honest, you KNOW you are going to make these), here are a few pieces of advice. Cut them into SMALL pieces. I cut mine into one inch squares. Eating a piece bigger than one inch could make all your teeth fall out at once. Second, I store mine in the fridge. There is definitely enough sugar in these to keep them perfectly fine stored on the kitchen counter, but I liked the harder consistency of the cold fudge. That's just me, though. Fudge consistency is a very personal decision, and I leave that up to you.
I think that is all I have to say about these, except that you have to make them as soon as humanly possible. You only go around once.
Peanut Butter Fudge Treats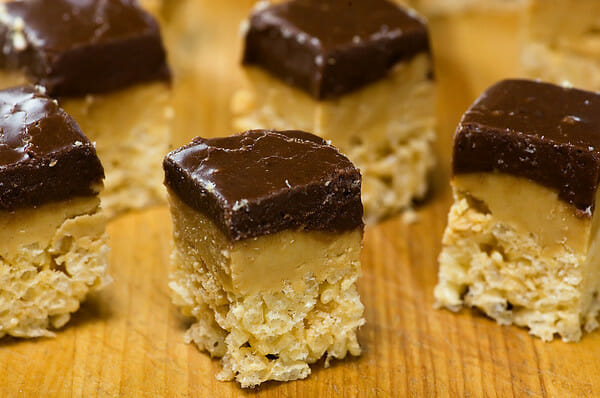 Ingredients
Rice Krispy Treats
3 tablespoons butter or margarine
4 cups miniature marshmallows
6 cups Rice Krispy Cereal (or any puffed rice cereal)
Peanut Butter Fudge (recipe from Alton Brown)
1 cup butter
1 cup smooth peanut butter
1 teaspoon vanilla
1 pound confectioners (powdered) sugar
Chocolate Fudge
2 Tbsp butter
2/3 cup evaporated milk
1 2/3 cups sugar
1/2 tsp salt
2 cups miniature marshmallows
1 1/2 cups semisweet chocolate chips
1 tsp vanilla
Directions
Rice Krispy Treats
1. In large saucepan melt butter over low heat. Add marshmallows and stir until completely melted. Remove from heat.
2. Add Rice Krispies cereal. Stir until well coated.
3. Using buttered spatula or wax paper evenly press mixture into 13 x 9 x 2-inch pan coated with cooking spray.
4. Cool. Make Peanut Butter Fudge.
Peanut butter Fudge
1. Microwave butter and peanut butter for 2 minutes on high.
2. Stir and microwave on high for 2 more minutes. Add vanilla and powdered sugar to peanut butter mixture and stir to combine with a wooden spoon.
3. Pour over the Rice Krispy treats in the pan and spread evenly.
4. Let cool in the fridge while you make the Chocolate Fudge.
Chocolate Fudge
1. Combine butter, milk, sugar, and salt in a saucepan over medium heat. Bring to a boil; cook 4 to 5 minutes, stirring constantly. Remove from heat.
2. Stir in marshmallows, chocolate, and vanilla,. Beat for about 1 minute, or until marshmallows melt and mixture is thoroughly combined.
3. Pour over peanut butter fudge, spread evenly and place in the fridge to harden and cool.
4. Cut into 1-inch pieces or smaller.
Recipe adapted from Joy The Baker