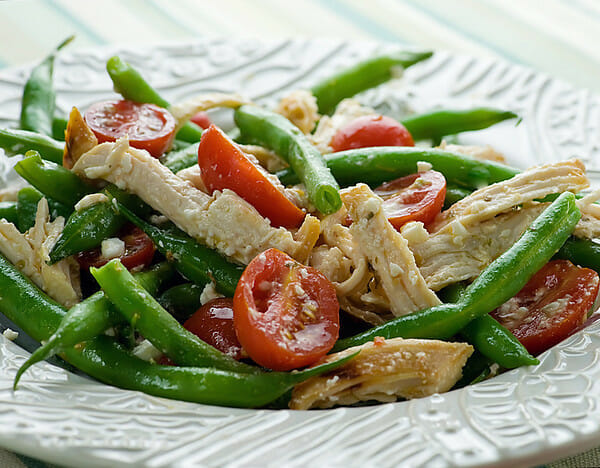 How many of you out there own the SILVER PALATE COOKBOOK? How many of you have a version that is splattered and dog-eared and slightly falling apart because you have used it so much? If you have this book and it doesn't look like it has been through the wars, well then, you are missing out, because this book (along with its brethren, the SILVER PALATE GOOD TIMES COOKBOOK and SILVER PALATE NEW BASICS) are packed with some of the best, most creative recipes you will find anywhere. There is a reason this book has sold millions of copies — it is a dang good cookbook. A classic. I was so sad to hear that one of the authors (and founders of the original Silver Palate store in New York City) just passed away. Sheila Lukins was not only one of the geniuses behind the Silver Palate, but also took over from Julia Child as the food columnist for Parade Magazine. She knew her food, and luckily for all of us, she shared it.
This recipe is a slightly modified version of her delightful Mediterranean Chicken Salad — modified only in that she gives fool-proof directions for poaching a chicken breast to use in the recipe and I used a grilled chicken breast, and I also added a little feta cheese…o I am giving you my version, with a deep bow and heartfelt thanks to Sheila Lukins. If you don't yet have her cookbooks, run, don't walk, to the nearest bookstore. If you do, go get it off your shelf and browse through those classic pages. It's one in a million.

Mediterranean Chicken Salad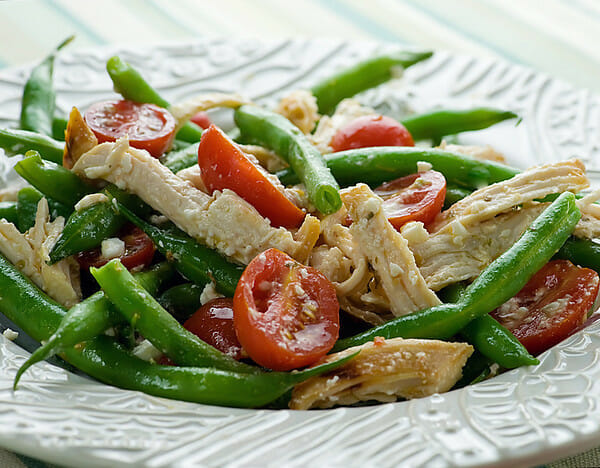 Ingredients
4 chicken breasts, grilled and torn into bite sized pieces
1/4 cup really good olive oil
1 1/2 teaspoons oregano
Juice of one lemon
2 tablespoons drained capers
20 cherry tomatoes, halved
1/2 pound cooked green beans
1/2 cup crumbled feta cheese
Salt and freshly ground pepper
Directions
1. Combine chicken in large bowl with oil and oregano. Cover and marinate for one hour.
2. Add remaining ingredients, toss and season to taste with salt and pepper