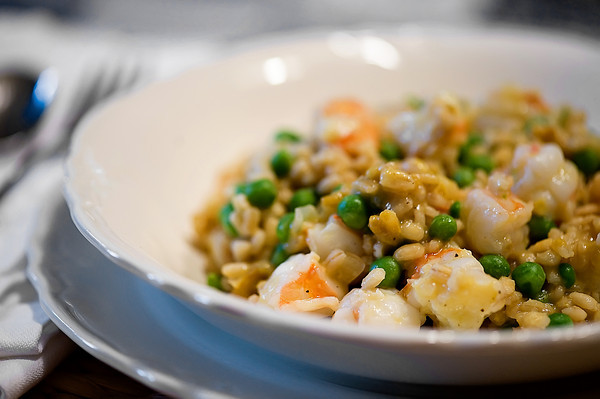 I am very into healthy grains lately. Brown rice, quinoa — my husband brought home a bag of something called farro the other day. (Farro? I think he liked the bag). Whatever — it tasted great. But probably my all time favorite healthy grain is barley. I make a beef barley soup in the slow cooker that I swear I could eat for breakfast, lunch and dinner. The rest of the family may disagree. Well, maybe not the dog, but she did eat a piece of the driveway once, so she is not the most discriminating. (This is a true story for another time). Anyway, barley-lover that I am, I was delighted to find this easy risotto recipe that calls for barley in place of the usual arborio rice. The recipe calls for using small peeled shrimp, so I have faithfully listed that below, but in my version I used large shrimp cut up into half inch pieces and it worked just fine. And by the way, the all-time BEST place to buy shrimp? Costco. I have never had better shrimp than theirs. And their chocolate chip cookies are also to die for, and an excellent antidote to all those healthy grains I love. And so without further ado…
Shrimp Barley Risotto with Peas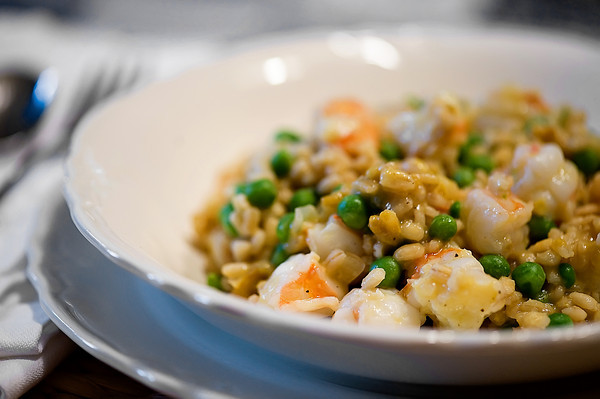 Ingredients
1 cup pearl barley
6 cups chicken stock
2 tablespoons olive oil
1 cup chopped onion
1/2 cup white wine
12 ounces small shrimp
2 1/2 cups thawed peas
1 tablespoon grated lemon zest
2 tablespoons fresh lemon juice
1/4 cup freshly grated Parmesan cheese
1 teasoon coarse salt
Freshly ground pepper
Directions
1. Heat oil in medium saucepan over medium heat. Add onion, cook 6 minutes or until soft. Stir in barley. Add wine and cook, stirring, until liquid has evaporated.
2. Add 1/2 cup stock and cook until liquid is absorbed, stirring occasionally. Continue adding stock 1/2 cup at a time, waiting until liquid is absorbed before adding more, until barley is tender but still slightly firm, 35-40 minutes. Reserve 1/4 cup stock to stir in at the end.
3. About 3 minutes before barley is done, stir in shrimp and peas. Cook until shrimp are opaque throughout. Remove from heat and stir in remaining stock, lemon zest, lemon juice, cheese and salt. Season with pepper and serve.
Serves 6
One last note: the dishes in the pictures were my grandmother's, the amazing Aileen Pelletier Winkopp. I only have 4 of them, and they are so precious to me. She would have loved this whole Internet era, and I can only imagine what she would be blogging about. SOMETHING, that's for sure.