This delectable recipe for spatchcock chicken and potatoes is incredibly rich with garlic and rosemary flavor. The perfect Sunday supper!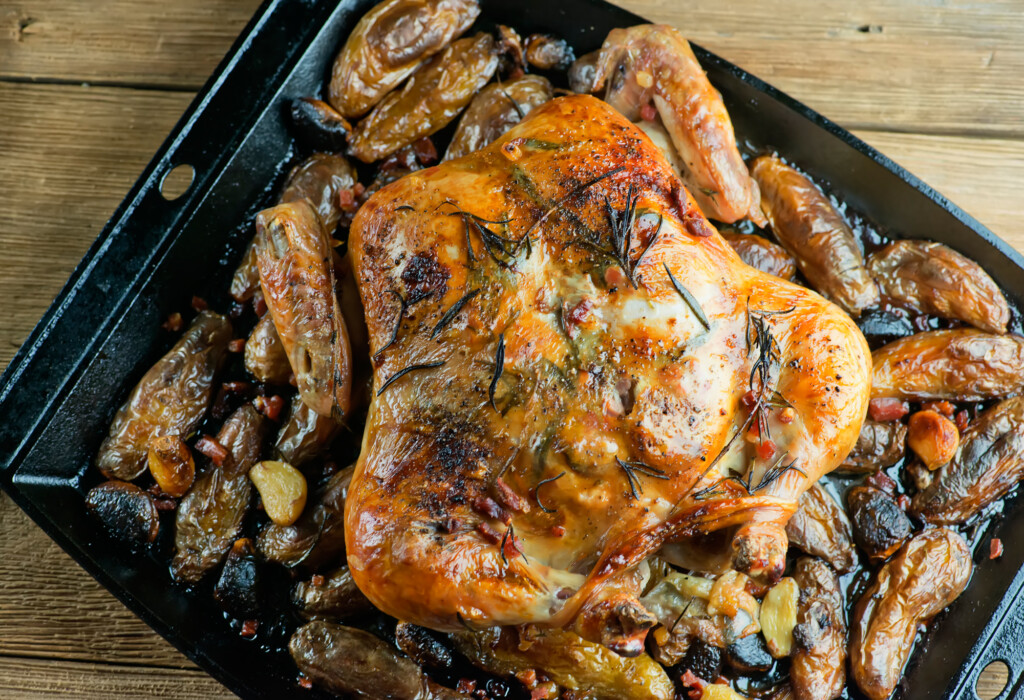 I wish I could claim credit for this incredibly flavorful chicken recipe, but I owe this one to my little sis, who came up with this recipe that was inspired by a chicken dish she loved at a restaurant she loves, Nick and Toni's.
The backstory on this goes like this, in the words of my little sis…
Nick & Toni's, of East Hampton's fame, had a beloved and also frequently star studded outpost on 67th/Columbus/Broadway that had a wood fired stove just off the bar. Weekdays, it was flatbreads only.
On the weekends, they'd do this chicken in it, and it was an even-if-you-don't-order-chicken-out must have. They lost their lease Jan 2017 after an unmanageable rent hike.
After processing the heartache of losing a favorite go-to spot, I set out to recreate the chicken dish. The biggest- and only real- difference in my opinion, is they French deboned theirs, leaving only the drum stick, and it was served as a half chicken.
The only thing missing is enjoying it at the bar at N&T's.
Once she figured out her own version of this beloved chicken dinner she immediately made it an absolute requirement that we make it as soon as humanly possible for our next family get-together. IT WAS URGENT.
And once I tasted the wonderment that is spatchcock chicken and potatoes, I completely understand, and here's why.
The chicken (and I promise I will explain the whole spatchcock part in a sec) cooks in the oven on a bed of garlic and pancetta and rosemary, and the potatoes cook in the same oven on their own tray full of more garlic and pancetta.
And when both are almost done, you put the chicken on the pan with the potatoes and pour the flavorful pan juices over everything and then run it under the broiler. The pan juices will soak into the potatoes and everything will get crispy and OH MY MY.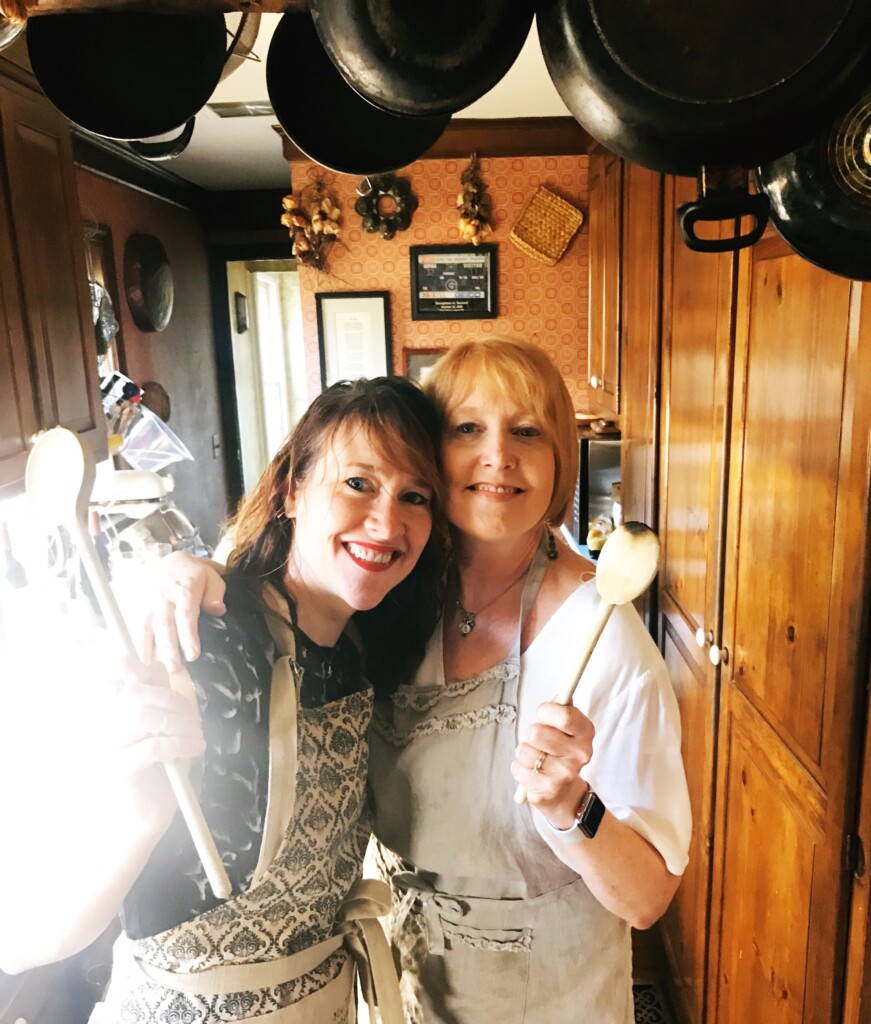 I do love it when my sis lays down a cooking ultimatum. DELICIOUS THINGS HAPPEN.
Meanwhile back at the whole spatchcock thing, all that means is that you are going to prep your chicken so that it lies flat. This way it cooks evenly and quickly and deliciously.
Here's how you spatchcock a chicken!
Get yourself a nice whole chicken. I love the Bell and Evans chickens if you can find 'em. They are organic and no antibiotics and all that good stuff.
Grab your best pair of kitchen shears ( and if you don't have kitchen shears, click here.
You NEED kitchen shears. Once you have them you will wonder how you ever lived without them.)
Anyway, turn your chicken over so the breast side is down and cut out the backbone – just snip all the way down one side and then all the way down the other.
Now flip the chicken over and cut through that piece of cartilage right at the breastbone. This will let you flatten the chicken out just like a book. Click here for a great video that shows just how easy all this is.
And here's how you make Spatchcock chicken with potatoes!
Once you have spatchcocked your chicken, and been extremely impressed with yourself as you should be, cook up a mess of little potatoes in simmering water until they are just tender.
Cut the potatoes in half and toss them with some peeled garlic cloves, some pancetta (which is a close cousin to bacon – your deli counter will have it) and a little olive oil. Lay it all out on the sturdiest rimmed baking sheet you can find.
Pop your chicken breast side up in an oven proof skillet (cast iron works great!). Tuck a few garlic cloves, some pancetta and some fresh rosemary in and around and under the chicken, brush it with olive oil and sprinkle on some salt and pepper.
This delectable recipe for spatchcock chicken and potatoes is incredibly rich with garlic and rosemary flavor. The perfect Sunday supper! Click to Tweet Now! Put the chicken on the middle rack of your oven and the potatoes on the rack directly below and roast it all up until the chicken is just about done.
NOW COMES THE MAGICAL PART.
Take everything out of the oven, transfer the chicken to the potato pan, and pour the juices from the chicken skillet over everything. Run it under the broiler until everything is browned and crispy.
Oh my goodness. Oh my goodness. Oh my goodness.
Nick and Toni, wherever you are, thank you. And thank you to my little sis for my new favorite chicken obsession.
Stay warm and well out there, my friends!
Print
Spatchcock Chicken with Potatoes
This delectable recipe for spatchcock chicken and potatoes is incredibly rich with garlic and rosemary flavor. The perfect Sunday supper!
Author: Kate Morgan Jackson
Prep Time:

30 minutes

Cook Time:

50 minutes

Total Time:

1 hour 20 minutes

Yield:

4

1

x
Category:

Dinner

Method:

Oven

Cuisine:

American
One

3

pound chicken

20

cloves of garlic, peeled

5 ounces

of pancetta, cubed

1

pound fingerling or baby potatoes, scrubbed

2

–

3

sprigs of fresh rosemary
Salt and pepper

¼ cup

olive oil
Instructions
Put your oven shelves on the middle rack and the rack right under the middle and preheat your oven to 400.
Place the potatoes in a large pot of water, bring to a boil and simmer until just cooked, about 15-20 minutes.Drain, let them cool until you can handle them and cut them in half. Toss with a tablespoon of olive oil.
Brush a rimmed baking sheet with another tablespoon or so of olive oil and place the half the garlic cloves, almost all of the pancetta and all of potatoes (skin down) on the pan.
Spatchcock your chicken! Turn it breast side down and cut out the backbone. Flip it over and snip the cartilage right above the breastbone until the chicken lies flat.
Tuck some of the garlic cloves, a few pieces of pancetta and the rosemary under the skin of the drumsticks, thighs, and breast. Brush the chicken with a little more olive oil and season all over with salt and pepper.
Add the rest of the olive oil to a large cast iron pan. Put most of the remaining garlic cloves in the pan cloves place your spatchcocked chicken on top of them. Scatter the remaining garlic cloves and pancetta around the chicken.
Put the chicken on the middle rack of your oven and the pan with the potatoes on the rack right under.Roast for about 45 minutes or until an instant read thermometer is at 150 degrees, turning potatoes halfway through the cooking time.
Remove both pans from the oven and turn it up to broil.
Place chicken on top of potatoes. Pour the pan juices from the skillet over everything.
Broil for approximately 6 minutes or until the chicken skin has crisped.
Let it all rest for 10 to 15 minutes, carve it up and serve!
Keywords: spatchcock chicken recipe, spatchcock chicken and potatoes, how to spatchcock a chicken