This simple recipe for salt and vinegar roasted potatoes adds the zingy taste of malt vinegar to tender roasted baby potatoes for a delectable side dish!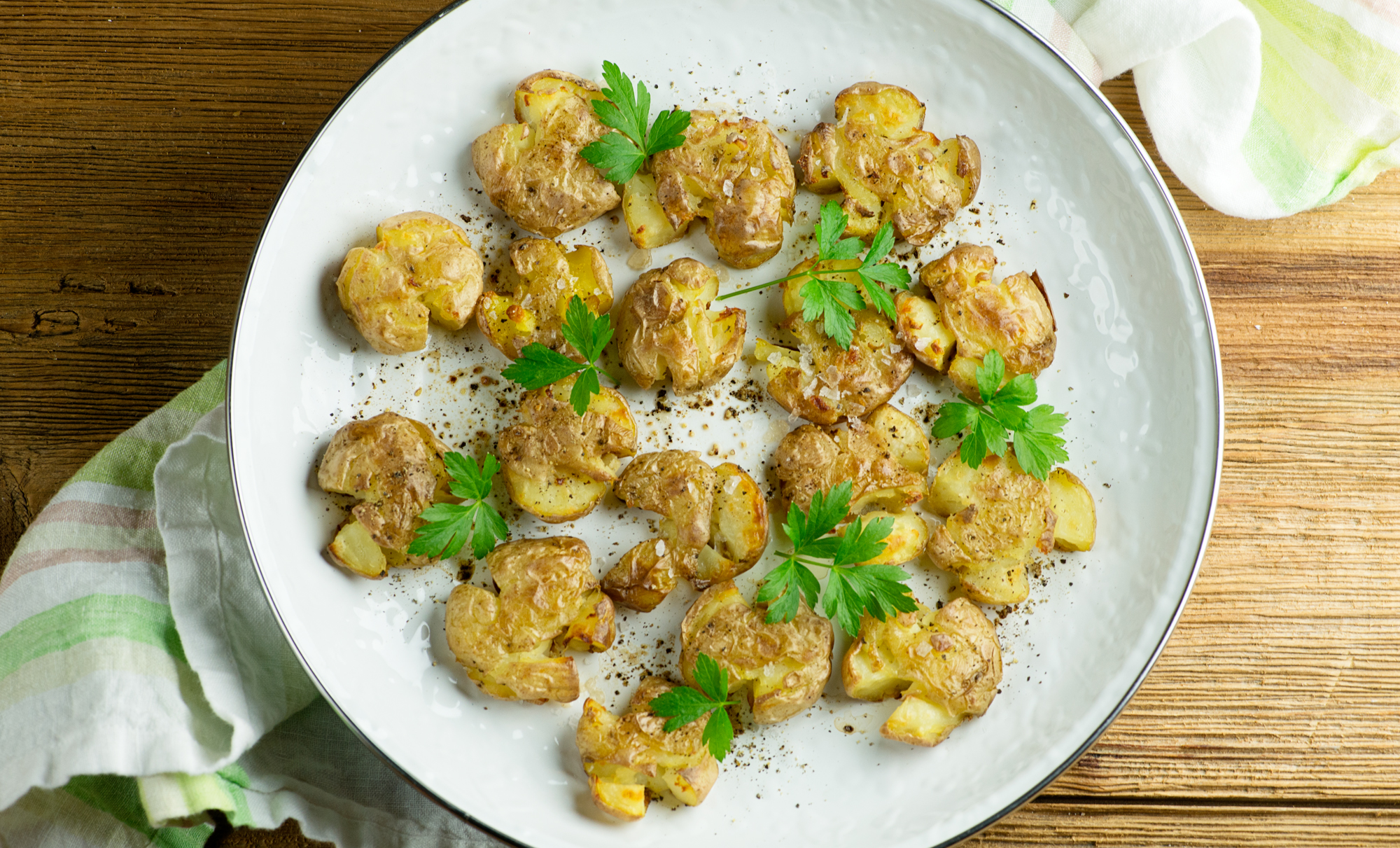 Is there anything better than potatoes? I like them mashed, I liked them made into fries, I like them sliced on top of a cottage pie. I like them here, I like them there, I like them like them everywhere.
I especially like those adorable little baby ones…you know the ones I mean. The little tiny red and white ones, the ones that make it possible for you to eat multiple potatoes at the same meal and still feed kind of virtuous. Kind of. Hey, they are vegetables!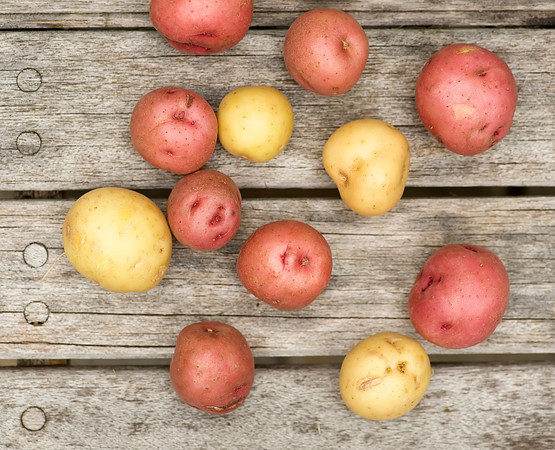 So besides mashing them up with lots of butter and cream, which is definitely one of the absolute best ways on earth to prepare a potato, there is another even speedier way to get to potato heaven. It's completely easy, completely delicious, and only involves four things. Potatoes (natch). Olive oil. Coarse salt. And this…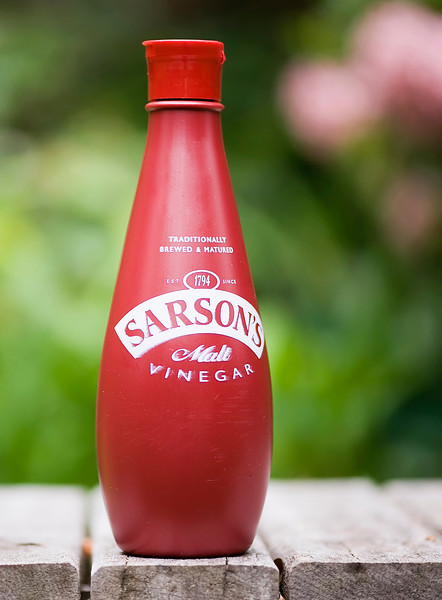 Now, I admit that finding malt vinegar can be a bit of a challenge. I actually found mine in the international foods section of my supermarket, in there with the Cadbury chocolate and the really good English breakfast tea…but you can also find it here. And if THAT doesn't work, you can use regular old cider vinegar. It will be almost as good.
Here's how you make salt and vinegar roasted potatoes!
Take those cute little potatoes and boil them up in salted water until they are tender, about 20 minutes or so. Drain them, and now comes the fun part.
Put them in groups of three or four on a clean dishtowel and fold it over. Now take a potato masher or a can of tomatoes or whatever you have that is heavy and flat, and press down gently on each potato until they flatten up just slightly.
Now transfer them all to a cookie sheet, brush them with a little olive oil and bake 'em until they are just a little crispy on the outside.
When they are out of the oven, toss them with that vinegar and sprinkle on some coarse salt and if you want to be extra fancy, sprinkle them with chopped parsley…and then have an internal argument with yourself about whether these are maybe even better than those mashed potatoes that have always been in first place in your heart.
It's a conundrum for sure.
Print
Salt and Vinegar Roasted Potatoes
This simple recipe for salt and vinegar roasted potatoes adds the zingy taste of malt vinegar to tender roasted baby potatoes for a delectable side dish!
Author: Kate Morgan Jackson
Prep Time:

15 minutes

Cook Time:

55 minutes

Total Time:

1 hour 10 minutes

Yield:

6

1

x
Category:

Side Dish

Method:

Stovetop and Oven

Cuisine:

American
1 1/2

pounds baby potatoes

2 tablespoons

olive oil

1/4 cup

malt vinegar
Sea salt and fresh ground pepper

1/4 cup

chopped parsley (optional)
Instructions
Fill a pot with water, add the potatoes, and bring them to a boil. Turn dow the heat and simmer the potatoes until they are just tender, about 20 minutes (you can test them by poking one with a knife – it should slide in easily).
Preheat your oven to 450 and line a rimmed baking dish with non-stick foil or a silicone mat. Place the potatoes in a single layer and gently smoosh each potato with a potato masher or a large fork so that it flattens out – be careful to keep them in one piece though. Brush them with olive oil and sprinkle them with salt and pepper.
Bake them up until they are a little browned and starting to get crispy, about 35 minutes.
When they are done, drizzle them with the vinegar, put them in a serving dish or on individual plates, garnish with parsley and serve!
Keywords: vegan salt and vinegar potatoes, vegetarian roast potatoes with salt and vinegar, dairy-free salt and vinegar roasted potatoes, gluten-free salt and malt vinegar roasted smashed potatoes
Updated from a previously published Framed Cooks post!