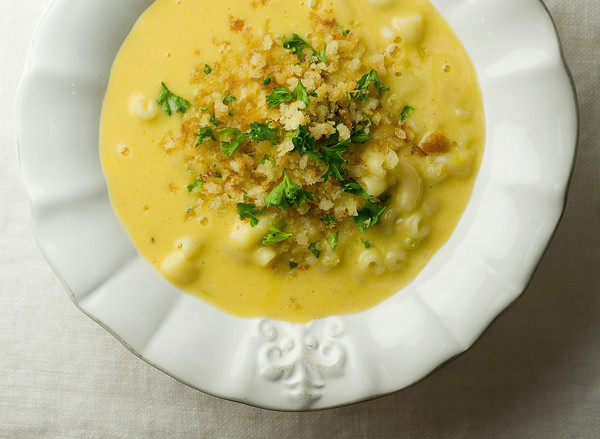 So, back many thousands of years ago when I was a kid, whenever anyone asked me what I wanted for dinner I would say "macaroni and cheese!" And still to this very day, whenever I ask my teenager what she wants for dinner she says "macaroni and cheese!" (Like mama, like daughter.) I think we both get it from my dad…who has recently turned into a pretty dang good maker of macaroni and cheese himself. With all of this, I think I have had macaroni and cheese approximately 1,594,284 times, from the classic baked version to yes, macaroni and cheese cupcakes. So if you told me that lo! these many years later that I would find a new way to make it, and that I would love that way maybe even more, I might not have believed you.
Then one day, it dawned on me. If it could be a cupcake…it could be soup. It could be a warm, creamy, cheesy concoction that included a soup version of the cheese sauce, with those wonderful little elbow macaroni swimming around in it, and a garnish of crispy, buttery bread crumbs tossed with parsley to give it a tiny bit of crunch. It could happen. It MUST happen.
It happened.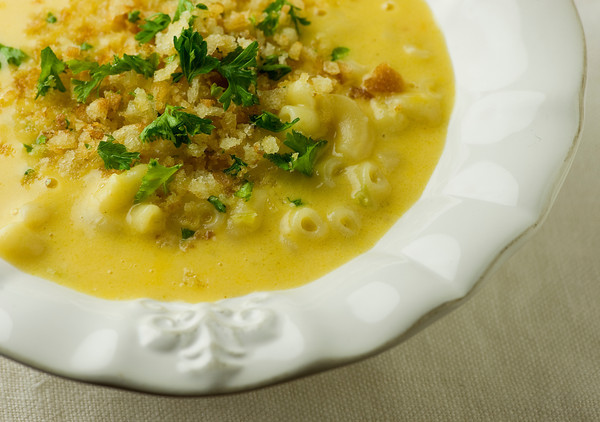 The base is a super-simple mixture of minced onions and celery, a little white wine, chicken broth, milk and a few herbs and spices. (If you are making this for the kiddos, you might want to leave out the onion and double the celery. I love it, but it does give the final thing a little snap. In my experience, kids like their mac and cheese pure and unadulterated by onions, and if you don't tell them they will never know the celery is there. Shhh.) Then gently add the cheese in handfuls, stirring it around until it is smooth. Voila!…your cheese soup. Stir in some cooked elbow macaroni, and then garnish with a few tablespoons of crispy breadcrumbs…you can whip these up in 5 minutes on your stove, and they give this soup just a teeny amount of perfect crispiness.
And there you have it…macaroni and cheese SOUP! Who says you can't teach an old dog new tricks?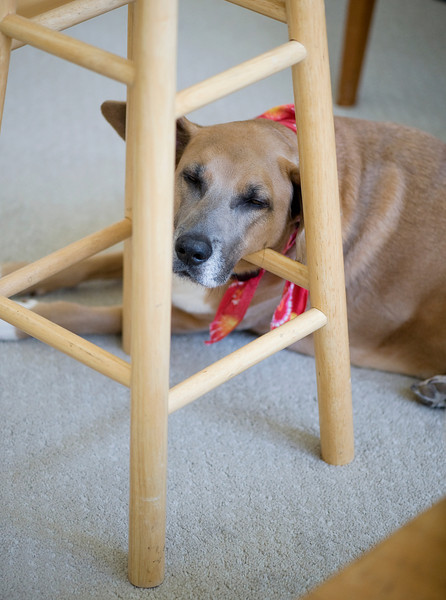 (This is apparently the "fall asleep on the rung of a stool" trick. You never know when it might come in handy.)
Meantime…soup's on!
Adapted from CUISINE AT HOME
Print
Macaroni and Cheese Soup
Prep Time:

15 minutes

Cook Time:

20 minutes

Total Time:

35 minutes

Yield:

6

servings

1

x
Category:

Dinner

Method:

Stovetop

Cuisine:

American
2

slices bread

1 tablespoon

butter

2 tablespoons

chopped parsley

6 ounces

dry elbow macaroni, cooked and drained

1/4 cup

minced onion

1/4 cup

minced celery

2 tablespoons

butter

1/2 cup

white wine

2 cups

chicken broth

1/4 teaspoon

cayenne pepper

2 cups

whole milk

2 cups

sharp cheddar cheese, grated (I like Cabot)

1/4 cup

flour
Instructions
Make bread crumbs: Put bread in food processor and process until you have coarse crumbs. Melt 1 tablespoon butter in medium frying pan and saute crumbs until golden and crisp, 5-7 minutes. Cool and then stir in chopped parsley. Set aside.
Saute onion and celery in a large saucepan with 2 tablespoons of butter over medium heat until soft, about 3-5 minutes.
Ad flour to saucepan and stir for 1 minutes. Pour in wine and simmer for another 2 minutes.
Add broth and pepper and simmer for 5 minutes until slightly thickened. Whisk in milk and simmer for another 2-3 minutes until hot. Do not boil.
Add the cheese by handfuls, stirring after each handful until all the cheese is melted and the soup is smooth. Stir in the macaroni and simmer until the macaroni is warmed through.
Ladle into soup bowls and garnish with a generous handful of breadcrumbs. Serve at once.
Keywords: kid friendly macaroni and cheese soup recipe