This easy recipe for upside down shepherd's pie puts the potatoes on the bottom for a new take on this favorite hearty comfort food!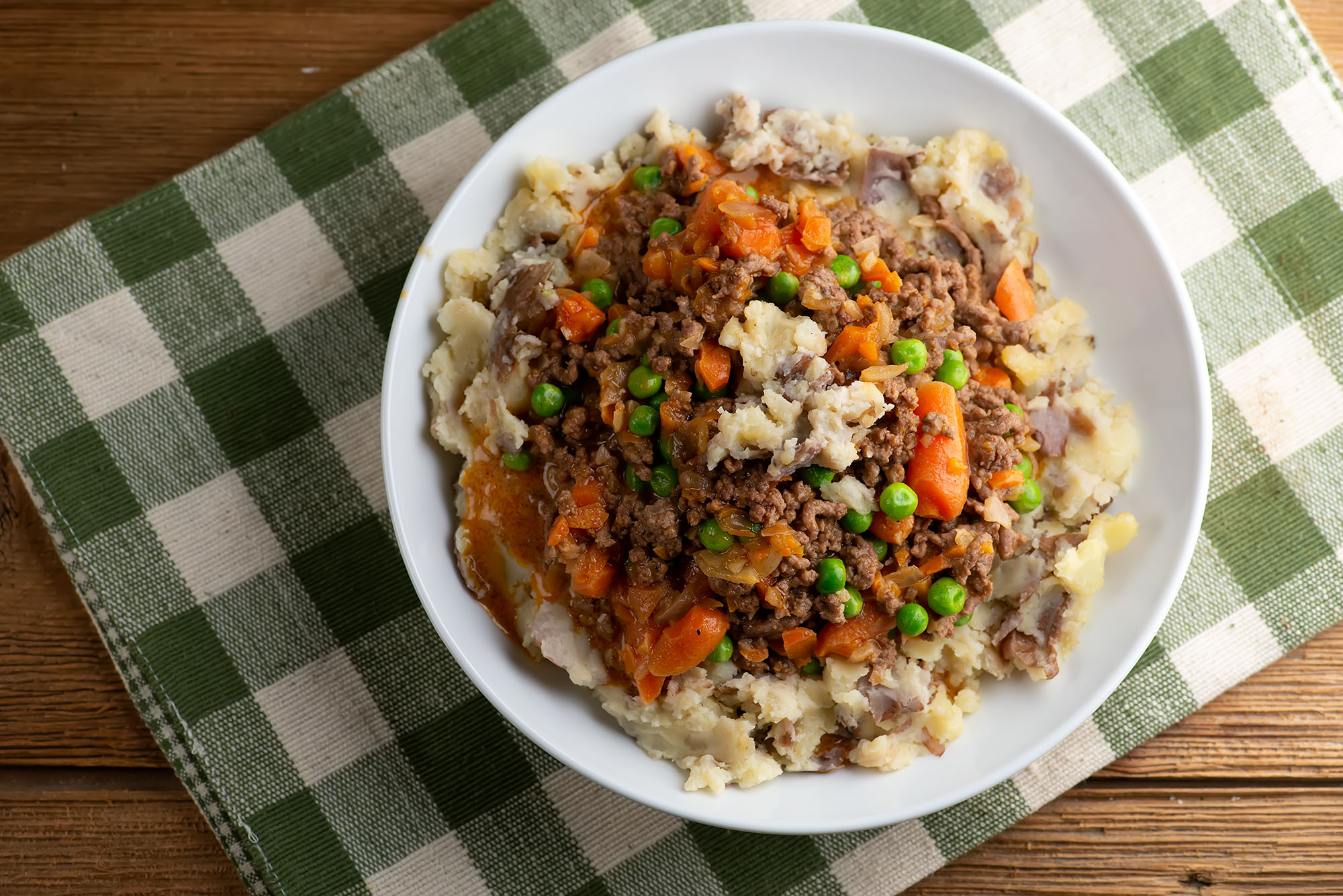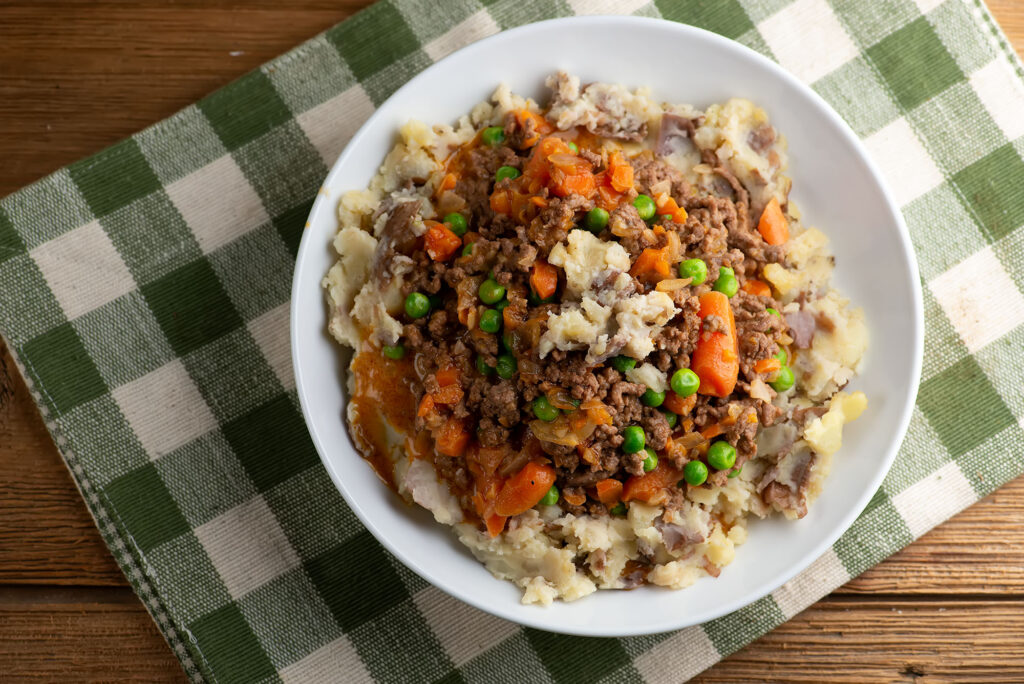 I freely admit it, I have a shepherd's pie obsession. I of course love the classic version that is baked with a mashed potato topping.
I also love adding cheese to the mashed potato topping.
I have also been known to make shepherd's pie quesadillas, and shepherd's pie baked stuffed potatoes, and slow cooker shepherd's pie.
I also know that technically when you make it with beef it is really cottage pie, but that hasn't stopped me from making it with lobster and with chicken and still calling it shepherd's pie.
And I especially love shepherd's pie of all kinds when the weather starts to turn just a little chilly, which recently led to me making an upside down shepherd's pie where the potatoes are on the bottom and the beef mixture is on the top.
This version lets all the delectable shepherd's pie sauce sink into the potatoes and OH MY MY.
Even though we are still in the 70s most days here in North Carolina, there is a little shepherd's pie-loving nip in the air here and there, and on one of those days we got our autumn vibes on with a trip to the fantabulous Raleigh Farmer's market.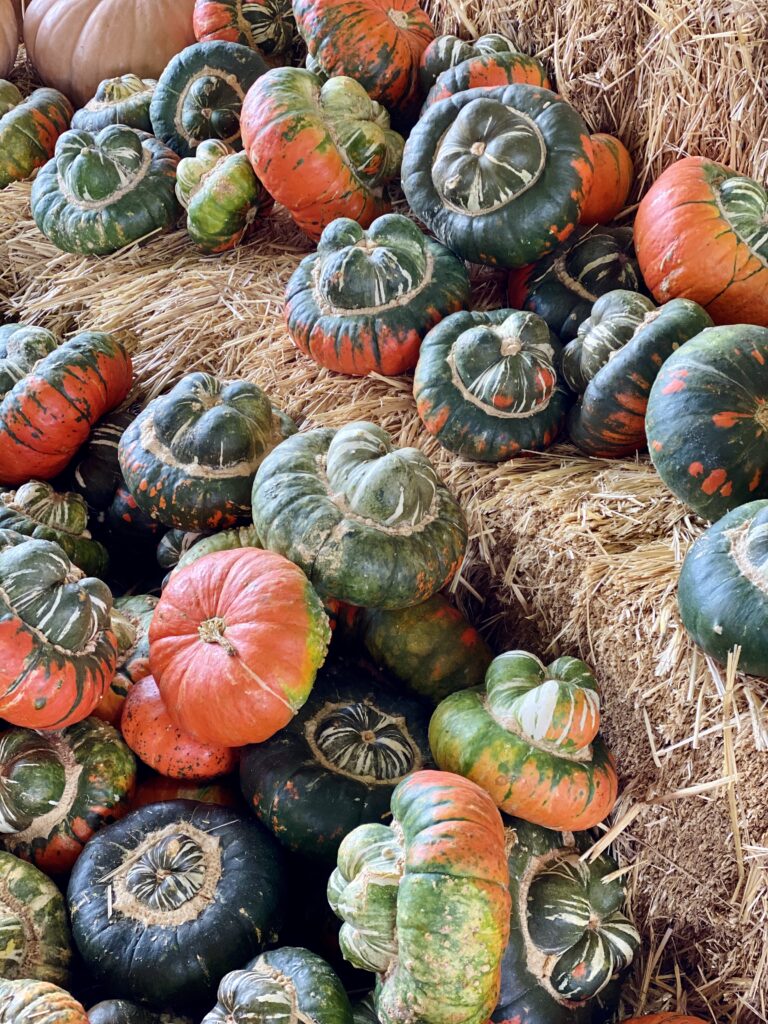 Pumpkins GALORE!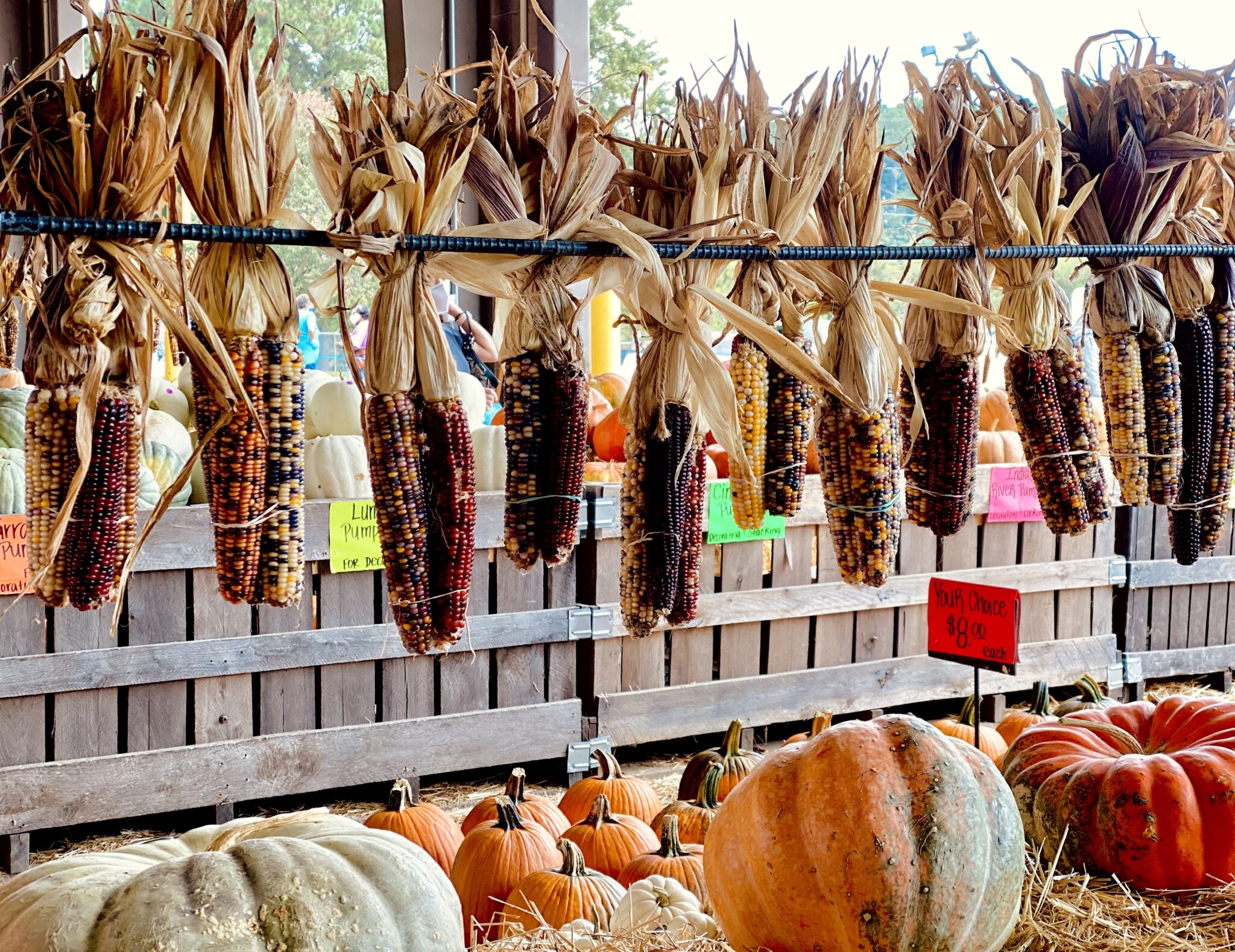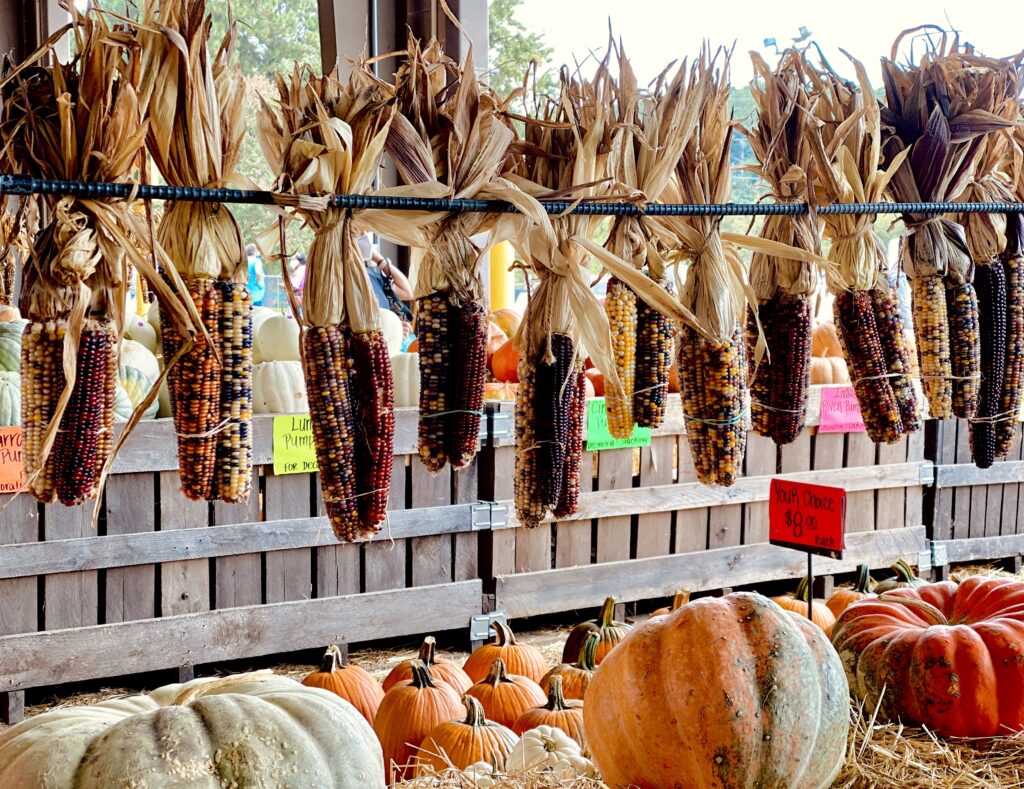 I love this string of dried corn, and the Southern daughter bought two corn husk wreaths for their brand new Carolina Dream house front door.
On the way home we stopped at the also wonderful Butcher's Market in Cary (I was out of bacon, which is an all-out emergency in our house) and they had THIS.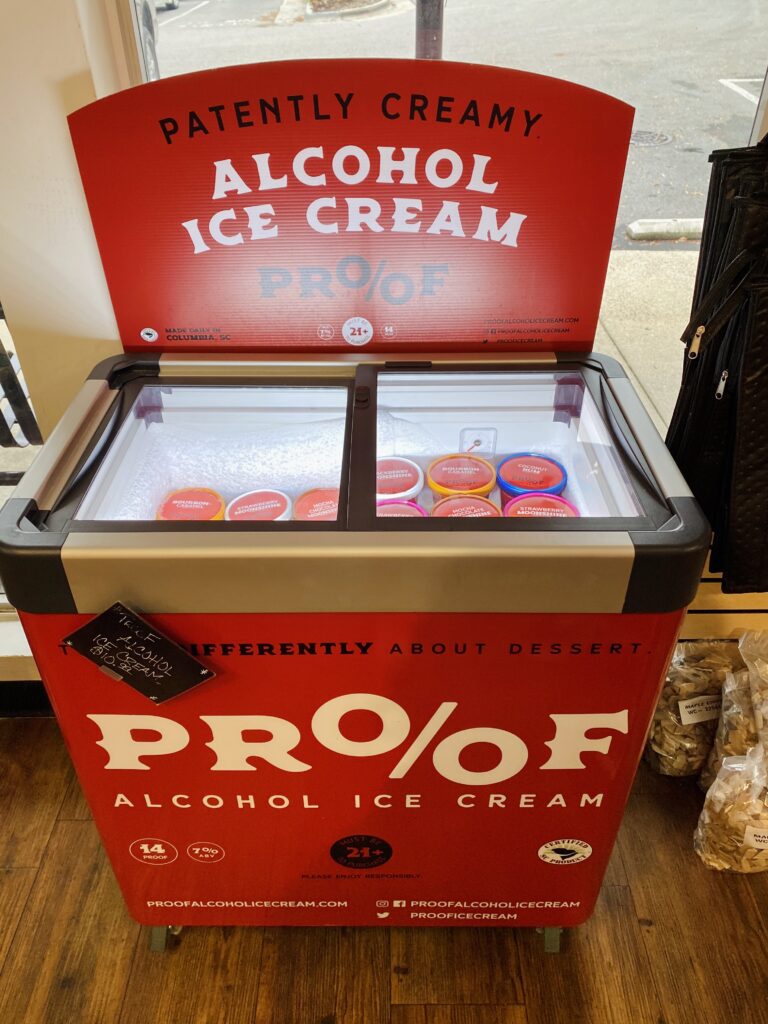 Yep, ice cream with legit booze in it. I was so amazed that I actually left without buying any, which I now seriously regret.
They had coconut rum and bourbon caramel and pumpkin spice moonshine, and I have no idea if I am going to love this or not, but I promise to find out and report back.
But in the meantime, we have a comfort food supper to make!
Here's how you make upside down shepherd's pie!
You start out the usual way by cooking up a pot full of mashed potatoes.
I like to use baby red potatoes for this recipe – I scrub them up, boil them until they are tender, and then mash them with the half and half and butter. No peeling needed!
Next up, the filling! Sauté up some ground beef until it is browned, and then drain it while you make the veggies.
Simmer up some chopped onion and carrots in a little water in that same skillet until they are tender, and then flavor it up with some tomato paste and a little flour.
Add the beef back in, along with some Worcestershire sauce and a little salt and pepper, and let it all bubble away for about 10 minutes.
Last but not least, stir in some thawed peas and a little cream and let the whole thing sit for a minute or two.
Now for the upside down part! Put a nice mound of mashed potatoes into each lucky diner's bowl, and make a little well in the center.
Generously ladle your delectable shepherd's pie filling into that well, making sure you get a nice amount of the pan liquid in there as well.
If you save a little back, you can also put a dollop of mashed potatoes on the top…a mashed potato garnish!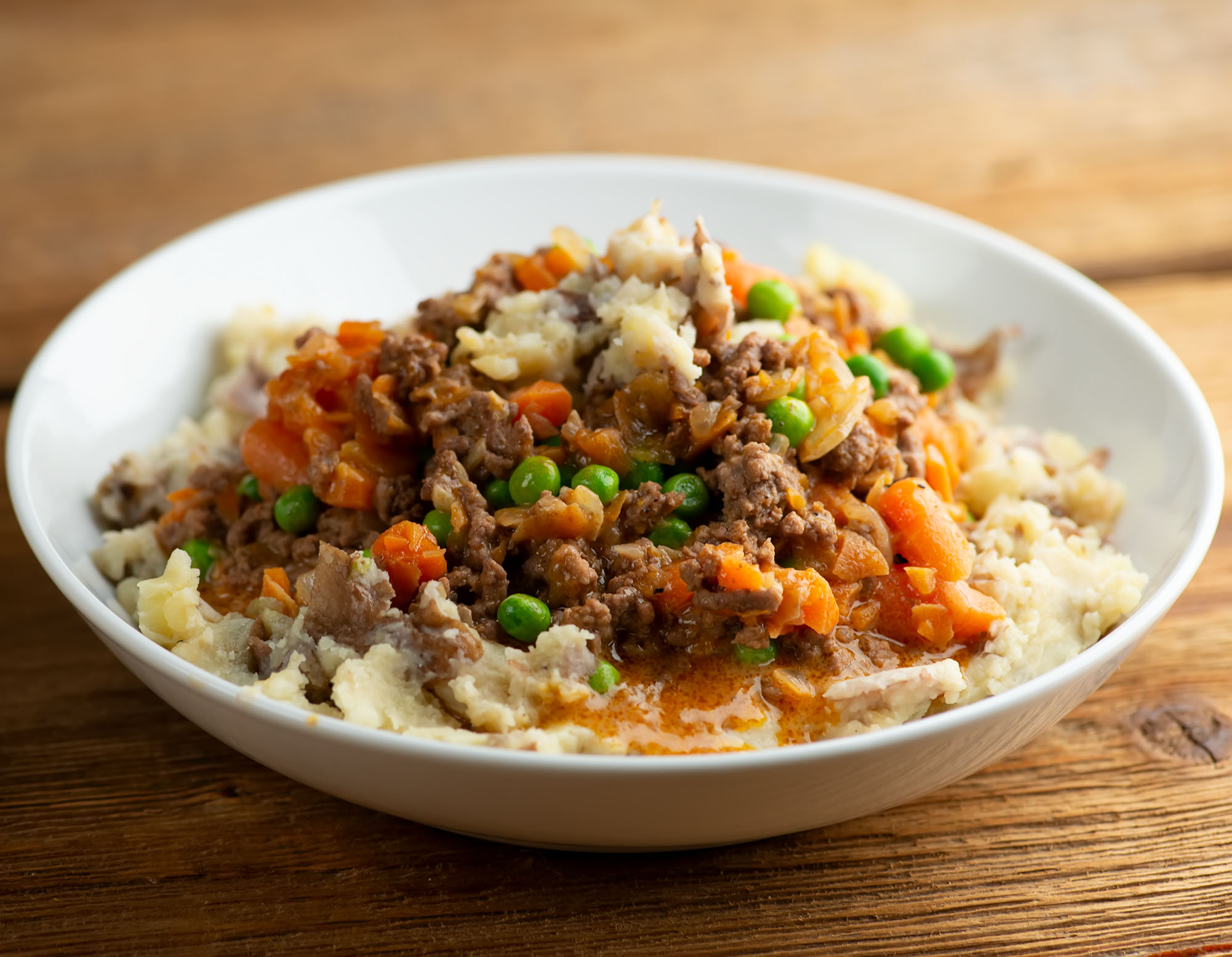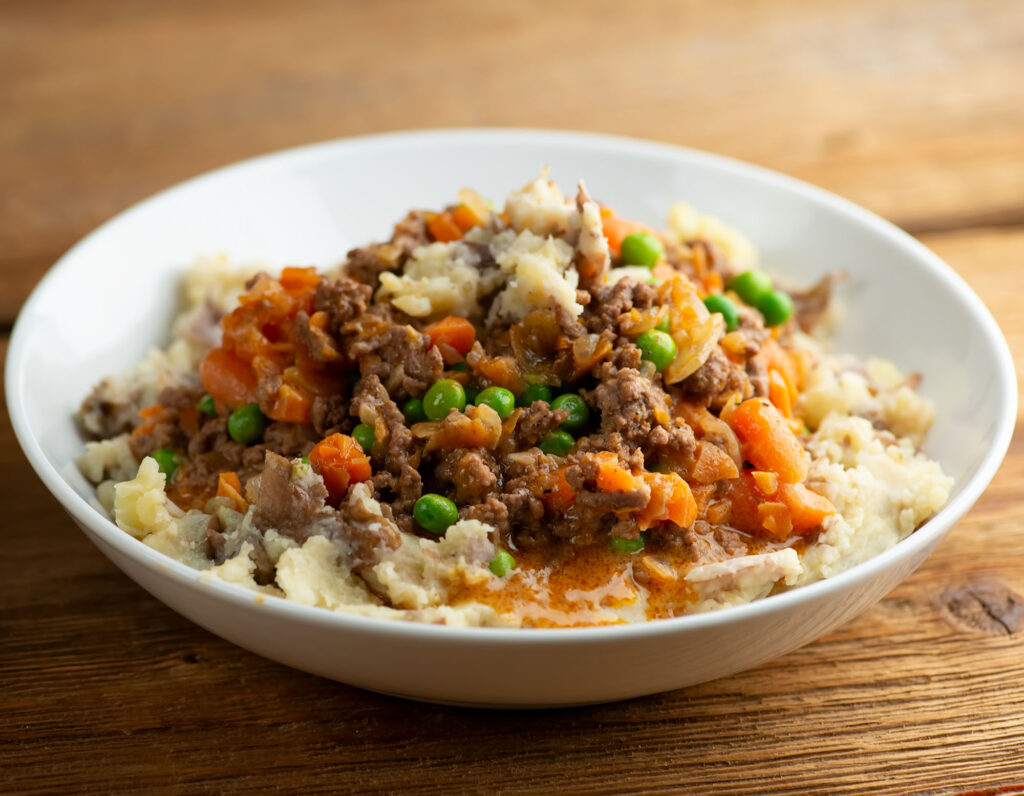 Oh, and in case you think I am done messing around with shepherd's pie, I should let you know that I am currently working on a one skillet version.
Happy warm and wonderful comfort food season!
Love, Kate x
Print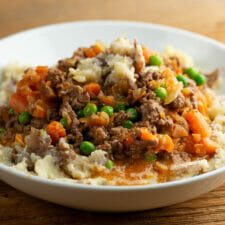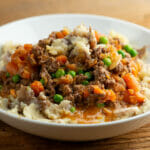 Upside Down Shepherd's Pie
---
Author:

Prep Time:

10 minutes

Cook Time:

35 minutes

Total Time:

45 minutes

Yield:

4

1

x
Category:

Dinner

Method:

Stovetop

Cuisine:

American
Description
This easy recipe for upside down shepherd's pie puts the potatoes on the bottom for a new take on this favorite hearty comfort food!
---
Ingredients
1

pound red potatoes, scrubbed and cut into chunks.

½ cup

half and half

2 tablespoons

butter

1 teaspoon

salt

1/2 teaspoon

pepper

1

 pound ground beef

1

 medium onion, chopped

2

 carrots, chopped

1 tablespoon

tomato paste

1 tablespoon

flour

1 tablespoon

Worcestershire sauce

1 cup

frozen peas thawed

¼ cup

heavy cream

½ teaspoon

salt

¼ teaspoon

pepper
---
Instructions
Put potatoes in a pot, cover with water and cook until potatoes are tender, 12–15 minutes. Drain potatoes and return to the pot.
Stir in half-and-half and butter and mash until the potatoes are the consistency you like.  Season with with salt and pepper.
Cook the beef in a large deep skillet over medium high heat until browned.  Drain the beef in a colander and set aside.
Pour ¼ cup of water into the skillet, add onion and carrots and cook over medium heat until softened, about 5 minutes. Stir in tomato paste and then flour and stir for another 2 minutes or so.
Add Worcestershire sauce, 1 cup water, and the cooked beef. Stir in a pinch each of salt and a pinch of pepper and simmer until thickened, stirring occasionally, about 10 minutes. Stir in peas and cream turn off the heat.
Let stand for a minute or two, taste and add salt and pepper as needed.
Divide the mashed potatoes among bowls, making a little well in each mound of potatoes. Ladle the beef mixture on to each bed of potatoes, and then serve it up!
Notes
Need to add something to your kitchen equipment to make this recipe? Below are some of the items we used in the Framed Cooks kitchen to help cook this up. These are affiliate links to things we use and love, which helps to pay for all that bacon I keep buying!
Equipment