This comfort food recipe for my grandma's easy apple brown betty is a classic version of this homespun dessert made from apples, bread and spices. It's the perfect fall treat!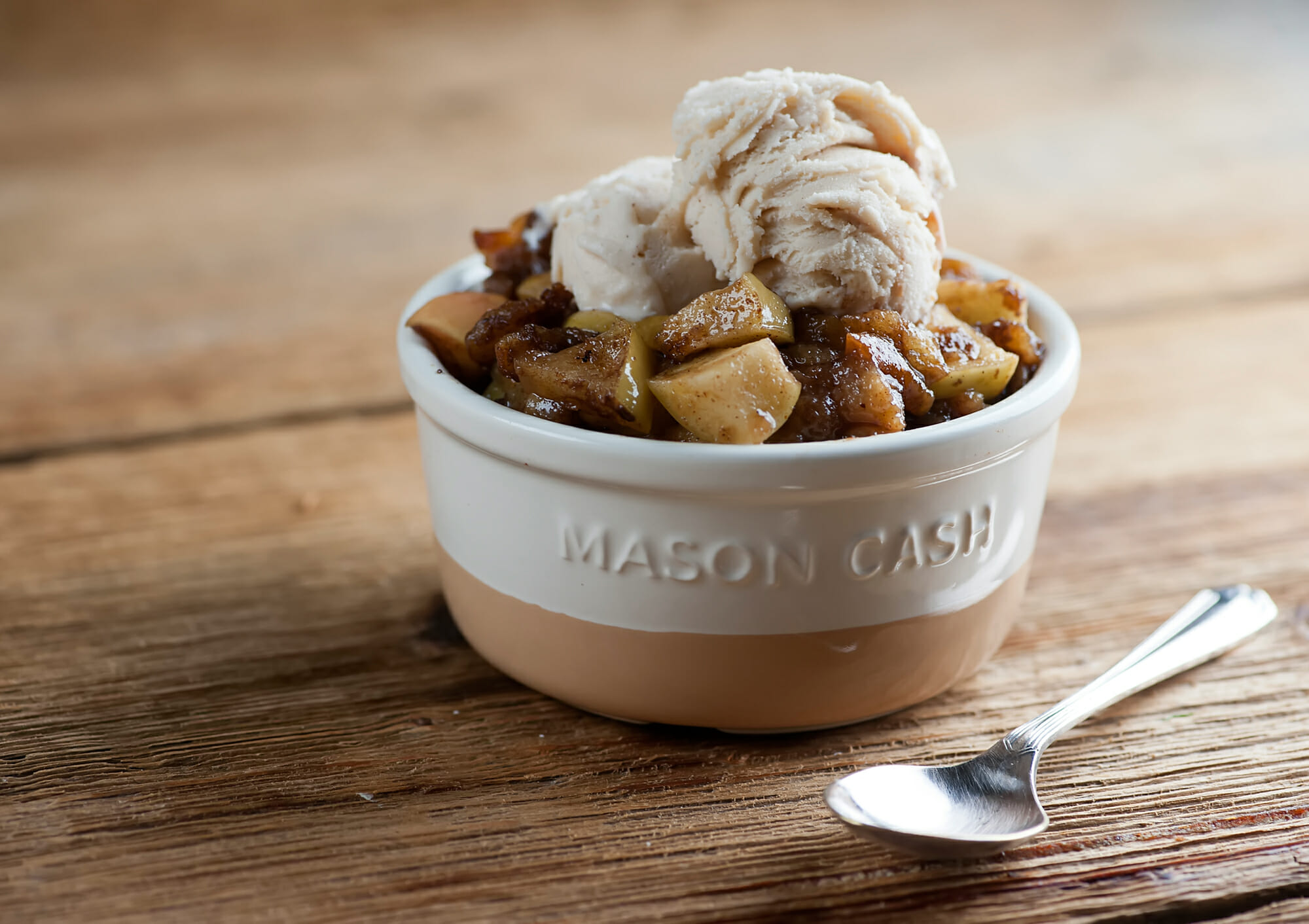 There are so many versions of this classic recipe out there – brown betty made with bread crumbs, with layers of apples and bread, with oatmeal mixed in – it's one of those family favorites that gets customized to the way you like it.
I am partial to my Grandma's easy apple brown betty recipe. She mixed everything up together so you ended up with chunks of apple and bread in a buttery cinnamon spice mixture. She would bake it up into something that I remember tasting like a soft, creamy apple bread pudding.
And since we are just back from spending our usual summertime week in her beautiful Vermont town, I am up to my ears in these…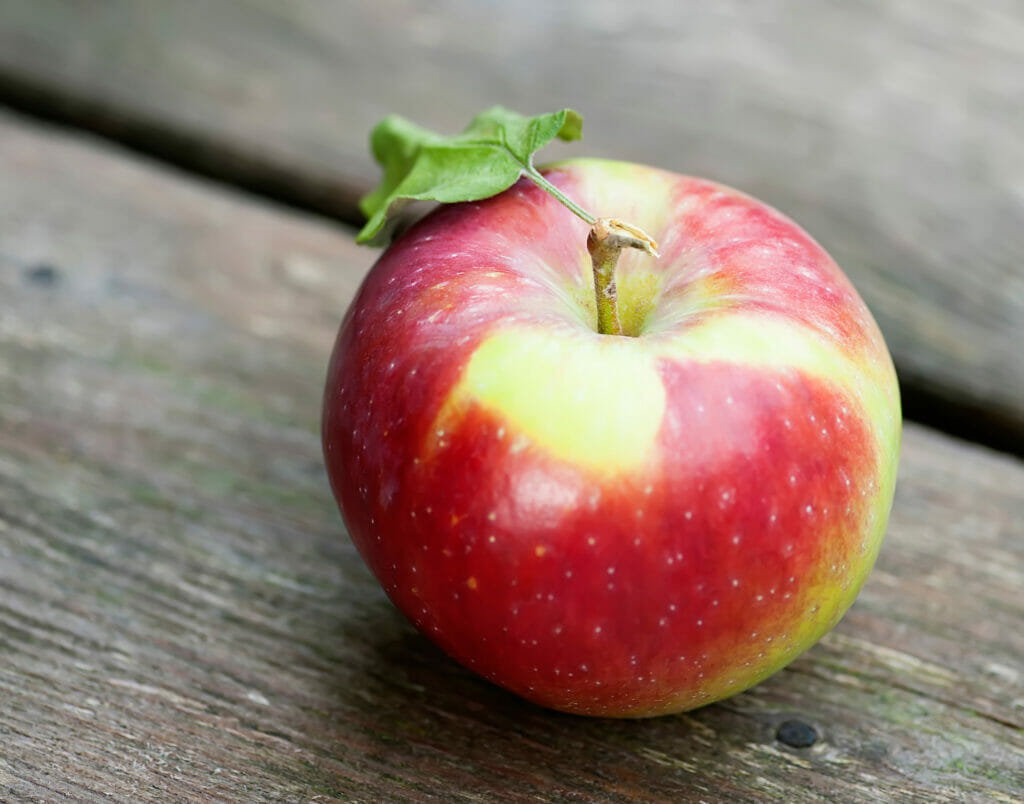 Yep. We always go to Champlain Orchards, which is a good hour from our cozy Vermont cabin, and since it takes me about 90 seconds to pick a peck of apples…I pick MORE. Which results in homemade applesauce, in this case, my grandma's Brown Betty.
She didn't have a particular recipe that I know of – I think she probably just did it from memory – so I relied on my memory and my mama's, and I added some ice cream to the mix which I don't remember happening but which the Southern husband absolutely loved.
Here's how you make my Grandma's easy apple Brown Betty!
You start with cutting up bread cubes made from any bread you happen to have lounging around. Brown Betty is a perfect way to use up bread that is going a little stale…I happened to have some aging Hawaiian rolls which worked out perfectly with their extra hint of sweetness.
You are going to toast these bread cubes up with a little butter and then mix them with brown sugar, cinnamon, nutmeg and a few other comfort food spices.
Next, the apples. You are going to cut them up into little cubes as well, and it's up to you if you peel them or not. My mama said my Grandma always peeled them…this is the one place I did my own thing and left the peels on.
Mix up those apple chunks with a little more brown sugar and the bread mixture and a little melted butter and pop the whole thing in your oven until the apples are tender and the whole sweet mixture is a deep golden brown. I give the apples a poke with a paring knife to check.
After that (and here comes the hardest part), you need to let it cool down just a bit, and then serve it up with ice cream, whipped cream or all by its delicious self.
Is there anything better than recipes from your Grandma's kitchen? The best.
Want to round out your meal? This recipe pairs well with...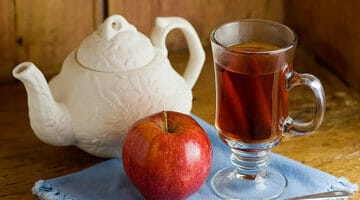 Apple Lemon Tea
Print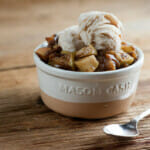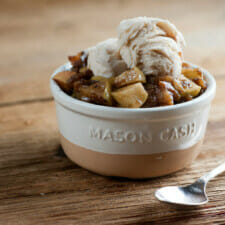 Grandma's Easy Apple Brown Betty
---
Author:

Prep Time:

20 minutes

Cook Time:

45 minutes

Total Time:

1 hour 5 minutes

Yield:

6

1

x
Category:

Dessert

Method:

Oven

Cuisine:

American
Description
This comfort food recipe for my grandma's easy apple brown betty is a classic version of this homespun dessert made from apples, bread and spices. It's the perfect fall treat!
---
Ingredients
4 cups

bread, cut into

1/2

inch cubes

2 tablespoons

butter

4 cups

apples, cored and cut into

1

inch cubes

1 cup

brown sugar

1 teaspoon

cinnamon

1/2 teaspoon

allspice

1/4 teaspoon

nutmeg

1/2 cup

butter, melted
---
Instructions
Preheat oven to 350 and butter a casserole or baking pan (an 8×8 or similar capacity casserole will work perfectly).
Melt 2 tablespoons butter in large deep skillet over medium high heat. Add bread cubes and sauté until golden. Remove from heat and put toasted bread into a mixing bowl. Add 1/2 cup brown sugar, the cinnamon, allspice and nutmeg and stir.
Mix the apples with the remaining 1/2 cup of brown sugar and stir.
Mix with apples with the bread mixture. Pour in the melted butter and mix again.
Transfer the apple and bread mixture of the baking pan and bake for 40-50 minutes or until apples are tender and bread is deep golden brown. Start taking a peek at it at the 40 minute mark.
Cool slightly and serve with ice cream, whipped cream, or all on its own!