This easy recipe for a rustic blueberry peach tart combines fresh summer fruit in a single piecrust for a dessert that is bursting with delicious flavor. The perfect ending to a summer supper!
I know, I am all about the blueberries lately, but we are smack in the middle of blueberry season and I just can't help myself.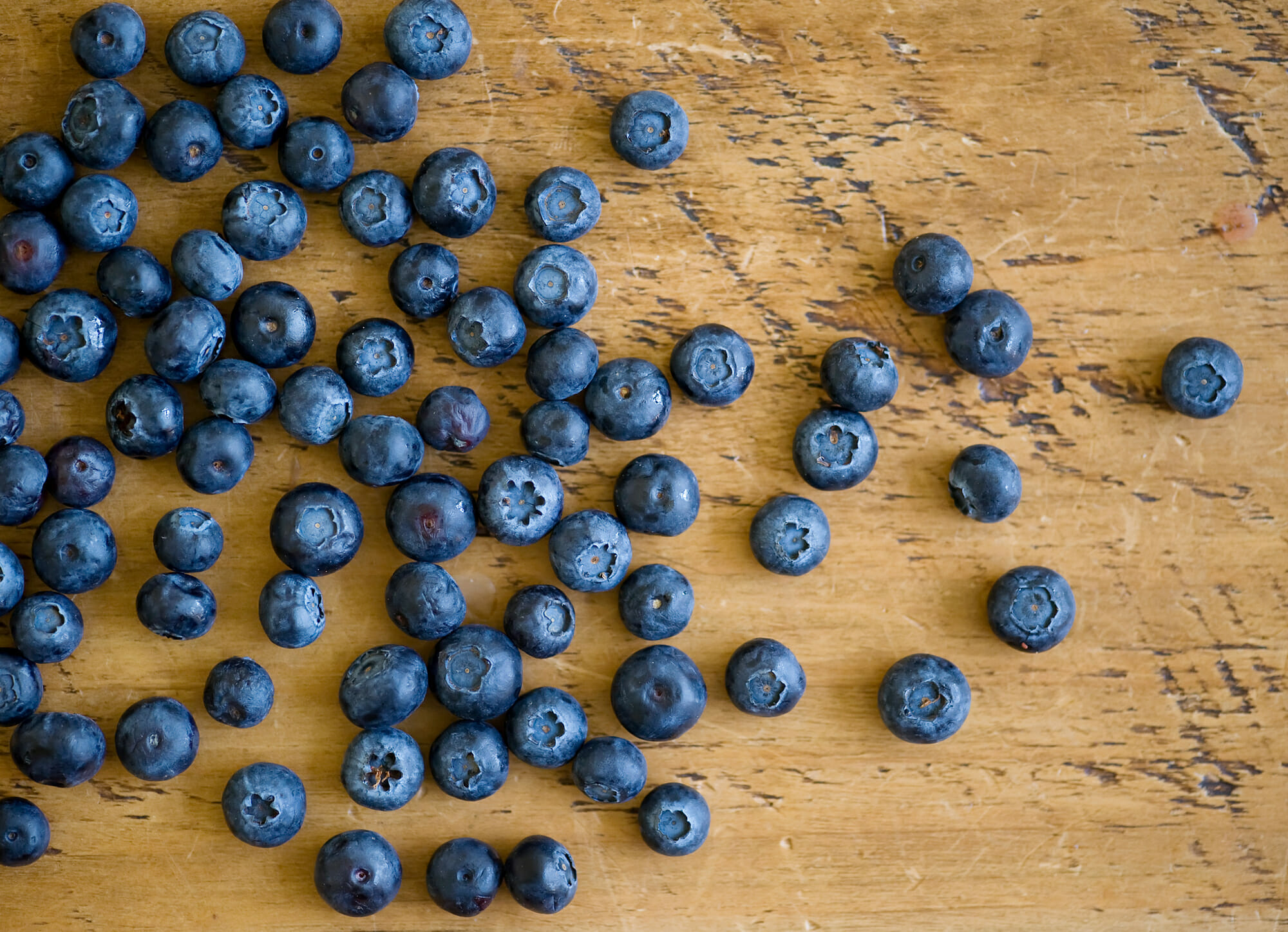 One of the things I've been trying to do lately is to post one thing a day I am grateful for to my Instagram, and the very first one I posted was my gratitude for the fresh local blueberries in my breakfast oatmeal.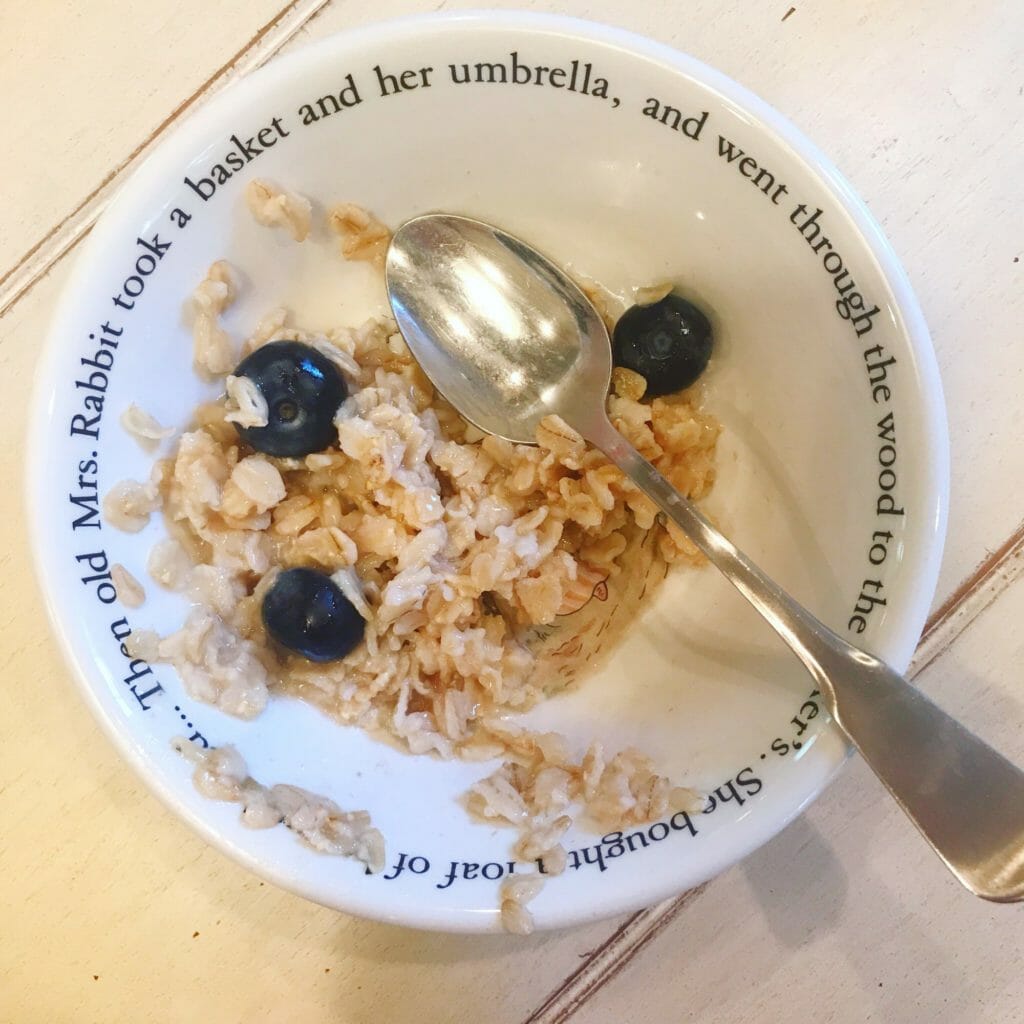 And I was 100% serious – I feel super lucky that we live close to an amazing farm stand that is currently selling not only big fat flavorful local blueberries, but also local tomatoes, corn and peaches, all of which I am using with utter abandon.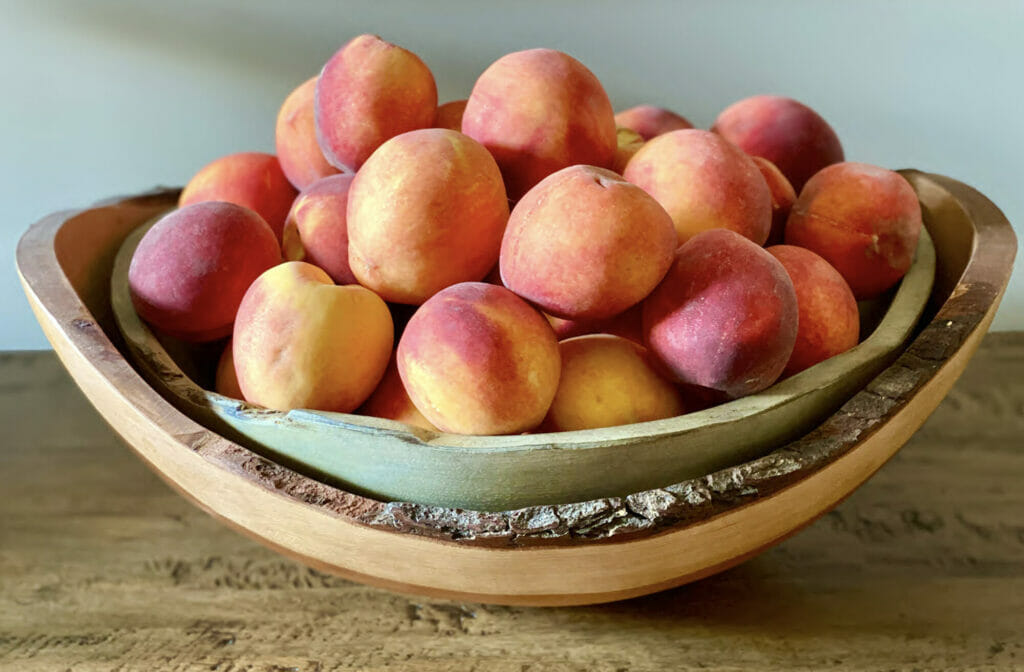 Including in this easy peasy rustic blueberry and peach tart!
Oh, and if you need any info on how to select/store/prep those luscious blueberries, here it is!
ingredients you need to make a rustic blueberry peach tart!
Here's How You Make A Rustic Blueberry Peach Tart!
STEP 1: You start with a whole load of peaches and blueberries, of course. The first thing you need to do is peel and pit the peaches, and here's a super easy method for doing just that from my friends at The Kitchn.
STEP 2: Once the peach-peeling is over, you are going to slice them up and mix them with blueberries, some sugar, some spices and some peach preserves (which you can find in the jam section of your supermarket, which is usually located wherever they keep the peanut butter, for obvious reasons).
STEP 3: Let this glorious mixture sit for a little while while you preheat your oven to 350.
STEP 4: Pop a flat round unbaked pie crust on to a baking sheet that you have lined with parchment paper or a silicone mat. Yep, the pie crusts you can buy in the dairy section of your supermarket. Sorry Mom!
STEP 5: Once the fruit mixture has sat for a while, drain any liquid out of it, toss it with a little flour and pile it into the center of that pie crust, leaving about two to three inches around the edge of the pie crust clear.
STEP 6: Now comes the fun part! Take sections of the pie crust and fold them up, section by section, over the fruit until you have a nice large pleated edge around the whole thing.
STEP 7: Brush that edge with some beaten egg and sprinkle it with sugar – regular sugar will work just fine, but if you have any sparkling sugar lying around, now's the time to use it!
STEP 8: Pop that gorgeous tart into the oven for about 40 minutes or so, and then let it cool for a little while. It's fabulous warm, and if you want to add a little ice cream or whipped cream I would totally understand.
More tips for making a rustic blueberry peach tart!
How do you peel peaches!
Peaches are the easiest fruit to peel! Make a slight cut all around the peach with a paring knife, and then pop them into boiling water for about a minute. Scoop them out with a slotted spoon and when they are cool enough to handle, just slide the skin right off. It's magical!
Can I make my own pie crust if I want to?
Yes, and that will make my mama SO happy (she still can't believe I buy premade ones!). Here's a great recipe from my friend Elise.
This doesn't need to go in a pie plate to bake?
Nope! The folded over crust around the edges is going to keep everything nice and tidy.
Have a question that I didn't answer?
Pop your question into the comments below and I will answer pronto!
Blueberries and peaches, peaches and blueberries. Happy summer sigh!
Print
Rustic Blueberry Peach Tart
---
Author:

Prep Time:

30 minutes

Cook Time:

40 minutes

Total Time:

1 hour 10 minutes

Yield:

6

1

x
Category:

Dessert

Method:

Oven

Cuisine:

American

Diet:

Vegetarian
Description
This easy recipe for a rustic blueberry peach tart combines fresh summer fruit in a single piecrust for a dessert that is bursting with delicious flavor.
---
Ingredients
1

pound peaches, peeled, pitted and sliced

1 cup

blueberries

1/2 cup

sugar

1/3 cup

peach preserves

1 teaspoon

vanilla extract

1/2 teaspoon

cinnamon

1

refrigerated piecrust (I like the Pillsbury ones)

2 tablespoons

flour

1

egg

1 tablespoon

sugar
---
Instructions
Preheat oven to 350 and line a rimmed baking sheet with parchment paper or a silicone mat.
Put peaches, blueberries, 1/2 cup sugar, peach preserves, vanilla and cinnamon in a mixing bowl, stir them up and let them sit until the oven is preheated.
Meantime, get out that piecrust and place it on the baking sheet.
Drain any liquid out of the fruit mixture by pouring it into a strainer.
Toss the fruit mixture with the flour and then pile it in the center of the piecrust, leaving about 3 inches all the way around. Now fold the edges up the pie crust up and over the fruit. I like to do it in sections so it forms a little pleat around the fruit.
Mix up the egg and brush it onto the piecrust, then sprinkle with a tablespoon or so of sugar. Pop it in the oven and bake it for about 40 minutes or until the crust is golden, then let it cool for about 20 minutes.
Serve warm, and if you add some whipped cream or vanilla ice cream you are pretty much in summer dessert heaven!
Notes
Need to add something to your kitchen equipment to make this recipe? Below are some of the items we used in the Framed Cooks kitchen to help cook this up. These are affiliate links to things we use and love, which helps to pay for all that bacon I keep buying (without any extra cost to you)! Thanks for using them to keep our kitchen cooking…xoxo!
Equipment We Used For This Recipe