This recipe for poor man's lobster uses sweet monkfish filets and an easy tomato sauce to give the flavor of a lobster dinner without all the struggle of the lobster shells. If you've never tried monkfish, this is an easy and scrumptious way to try it out. And I'm promising you lobster-lovers, you need to try it out!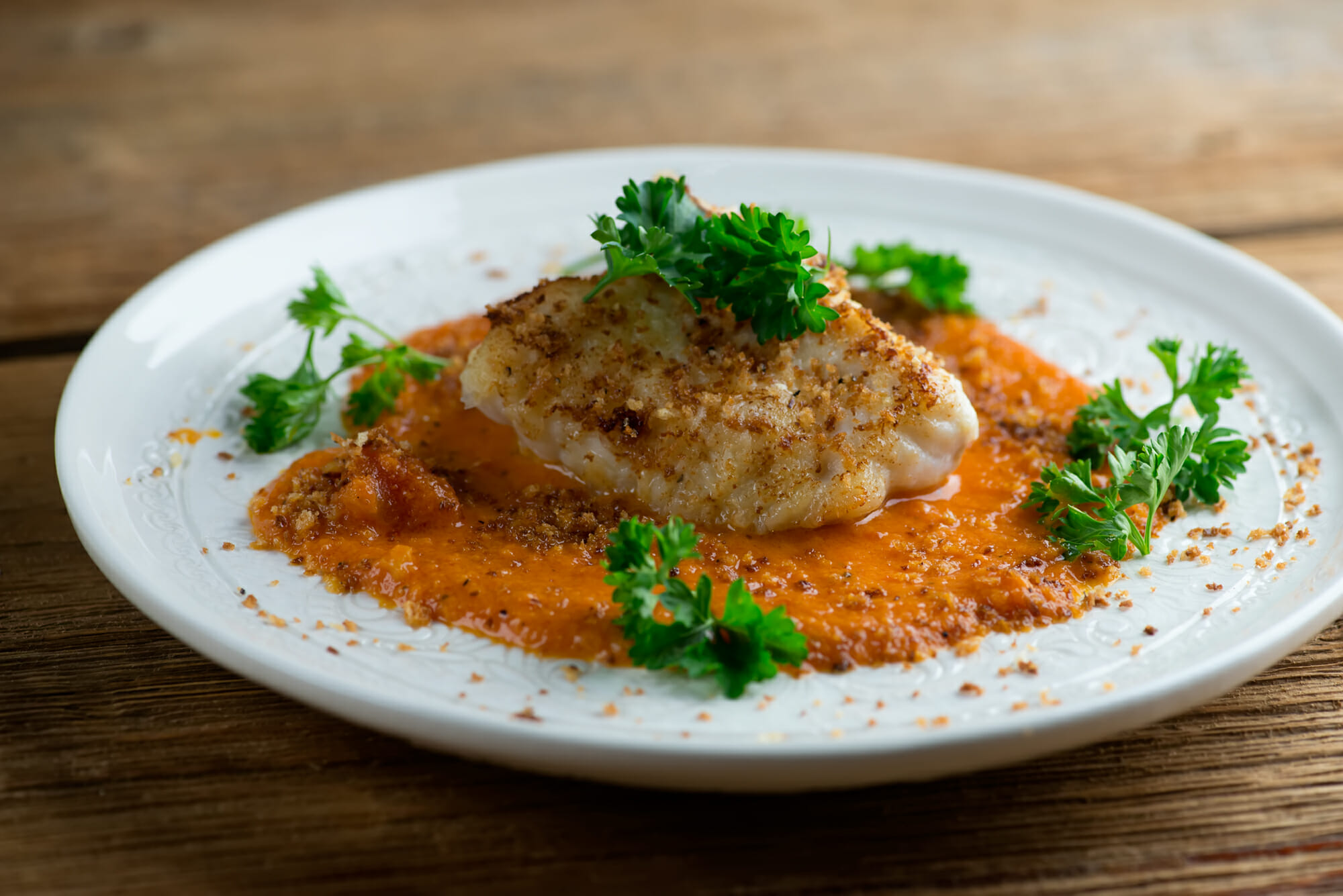 You're intrigued, right?  Because (like me!) you love lobster but you (like me!) always pause a little at the thought of wrangling those scrumptious crustaceans.  Not that we aren't entitled to a little lobster now and then, but there is a much easier, somewhat less expensive alternative that I'm needing you to try.
What Is A Monkfish Anyway? And Why Is It Called Poor Man's Lobster?
Monkfish is a completely terrifying-looking fish (Google it at your own peril) that has a sweet, firm texture that is very similar to lobster.  Unlike lobster you can buy it in boneless filet form, meaning no battling with shells. (That sound you just heard was the Southern husband cheering!).
Before everyone caught on to the fact that monkfish was as scrumptious as lobster and a lot easier to deal with, it also used to be a lot cheaper.  It's still not as pricy as lobster, but it's not a bargain-basement priced fishie either.  That being said, it's being carried in more and more supermarkets – I got mine at Wegman's – and it's something you need to add to your must-try list.
Here's How To Cook Monkfish!
My favorite way to cook up monkfish is by roasting it in the oven while whipping up a super simple tomato sauce to pour over the top of it.  I start by putting a simple tomato sauce on the stove to simmer away.  While that is happening, I cut my cooperative monkfish filets into single-serving pieces, sear them in butter for a couple of minutes on the stovetop, and then pop them into the oven to finish cooking while the sauce finishes.
Last but not least I sauté up a small skillet of breadcrumbs until they are golden and crispy.  When everything is ready, I give the sauce a quick whirl in the blender and then ladle a puddle on to everyone's plate.  Pop the roasted monkfish on top, garnish with some breadcrumbs and fresh parsley and there you have it!  A tender, scrumptious plate of poor man's lobster.
In other news that has nothing to do with monkfish, here's a picture of the Southern husband's prize waterlilies.  They came into bloom this past week, and I just had to share the cheeriness.  Every year I agonize about snipping off one bloom and bringing it inside, and every year I just can't bring myself to do it because they look so happy in our pond.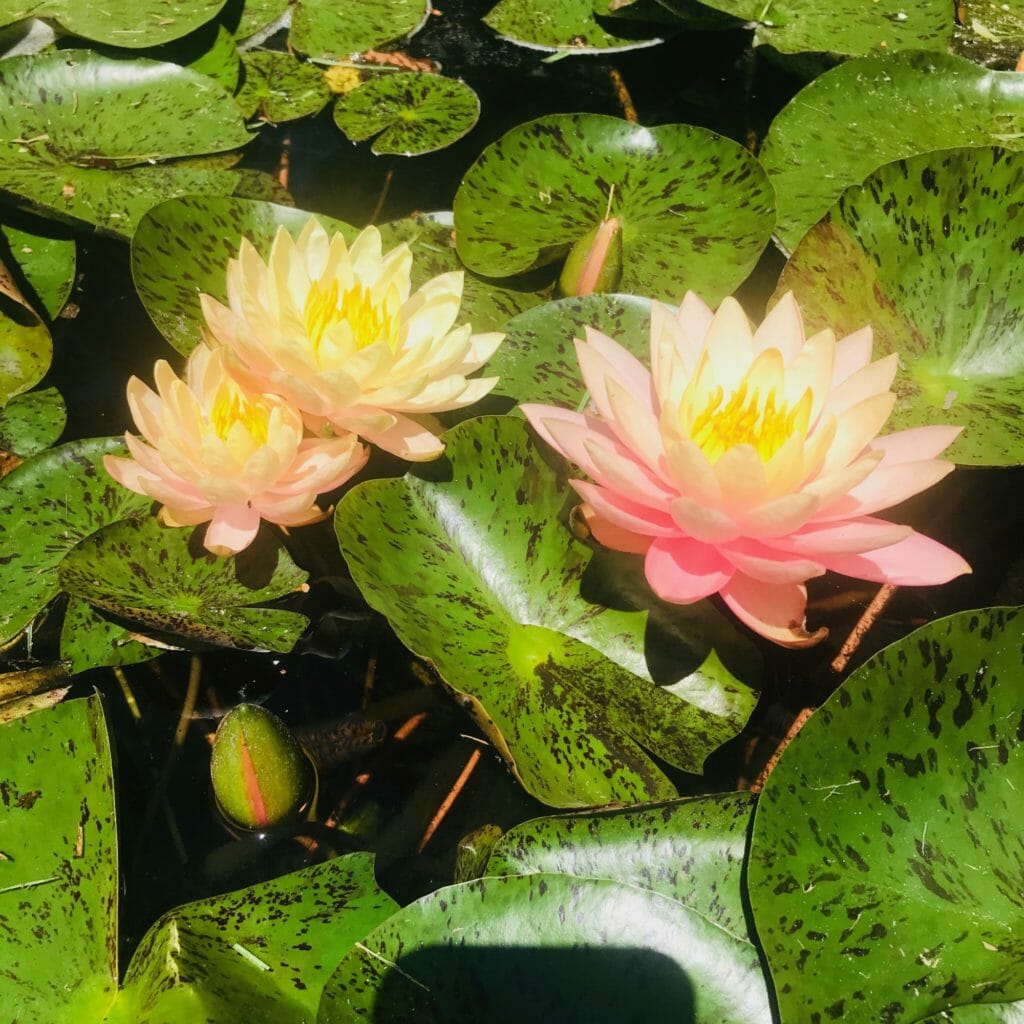 I think that is all I have to say about both monkfish and waterlilies.  Except that they are both fabulous!
Print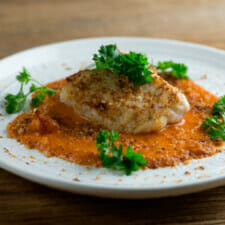 Poor Man's Lobster
---
Author:

Prep Time:

15 minutes

Cook Time:

45 minutes

Total Time:

1 hour

Yield:

4

1

x
Category:

Dinner

Method:

Stovetop

Cuisine:

American
Description
This recipe for poor man's lobster uses sweet monkfish filets and an easy tomato sauce to give the flavor of a lobster dinner at a fraction of the price!
---
Ingredients
1

pound boneless monkfish filet, about

1

inch thick

6 tablespoons

butter

3 tablespoons

olive oil

½ cup

flour
Salt and pepper

1

14 oz can diced tomatoes with their juice

½ cup

panko breadcrumbs

½ cup

parmesan cheese, plus extra for garnish
Chopped parsley for garnish
---
Instructions
Preheat oven to 400 and line a rimmed baking dish with nonstick foil.
Prepare sauce: put tomatoes, their juices and 4 tablespoons of butter in a small saucepan and simmer over low heat for 45 minutes. Puree until smooth in a blender or with an immersion blender.  Stir in parmesan cheese.
While sauce is cooking, get the fish ready! Slice monkfish into 4 even pieces.
Put flour into a pie pan and season with a pinch each of salt and pepper.  Dunk each piece of monkfish into the flour until coated.
Put remaining butter and 2 tablespoons of olive oil into a large skillet over medium high heat.When butter is melted and foaming, add fish and sear for 2 minutes per side.
Place seared fish on the prepared baking sheet and roast for another 10 minutes.
While the fish is roasting, make the breadcrumbs: put the last tablespoon of olive oil in a skillet, add the breadcrumbs and sauté until golden.
Ladle a puddle of tomato sauce on each plate, place fish on top and drizzle with more sauce. Garnish with parsley, a little parmesan cheese and some fresh ground pepper.