Welcome to the pinnacle of comfort food deliciousness, which is this recipe for gnocchi macaroni and cheese. The perfect cheer you up supper, full of pillowy soft gnocchi and a creamy, dreamy cheddar cheese sauce.  Good for whatever ails you!
Okay, the recipe for gnocchi macaroni and cheese comes with a saga, and for once it does not involve me.  Nope, it involves my sweet little sister, and it has a happy ending, but just let me say that if there was ever a saga that was calling out for Extreme Comfort Food it's this one.  And this gnocchi macaroni and cheese is comfort food to the MAX.  Soft pillows of gnocchi nestled in cheddar cheese, and preferably served up in your very favorite bowl.  Ready to both hear more about the saga and the gnocchi?  Let's make it!
Here's a picture of me and my little sis.  And an interloper that we both love and adore.
Sometimes people tell me that we look alike which makes me no end of happy because isn't she lovely?  She also has all kinds of talents that I don't have…she can sing, she can play the guitar, she is an expert mushroom forager, and she can ice skate backwards.  And that last one is where our saga begins.
Here she is last weekend, on a pond near her house in Woodstock.  Looking adorable before putting on her ice skates.  And skating backwards.  Over a branch that was frozen into the ice.  Which she didn't see because of the whole skating backwards thing.  You probably can guess where this saga is going.
There she is a few hours later, still looking adorable (look at the sweet little curl in her hair).  With two broken wrists.  My poor sweet pea!  I wanted to immediately make her ten pounds of gnocchi macaroni and cheese, because of the whole comfort food thing and in case it has magical bone-healing powers.  But here's the thing about my sister.
A few days later when she was in her ultimate wrist cast/splint things, she was still her smiling self.  I've texted her approximately 1,495,264 times since this all happened to check on how things are going, and invariably she responds with happy reports and emojis of pizza and wine.  Oh, and I've now given her pretty much every sweater I own that doesn't include sleeves, and it appears that I have a poncho issue, because I'm giving her yet another one that I found today.
This also gives me the chance to send out my heartfelt thanks to her amazing boyfriend Doug, and her wonderful friend Megan, both of whom scooped her up off the ice, got her to the hospital, and have been taking care of her ever since.  The pictures above are Megan's, and if you click on any of them you will get to see her beautiful photography website.  She's not only a true-blue friend but a mad-talented photographer.
Back at the gnocchi mac and cheese, you of course want to start with the best gnocchi you can find.  Look in the refrigerated (not frozen) section of your store.  If you can find it, my very favorite brand is Giovanni Rana.  YUM.  This recipe is as simple as they come, and while I will never give up regular mac and cheese of all types, this is probably the best mac and cheese recipe I know.
With love and kisses to my little sis, here's the recipe!
Print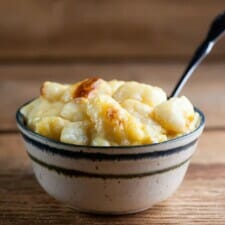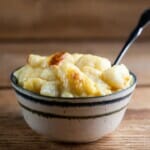 Gnocchi Macaroni and Cheese
---
Author:

Prep Time:

5 minutes

Cook Time:

30 minutes

Total Time:

35 minutes

Yield:

4

servings

1

x
Category:

Dinner

Method:

Stovetop and Oven

Cuisine:

Italian
Ingredients
1

pound potato gnocchi

2 tablespoons

butter

2 tablespoons

flour

1 1/4 cup

milk

4 ounces

cheddar cheese
---
Instructions
Preheat oven to 375 and spray a casserole with cooking spray or wipe with olive oil.
Cook gnocchi according to package directions in salted water.
Melt butter in a saucepan over medium high heat and whisk in flour. Whisk in milk and simmer until the mixture starts to thicken, about about 5 minutes.
Stir in cheese until melted.   Add cooked gnocchi and stir until coated.
Transfer gnocchi mixture to your casserole and bake until golden, about 20-30 minutes.  If you like, you can turn on the broiler for a minute or two at the end to crisp the top.
Serve in your favorite bowls to your favorite people.  Feel better.
SaveSaveSaveSave
SaveSave