Is there anything more perfect than steak and french fries? Here's my favorite recipe for steak frites! The perfect meat and potatoes supper, with tender cooked sliced steak and perfect little salted matchstick fries that are so easy to make.
I am helpless in the face of steak frites on any restaurant menu. Steak frites is exactly what the picture looks like it is…slices of steak with french fries…and when enough time goes by without me running into it while we are out to dinner, I make it myself.
And when I make it myself, I get to have my ideal version of it, which is this recipe for medium rare slices of marinated hangar steak (you can also use skirt steak) with a side of the teeniest, skinniest crispy little fries.
If you don't count the marinating time, this is a perfect in-and-out of the kitchen in under 30 minutes supper, and it makes me SO happy that it's in this category of Kate's Favorites.
And while are are talking about favorites and things that make me so happy, coincidentally there were a whole bunch of those things this past week. Starting with this guy.
This is our new dog-nephew Max, who took one look at the Southern husband and decided he would be a good nap buddy.
Max comes from the See Spot Rescued rescue dog team, and he is a sweet, goofy bundle of puppy dog love. I think my brother and his family are going to get even more visits from us than they already do, because MAX.
Happy thing number two for this week was the first time this spring that the Southern husband and I were able to lounge around on our Adirondack chairs after work.
We are in that in-between time where it can be either 40 degrees or 75 degrees in the evening. This was 75 degrees with a glass of Red Rock, which equals happiness.
And speaking of a nice red wine, the Southern husband came home one day this week with these.
I was highly, highly, HIGHLY doubtful. And also highly wrong, because that is a nicely portable can (yep, can) of a lovely Pinot Noir. Who knew?
And last but not least, this also happened this week.
Anthropologie opened in the lobby of my day job office building.
Now, under most circumstances I hate clothes shopping – I get most of my new duds from the subscription services Nuuly and Stitch Fix and Trendsend precisely so that I never have to set foot in any store that sells clothes.
EXCEPT FOR ANTHROPOLOGIE. I don't know what is about that place, but I am drawn to it like a bee to honey, and I love pretty much everything in there.
I'm a little worried that I'm basically going to just start handing my paycheck over to them as I walk in the door since I will now be seeing that door beckoning to me every Monday through Friday, but I will try to be strong.
Anyway, those are a few of my favorite things along with steak frites, and since they all just happened in a row I figured that was a sign that I should share my favorite steak frites recipe.
Here's how you make steak frites!
You want a couple of nice hangar steaks, which are a reasonably priced steak with a nice beefy flavor. You can also use skirt steak, but if you have never tried hangar steak, this is the time!
Slather the steaks with a mixture of mustard and oil and lemon juice and let it marinate in the fridge for at least a couple of hours and as much as overnight.
When dinnertime rolls around, fire up the grill (or your trust cast iron skillet if you don't have a grill) and just before you put the steaks on, prep your potatoes.
Scrub them clean with a vegetable scrubber and if you have a mandoline, use the julienne blade to cut them into teeny skinny fries. No mandoline? Then slice the potatoes length-wise into thin thin slices, and then cut the slices into thin strips.
Now go ahead and cook the steaks on the grill and then let them rest under a sheet of foil while you fry up the frites in some canola oil. Then slice the steak and give everyone a nice pile of perfect steak and perfect fries.
See? HAPPINESS. What's the recipe that brings a smile to your face every time you make it? I want to know! :)
Print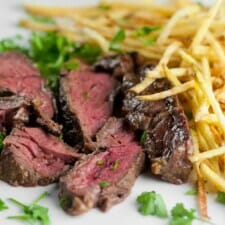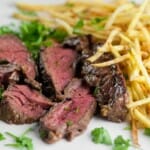 Steak Frites
---
Author:

Prep Time:

15 minutes

Cook Time:

10 minutes

Total Time:

25 minutes

Yield:

4

servings

1

x
Category:

Dinner

Method:

Stovetop

Cuisine:

American

Diet:

Gluten Free
Description
Is there anything more perfect than steak and french fries? Here's my favorite recipe for steak frites! The perfect meat and potatoes supper.
---
Ingredients
2

one pound hangar steaks, cut in half length-wise

1/4 cup

mustard
Juice from

one

lemon

2 tablespoons

olive oil

1/2 teaspoon

salt

1/4 teaspoon

pepper

2

large Idaho or Russet potatoes
Sea salt and pepper
Canola or vegetable oil for frying
Chopped fresh parsley for garnish
---
Instructions
Mix mustard, lemon juice, olive oil, 1/2 teaspoon salt and 1/4 teaspoon pepper together in a small bowl. Slather it over both sides of the steak and let them sit for at least two hours in the fridge, or up to overnight.
Prep the potatoes by scrubbing them clean with a vegetable brush (no need to peel them) and then cutting them into super thin strips with the julienne blade on a mandoline. If you don't have a mandoline, cut the potatoes into very thin slices length-wise, and then cut the slices into thin strips.
Heat your grill to its highest setting and grill the steaks for 2 minutes per side if they are thin and 3 minutes per side if they are thick for medium rare (see note). Remove them to a cutting board and let them sit while you are finishing the fries.
Pour 2 inches of canola or vegetable oil into a heavy deep skillet and turn the heat to high. Line a cookie sheet with paper towels.
When the oil is hot (we are looking for about 350 degrees if you want to get precise, but otherwise just let it heat for about 5 minutes and you should be good), lower the potatoes into the oil with a large slotted spoon or spider. Fry until golden and then remove them to the lined cookie sheet. Sprinkle them with salt and pepper.
Slice the steaks, put them on individual plates with a nice pile of fries, sprinkle with parsley if you like, and dig in!
Notes
No grill? You can make this in a cast iron pan too – pour in a little canola oil, heat the pan over high heat for ten minutes, turn on your oven fan and follow the grill directions!
Need to add something to your kitchen equipment to make this recipe? Below are some of the items we used in the Framed Cooks kitchen to help cook this up. These are affiliate links to things we use and love, which helps to pay for all that bacon I keep buying!
Equipment