This recipe for easy paella is a show-stopping mixture of seasoned rice with shrimp, sausage and chicken. Simple and delicious!
Click here to PIN this recipe for Easy Paella now – so you can make it later!
There is a reason why I am calling this reason Easy Paella, and it is this: Paella Is Easy.
For ages and ages I suffered from Paella Intimidation, which is the completely unreasonable fear of making one of my favorite rice and seafood dishes because, I don't know, it looked HARD.  And then I bucked up and made it, and guess what?
Not. Hard.
Nope, it's one of the easier fancy dinners I have ever made…so fancy in fact that I now make it on regular old Thursday nights, because it's basically just a matter of tossing some rice in a pan with broth and white wine and some seafood and veggies and whatever else catches your fancy, paella-wise, and letting it all simmer together until it is done.
When I think of all the paella I haven't eaten in my lifetime due to Paella Intimidation…well, let's not think about that after all.  Instead let's make some!
This recipe for easy paella is a show-stopping mixture of seasoned rice with shrimp, sausage and chicken. Simple and delicious! Click to TweetI first made this last Christmas Eve, because there is nothing like making something you are afraid to make when you have loads of people coming for dinner.  Why do something as calming as a test run?
Nope, I figured I would just take things to Defcon One, dinner-wise.
Which at the end of the day was a complete waste of perfectly good stress, because after doing massive paella research and coming up with my own spin on it, it obediently cooked up perfectly.
It was almost anticlimactic, except for the part where I got to serve everyone plates full of spicy, tender paella.  Now I pull this recipe out whenever I am feeling like I want to eat fancy without actually cooking fancy.
Here's me being fancy recently at our local PBA wine-tasting fundraiser.
And here's the Southern husband really, really wishing he could take home the car we are leaning on.  Talk about fancy.
Back at the paella, here's how paella goes.
Here's how you make easy paella!
You want a nice short grain rice that is going to do a good job of absorbing the liquid…I use arborio rice, which is the same kind you use for risotto.
You want whatever kind of protein you want to star in your paella…I used shrimp, sausage and chicken, but you can use any one or combo of those you like, or you can swap in lobster if you are feeling extra swanky.
You need chopped tomatoes and onion, some chicken broth and white wine, and a little saffron or turmeric to spice things up and get the rice that pretty shade of deep yellow.
Start by sautéing up the chicken and onion, and then pour in the rice and the chicken broth and wine and spices.
Simmer it all together for about 15 minutes, until the rice is almost but not quite done.  Add the sausage, tomatoes and shrimp and cook it for another 5-10 minutes or so, until the rice is just done and the shrimp is cooked through.
You have now made paella.  Seriously.  Paella.  Here's a quick little video so you can see the paella-making in action…
One important note about the rice: for 100% paella authenticity, you want the rice to stick to the bottom of the pan, forming a crunchy bottom crust that is called socarrat.
Sometimes I achieve lovely crunchy socarrat, sometimes (like in the video) I don't.  I am now so chill about paella-making that I am happy both ways.
So whether you have a fancy dinner coming up, or you are just craving paella on a random Thursday night, Relax and Paella On.  It's easy!
Print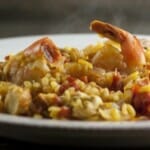 Easy Paella
---
Author:

Prep Time:

10 minutes

Cook Time:

40 minutes

Total Time:

50 minutes

Yield:

6

1

x
Category:

Dinner

Method:

Stovetop

Cuisine:

Spanish
Description
This recipe for easy paella is a show-stopping mixture of seasoned rice with shrimp, sausage and chicken. Simple and delicious!
---
Ingredients
1 tablespoon

olive oil

1

boneless chicken breast, cubed

1

sweet onion, peeled and chopped

1 cup

arborio rice

1 cup

chicken broth, plus extra as needed

1 cup

white wine

1/2 teaspoon

saffron or turmeric

1 teaspoon

salt

1/2 teaspoon

pepper

1

14 ounce can diced tomato

1/2

pound shrimp, peeled

6 ounces

sausage (your choice!)
---
Instructions
Heat olive oil in a large deep skillet over medium high heat. Saute chicken until just golden. Add onion and saute until tender, about 3-5 minutes.
Add rice and stir. Add broth and wine, salt and pepper and saffron or turmeric and stir. Simmer for 15 minutes, adding more chicken broth if needed.
Add tomato, shrimp and sausage and simmer until rice is just done and shrimp is cooked through, about another 5-10 minutes. Ideally the rice should stick to the bottom of the pan to form a little crust (but don't fret if it doesn't, it will still be scrumptious!).
Hurray! You've made paella!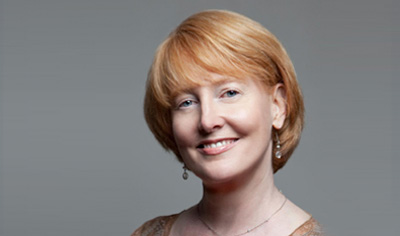 Hi there!  I'm Kate, and I'm a recipe writer, food photographer and devoted bacon lover.  I started Framed Cooks in 2009, and my mission is to create and share family-friendly recipes that make cooking both easy and fun…yes, I said FUN!  My kitchen is my happy place, and I want yours to be that place too.  And if you make this recipe, I would love you to tag @FramedCooks on Instagram so I can see the deliciousness!