This easy recipe for twice baked shepherd's pie potatoes stuffs a potato with shepherd's pie fixings and tops it with mashed potato!
I think the title of this recipe, twice-baked shepherd's pie potatoes, is pretty self-explanatory, but that isn't going to stop me from both going on and on about the deliciousness of it, or wondering WHY given all the other ways I have made twice baked potatoes, it took me so long to stuff them with shepherd's pie filling.
Because after all, traditional shepherd's pie is a meat and vegetable filling topped with mashed potatoes. Usually cooked in a casserole or a skillet…but here is the beauty part.
We are tossing that casserole aside in favor of stuffing the potato skin full of the filling instead. That very same potato that we scooped out the insides out of to make mashed potatoes. Which we are going top our potatoes with.
Can you handle how perfect and efficient all of this is???
And before I go any further, let me just say that yes, I know that shepherd's pie is traditionally made with lamb, and if you make it with beef you are supposed to call it cottage pie. But "twice baked cottage pie potatoes" didn't have the same comfort food ring to it, so I am taking poetic license here.
Ingredients you need to make these Shepherd's pie potatoes!
Here's how to make twice baked shepherd's pie potatoes!
(Scroll down for the handy complete printable recipe with nutrition info!)
So, get yourself a couple of nice plump russet potatoes, scrub them down well, and either bake or microwave them until they are tender.
While they are cooling down you are going to make a traditional shepherd's pie filling out of (sorry!) ground beef, carrots, onions and a few other ingredients.
Carefully cut an oval in the top of each potato and scoop out the insides.
Get as close to the skin while you are scooping as you can without breaking it, because the emptier the potato, the more delicious beef filling you can smoosh in there.
Once you have the potato insides scooped, mash them with some milk and butter until they are nice and smooth. Now pack as much shepherd's pie filling as you can into each potato skin.
It's okay if it is heaped up higher than the edge of the skin, because the mashed potatoes we are about to spread on top will keep everything in its place. Yep, spread those mashies on top of each potato. Don't leave any left behind.
Now bake up until the tops start to get a little golden, about 20 minutes or so, and then slide one of those babies on to each plate.
More Tips for Making Stuffed Shepherd's Pie Potatoes
Can I use Yukon Golds or other kinds of potatoes for this recipe?
Nope on the Yukon Golds, but potentially yes on the other kinds. You need a potato with a sturdy skin (like Idahos, Russets or even sweet potatoes) to hold in the filling. Yukon Golds are perfect for regular mashies like these brown butter mashed potatoes, but for twice baked your best bet is the sturdier guys.
Can I use chopped lamb to make this recipe totally authentic?
You can! The trick will be finding it…ask at your meat counter or your local butcher. Or, if you have leftover leg of lamb, mince it up and stir it in when you add the Worcestershire sauce.
What are good side dishes for shepherd's pie potatoes?
I like to add another veggie on the side, like these roasted string beans with walnuts. And maybe some butter biscuits? And of course, we need dessert…the last time I made these I served up some apple cider bundt cake for everyone who cleaned their plate (that was everyone at the table.)
Have a question I didn't cover?
Drop your question in the comments and I promise to answer pronto!
Very Important Step: Admire it for a few minutes as you realize that this is your potato and yours alone…another of the many advantages of making twice baked shepherd's pie potatoes. You get the whole thing.
Feel pretty much like this, including the hand-clapping part…
…and dig in!
Print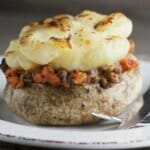 Twice Baked Shepherd's Pie Potatoes
---
Author:

Prep Time:

15 minutes

Cook Time:

35 minutes

Total Time:

50 minutes

Yield:

2

servings

1

x
Category:

Dinner

Method:

Stovetop, Oven, and Microwave

Cuisine:

American
Description
This easy recipe for twice baked shepherd's pie potatoes stuffs a potato with shepherd's pie fixings and tops it with mashed potato!
---
Ingredients
2

russet potatoes, scrubbed

1/2

pound ground beef

1

small onion, finely chopped

2

carrots, coarsely chopped

2 tablespoons

tomato paste

2 tablespoons

flour

1

to

2

tablespoons Worcestershire sauce

1/4 cup

milk

2 tablespoons

butter
salt and pepper
---
Instructions
Preheat oven to 425°. Heat a large skillet over high heat. Cook beef until no longer pink, about 5 minutes. Scoop out beef and set aside.
Reduce heat to medium; add onion and carrots. Cook, stirring occasionally, until softened, about 5 minutes. Stir in tomato paste. Add flour; cook, stirring, 2 minutes.
Add Worcestershire sauce, 1/2 cup water, and beef. Season with a pinch each of salt and pepper. Simmer until thickened, stirring occasionally, about 5 minutes.
Meanwhile, make potatoes: pierce each potato a few times with a fork and microwave until tender, about 8 minutes. When they are cool enough to handle, cut an oval in the top of each potato and scoop out the insides, going as close as possible to the skin without breaking it.
Mash the potato insides with milk and butter, and season to taste with salt and pepper.
Place the potatoes on a foil-lined baking pan. Stuff the skins with the beef mixture, packing it in tight to use all of it. Top with mashed potato mixture.
Bake until tops are just starting to brown, around 20 minutes. Serve!
Notes
Need to add something to your kitchen equipment to make this recipe? Below are some of the items we used in the Framed Cooks kitchen to help cook this up. These are affiliate links to things we use and love, which helps to pay for all that bacon I keep buying (without any extra cost to you)! Thanks for using them to keep our kitchen cooking…xoxo!
Equipment We Used For This Recipe