This recipe for coconut oatmeal cookies with just a hint of cinnamon sugar makes a delicious old fashioned comforting treat.  Warm and wonderful and the perfect thing for that cookie jar I know you have!
These coconut oatmeal cookies are not the hearty, chewy oatmeal cookie you are probably used to.  Nope, these oatmeal cookies are soft and pillowy and dusted with just a little bit of cinnamon sugar for just a hint of extra sweetness.  They are a shy, sweet cookie that looks and tastes so gentle that you want to give it a hug and tell it that it's just as wonderful as all the other show-off cookies, because it IS.  They are perfect with a warm cup of Irish breakfast tea, and exactly what you want to make for a friend who is in need of a plate of cookies.  And we all have friends who are in need of plates of cookies from time to time.  Let's make some!
This recipe for coconut oatmeal cookies with cinnamon sugar makes the cookie of your dreams.
Click To Tweet
In my case, I made a plate of them for a whole bunch of friends. As in, the raucously wonderful group of folks I spend my days in the office with.  Every now and then I like to get their Monday mornings off to a good start by bringing them in a plate of something sweet.  That's right…I have another life outside of my kitchen, and here I am in my other natural habitat, aka my office in feisty lower Manhattan.
And if you are wondering what the Scarlet Guard is all about, click the picture.  It has nothing to do with the red hair.
Anyway, I adore my brilliant and creative and hardworking co-workers, and the least I can do is put my money where my mouth is by hooking them up with some coconut oatmeal cookies and other goodies from time to time.  These babies get their pillowy softness from the fact that there is a pretty good ratio of flour to oatmeal, and the coconut is baked right into the dough.  There is a little cinnamon mixed into the dough as well, but I like to amp it up a little by sprinkling on some cinnamon sugar right before I pop them into the oven.  I do keep back a few for the Southern husband, because I love him too.  With cookies, it's always good to spread that sweet-tasting love around.  So the next time you get the urge to bake up a treat for someone, give these babies a try – and don't forget to hold back a few for yourself!
Print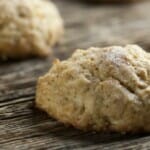 Coconut Oatmeal Cookies
---
Author:

Yield:

About 36
Ingredients
1/2 cup butter, softened
1/2 cup sugar
1/2 cup light brown sugar
2 eggs
1 1/2 cup flour
1 cup oats (the rolled kind)
1 cup shredded sweetened coconut
2 teaspoons baking powder
1/2 cup milk
1/2 teaspoon vanilla extract
1 tablespoon cinnamon sugar
---
Instructions
Preheat oven to 375 and line cookie sheets with parchment or silicone baking mats.
Put butter and both sugars in a mixing bowl and beat until fluffy. Add eggs one at a time and beat on medium speed until blended in.
Place flour, oats, coconut and baking powder in a separate bowl and mix with a whisk until combined. Add to mixing bowl with the butter mixture and mix until blended.
Add milk and vanilla extract to the bowl and mix one more time.
Place dough by rounded tablespoons on cookie sheet, about 2 inches apart. Sprinkle a little cinnamon sugar on each cookie and bake until golden, about 15 minutes.
Cool for a few minutes on the cookie sheet and then remove to a cooking rack to cool further.