A few simple changes will make your next steak Caesar salad even more delicious than usual! Breadcrumbs, cubed steak and just the right amount of dressing take your salad from good to the best steak Caesar salad ever. Really!
I will freely admit it – I can be annoying to go out to eat with.
Maybe it is because I am a food blogger (although I kind of doubt it, because all my wonderful food blogger friends are amazingly nice, sweet, the opposite-of-annoying people. David and Robyn and Lori and Lindsay and Kristen and Joanne, I'm looking at you guys. THE BEST.).
Anyway, I can't seem to get in and out of anywhere without psychoanalyzing the food…and it's not only my own dinner.
Nope, the Southern husband gets dragged into my crazy as well, which actually doesn't work out badly for him because then I go home and start trying to reinvent whatever it was that he ordered.
Sometimes it doesn't work out…well. Like the 25 times I crashed and burned trying to make chicken fried steak. Those were dark days.
But sometimes…oh sometimes I manage to reassemble a recipe into something that we both agree is pretty dang great.
That could of course be his self-preservation instincts kicking in, but in the case of this Steak Caesar Salad, I do think I may have added something to the Caesar salad pantheon. See what you think!
Here's how it started. We were having a lovely weekend down the at the Jersey Shore. It was still the early edge of spring, but just warm enough to be able to walk along the boardwalk.
Here we are soaking up the ocean air – don't we look happy? You'd never know that in a short while I was going to pull my restaurant shenangans.

So along comes lunchtime and we duck into a perfectly nice little beach restaurant. I can't even remember what I had, but the Southern husband ordered, yup, steak Caesar salad…and it came out looking like it has the other 1,000 times he has ordered it.
Romaine lettuce, lots of big croutons, ample amounts of dressing and three or four strips of steak on top of the whole thing. He picked up his fork and steak knife, and honestly, he looked perfectly content.
Which is when I couldn't help messing with his Caesar salad karma.
"Wouldn't it be better if you didn't have to cut up the steak? It's hard to cut steak when it's in the middle of the salad, isn't it?"
"Don't those croutons look too big? Wouldn't it be nicer if you could have one bite that had salad and steak and crouton all together? I think those croutons are too big."
"Wow, there's a lot of dressing on that salad." (He did agree with that last one.)
How Do You Make A Caesar Salad Better?
So when we got home, I swung into action. We had a little leftover steak in the fridge, and I cut it up into bite-sized little cubes.
I whirled a couple of slices of bread in the food processor and stirred them up in a skillet with a little olive oil and garlic and salt and pepper.
If I had been really responsible I would have made some homemade dressing like this delectable one from Gimme Some Oven, but I used Boathouse Farms Caesar Parmigiano Yogurt Dressing and we loved it very much.
So when dinnertime rolled around, I put some chopped romaine in a mixing bowl and used my (yes I washed them thoroughly) hands to mix the lettuce with the dressing.
I drizzled and added, drizzled and added until there was just enough. Much tasting is required. I know, poor me.
Next added the steak and tossed again.
And last but not least, I divided it onto our plates, topped it with some shaved parmesan and a pile of those toasted breadcrumbs, drizzled just a teeny bit more dressing on top, and we dug in.
No cutting up the steak because it is already in bite sized cubes. The breadcrumbs meant we could get a little of that great crouton taste on the same forkful as the lettuce and the steak.
And because of all the drizzle-and-taste with the dressing, the whole thing tasted like salad with dressing and not the other way around.
More Tips For Making The Best Steak Caesar Salad!
Is there a particular kind of steak I should use?
I usually use either hanger or flap steak, cooked on the grill for about 2-3 minutes per side for medium rare. But whatever steak you like best will work – when I am feeling Super Fancy I used filet mignon. Oo-la-la!
Can I use prepackaged breadcrumbs?
Nope, not for this recipe. But I promise that as long as you have 2 slices of bread and a food processor, fresh breadcrumbs are 30 seconds away.
Does the steak need to be warm (or cold?)
Either way works great! Mine tends to be warm because I cook the steak at the last minute, but I've also made it with cold leftovers and it is equally awesome.
I definitely don't always get things right, but I am ridiculously happy with my Steak Caesar salad hacks.
Do you have a way that you've upped the game on a classic Caesar? TELL ME! Leave a link in the comments…I am ready for the next great Caesar salad adventure.
Print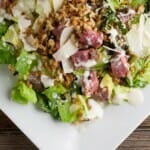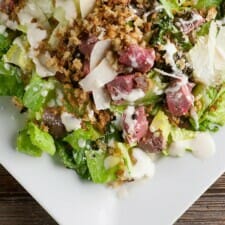 The Best Steak Caesar Salad Ever. Really.
---
Author:

Prep Time:

10 minutes

Cook Time:

5 minutes

Total Time:

15 minutes

Yield:

4

servings

1

x
Category:

Dinner

Method:

Stovetop

Cuisine:

American
Description
A few simple changes will make your next steak Caesar salad even more delicious than usual!
---
Ingredients
1 cup

fresh breadcrumbs (

2

slices whirled in the food processor will do it!)

2 tablespoons

olive oil

1

clove garlic, minced

1/4 teaspoon

each salt and pepper

1

head romaine lettuce, cut into bite sized pieces

2 cups

steak, cooked and cut into bite-sized pieces. Leftovers are great for this recipe!
Shaved or grated parmesan cheese for garnish
Your favorite Caesar dressing
---
Instructions
Put breadcrumbs, oil, garlic, salt and pepper in a small skillet over medium heat. Stir continuously until crumbs are golden and crispy. Transfer to a small bowl.
Put lettuce in a large bowl. With clean hands, add dressing in small increments until the lettuce is just coated. Taste as you go along!
Add the steak and toss again. Divide among plates.
Top with parmesan and bread crumbs. Drizzle on a little more dressing. Serve and enjoy!
Notes
Need to add something to your kitchen equipment to make this recipe? Below are some of the items we used in the Framed Cooks kitchen to help cook this up. These are affiliate links to things we use and love, which helps to pay for all that bacon I keep buying!,
Equipment We Used For This Recipe
SaveSave
SaveSave