These cookie sheet BBQ nachos are made with all your favorite fixings on a cookie sheet for easy making and easy, delicious eating! Move over cookies…the nachos are in town!
One of the things I am trying to get better about is putting up recipes that are around the right time for things you might be celebrating in your house.  In this case, I've got my eye on this upcoming Sunday, which is Cinco de Mayo.
Cinco de Mayo is, of course, a celebration of Mexican heritage and history (although in my family we also know it as my brother and sister-in-law's wedding anniversary.  They got married in Ireland. What can I say…we are a tricky international group, my family).
Anyway, here I am being all organized and offering you a completely inauthentic but very scrumptious recipe for cookie sheet bbq nachos to help celebrate the day.
Here's how you make cookie sheet BBQ nachos!
Start with the best tortilla chips you can find.  I recently discovered Xochitl Chips and I am officially in tortilla chip love with them.  They are light and crispy and just the right amount of salty and yum.
Anyway, scatter those in a generous single layer on a rimmed cookie sheet – you can have a little overlap of chips, but try not to pile them on top of each other.  We're going to top them with all sorts of fabulous things, and there is nothing sadder than a nacho chip with no nacho stuff on it.
Once your chips are all laid out, you are going to lovingly anoint them with barbecue.  If you want to make this a serious weekend project, you can make my dad's outrageously good recipe for barbecue.  Or you can get a container of the pre-made stuff at the supermarket (usually with the ham and hot dogs), which will work perfectly fine.
Or you can cook up a nice batch of taco-spiced ground beef the way you do when you are making tacos, which will mean you then need to call these Cookie Sheet Taco Nachos, but that's perfectly okay with me.  Once you have the meat on the chips, you then want to generously sprinkle them with shredded cheese.  Generously is the key word here.
Now pop them in the oven for a few minutes, just long enough for the cheese to get deliciously melty, and while you are waiting you can assemble the other toppings.
All of these are optional and interchangeable – I am a big fan of using ALL of them (as you can see from my picture!), but you pick out the ones you like best: guacamole, thinly sliced radishes, pico de gallo, salsa, chopped onion, chopped chives…you get the picture.  And the one thing I would not skip is a mixture of sour cream thinned with a little milk, just enough to make it drizzle-able.  It adds a nice cool and tangy taste to all that spiciness you have going on.
Now all that's left to do is to lay that cookie sheet full of nachos down in front of some hungry people and watch the chips fly.
(Side note: because I was planning ahead for this post, I actually made these instead of supper one day at the beginning of April.  If you want to see your significant other's face light up like it's Christmas morning, all you need to do is announce that we are eating nachos and watching the baseball game for dinner on a random Tuesday night.)
And, because you started with a nice single layer, every single one will have some of the nacho-y goodness nestled on it.  And that in and of itself is cause for celebration.  Happy Cinco de Mayo, Happy Anniversary, Happy Whatever You Feel Like Celebrating!
Print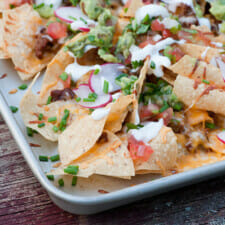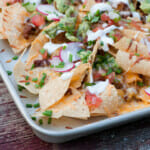 Cookie Sheet BBQ Nachos
---
Author:

Prep Time:

10 minutes

Cook Time:

10 minutes

Total Time:

20 minutes

Yield:

8

servings

1

x
Category:

Appetizer

Method:

Oven

Cuisine:

Mexican
Description
These cookie sheet BBQ nachos are made with all your favorite fixings on a cookie sheet for easy making and easy, delicious eating! Move over cookies…the nachos are in town!
---
Ingredients
1

bag of tortilla chips

2 cups

of barbeque (any variety) or taco-spiced cooked ground beef

3 cups

shredded cheddar and/or Jack cheese

1/2 cup

sour cream thinned with 2-3 tablespoons of milk (enough to make it pourable)
Your choice of any of the following toppings: guacamole, pico de gallo, salsa, thinly sliced radishes, chopped onion, scallion or chives, or anything else you like on your nachos!
---
Instructions
Preheat oven to 350.
Spread a generous single layer of tortilla chips on a rimmed cookie sheet.
Spread the meat over the chips, and then scatter the cheese on top. Bake until the cheese is melted, about 10 minutes.
As soon as the nachos come out of the oven, top them with your choice of toppings, and then drizzle the sour cream mixture over them. Serve at once, right off of the cookie sheet (make sure you put something under the cookie sheet to protect your table).