There's meatloaf, and then there's meatloaf stuffed with cheese! Once you try ricotta meatloaf you'll never think of meatloaf the same way again…get ready for them to ask for seconds and thirds!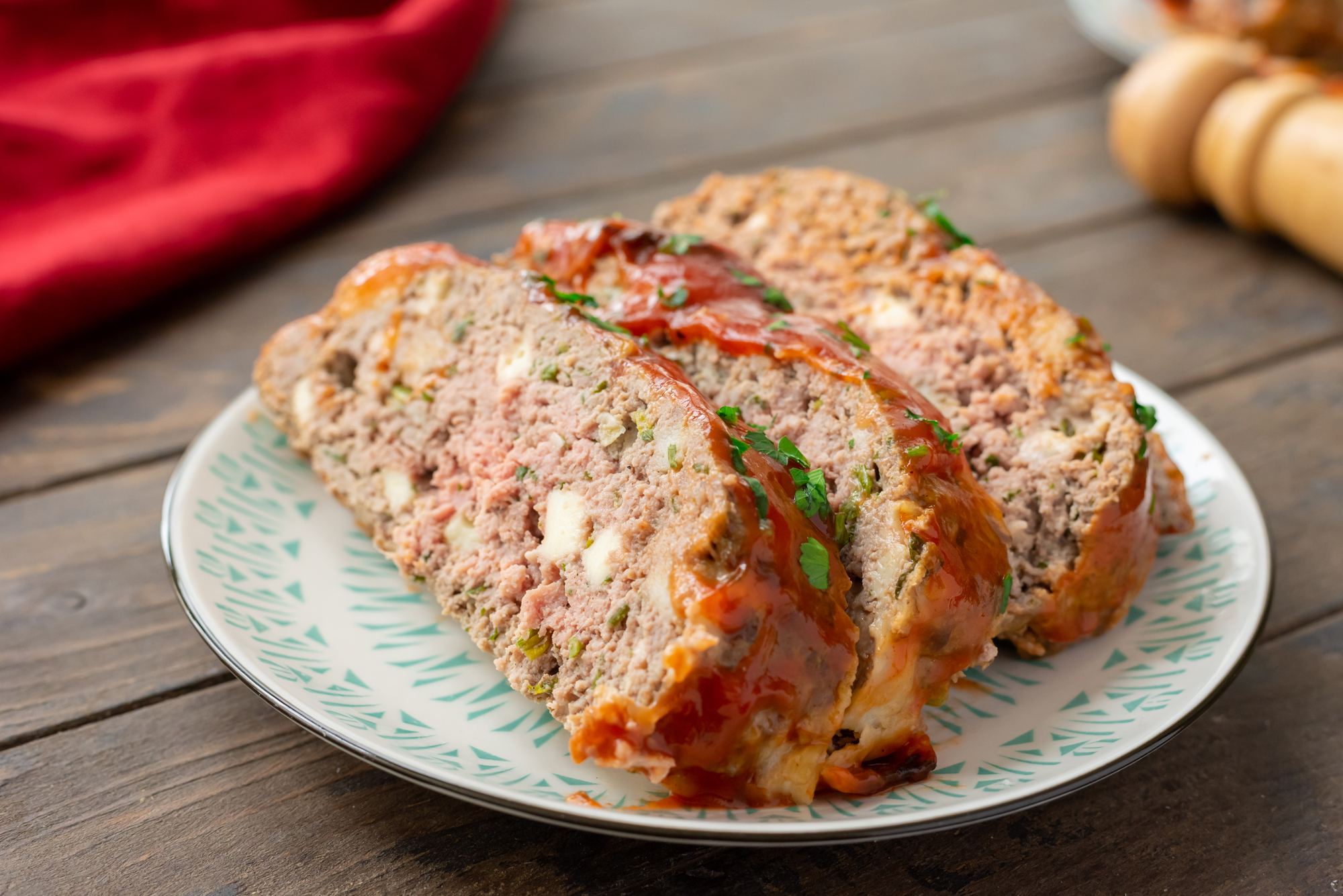 Meatloaf, meatloaf. We don't have it a lot around our house, because these days it's just the two of us and the dog.
Don't get me wrong, the dog would be perfectly happy to do her share of meat loaf eating, but still. So when I do make meatloaf, you know it's gotta be a great meatloaf.
An out of the ordinary meat loaf.
A meat loaf whose memory will last us until the next time I make meat loaf. And this ricotta meat loaf with tomato butter sauce is exactly the meat loaf to do that.
That was a lot of meat loaf. Let's see if I can keep it going.
I can't remember where I first tasted this meatloaf, but when I started looking around for ways to incorporate ricotta cheese into meatloaf they all seemed to be based on one created by the amazing Lidia Bastianich.
In a nutshell, it's the same meatloaf we all know and love, but there's a good amount of ricotta swirled into the meat mixture…and you KNOW I am always looking for any excuse to make my own ricotta cheese.
And if that wasn't enough, this recipe also features are cubes of mozzarella cheese that melt into wonderfulness as the meat loaf bakes.
And if THAT wasn't enough, it's served topped with tomato sauce (I used my favorite sauce, the incredible tomato butter sauce that cooks up in a jif with just three ingredients and will guarantee that you never even LOOK at a jar of pre-made tomato sauce again as long as you live.)
Now, I followed Lidia's meatloaf approach pretty closely with one major exception, and that was the amount of ingredients and the amount of cooking time – I cut both of them pretty much in half. Here's how my version goes.
ingredients you need to make this cheese-stuffed meatloaf!
There's a link to the cookbook that has her original recipe right under my slightly adapted version, so if you are cooking for a crowd (8 or more) that one is what you want. And then after you make it, you are going to want to go check out all her cookbooks as soon as humanly possible.
Because you know that this rocking great meatloaf is only the beginning. And if you are cooking for a smaller group, take a look at my modified version.
Not that I wouldn't be incredibly tempted to single-handedly eat eight servings all by my own self. Here's a quick look at how it all comes together…
More tips for making this delectable meatloaf!
Can I use meatloaf mix for this recipe?
You can! It's now pretty easy to find near the ground beef, and is usually a mixture of beef, pork and veal in one package. It does give an extra boost of flavor!
Can this be made ahead of time?
It can be put together ahead of time, all the way up to the baking…but I would do that right before dinnertime just for optimal cheese meltage. And the leftovers (if there are any) are going to make the world's best sandwich!
Have a question that I didn't cover?
Drop your question in the comments and I will answer pronto!
So here you go, the meatloaf to end all meatloafs. Hurray for meatloaf!
Like the looks of this recipe? Pin it now so you can make it later!

Print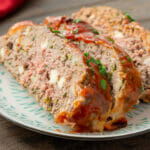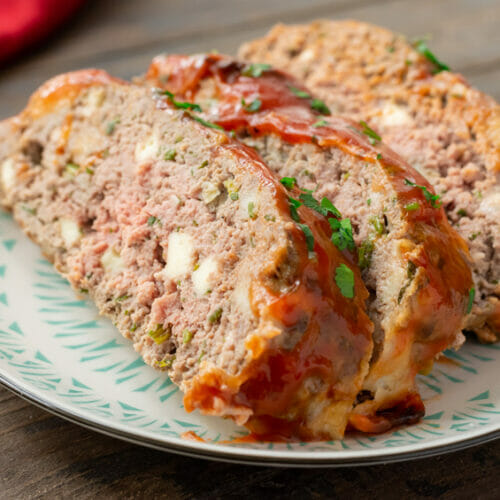 Ricotta Meatloaf
---
Author:

Prep Time:

20 minutes

Cook Time:

65 minutes

Total Time:

1 hour 25 minutes

Yield:

4

servings

1

x
Category:

Dinner

Method:

Oven

Cuisine:

Italian
Description
There's meatloaf, and then there's meatloaf stuffed with cheese! Once you try ricotta meatloaf you'll never think of meatloaf the same way again.
---
Ingredients
1/2 cup

milk

1 1/2 cups

day-old bread cubes

1 1/2

pounds ground beef

2

large eggs, beaten with a pinch of salt

1 cup

fresh ricotta

1/2 cup

chopped scallions

1/4 cup

grated Parmesan cheese

1/4 cup

chopped fresh Italian parsley, plus extra for garnish

1/2 teaspoon

freshly grated nutmeg

1/2 tablespoon

kosher salt
Freshly ground black pepper to taste

1 cup

fresh mozzarella, cut into small cubes

1/8 cup

extra-virgin olive oil

2 cups

warm tomato sauce (see the "Best Tomato Sauce In The World" recipe on this blog for a great quick homemade version!)
---
Instructions
Preheat oven to 375 degrees.
Pour the milk over the bread cubes and let soak for a few minutes until the bread is saturated. Squeeze the soft bread a handful at a time, pressing out as much milk as you can, crumble bread into crumbs with your fingers and place in a large mixing bowl.
Add the ground beef to the bowl, breaking it up into small pieces as you add it. Add the eggs, ricotta, scallions, grated cheese, parsley, nutmeg, salt, and pepper and mix everything together (your clean hands are the very best for this!)
Add the mozzarella cubes and work them through the meat mixture until they are evenly distributed.
Place a metal cooling rack in a roasting pan and brush it with olive oil. Shape the meat mixture into an oval loaf and lay it on the rack. Brush the loaf with olive oil and cover the roasting pan with foil, tenting it up so it doesn't touch the meat loaf. Bake for 45 minutes.
Remove the foil and bake for another 20 minutes. Remove from the oven, cover again with the foil and let the meat loaf rest for 15 minutes.
Slice thickly and pour the tomato sauce on top. Garnish with more chopped parsley and serve.
Notes
Need to add something to your kitchen equipment to make this recipe? Below are some of the items we used in the Framed Cooks kitchen to help cook this up. These are affiliate links to things we use and love, which helps to pay for all that bacon I keep buying (without any extra cost to you)! Thanks for using them to keep our kitchen cooking…xoxo!
Equipment We Used For This Recipe
Slightly adapted from Lidia's marvelous recipe