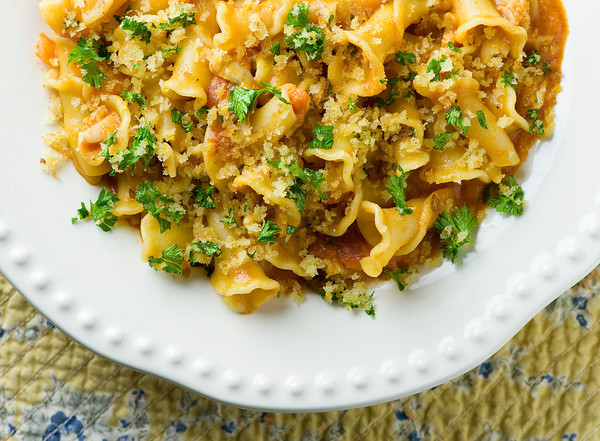 Oh sure, I love the classic pasta with clam sauce, both the red kind and the white kind.  I like the kind with the clam shells, and the kind where there are no shells and just bits of delicious clams in the sauce.  When it comes to pasta with clam sauce, I'm not a picky girl.  
However, I'm all for shaking things up here and there, and I'm also all for streamlining whatever can be streamlined if the dinner is meant for, say, a Wednesday night when it is cold and rainy and you've done one million things throughout the course of the day and you are tired and cranky.  Not that I am ever cranky.  The Southern husband will swear to it.  (While I am within hearing distance anyway!)
Which brings me to this, my current favorite new pasta with clam sauce recipe.  Now prepare yourself, because it calls for jarred pasta sauce.  I think that might be the first time I have every typed the words "jarred pasta sauce" on my blog, but in this case, it really does work, and it's essential to the speedy Wednesday night approach for this.  
The sauce in this case is tomato vodka sauce, and I promise that there is a jar of it in your supermarket spaghetti sauce aisle, just waiting for you.  And in this case, I promise that it's going to ultimately taste fabulous…after we get done messing with it.
So here's how this goes:  Find yourself some nice short pasta.  I like campanelle, which looks like little wavy seashells, and Barilla makes this variety, but if you can't find it any short pasta like penne will be fine.  Boil it up in some nicely salted water.  While it's boiling, you are going to make what I think is one of the best parts of this whole thing, which are some crispy, buttery, herby breadcrumbs.  
All you do for that is to grab a couple pieces of bread, whirl them in your food processor until they are crumbs, and then stir them in a small frying pan with some butter until they are golden and crunchy, and then mix in a little fresh chopped parsley.  All of that will take about 5 minutes.
Now!  Grab that jar of vodka sauce and pour it into a large saucepan along with some lemon juice and some garlic.  Heat it to a simmer and then stir in the pasta and some canned clams.  I like using the whole baby clams, but if you can only find chopped or minced they will do just fine.  
Now cover your pot, let it stand for about 5 minutes, and then dish it out.  Give everyone's plate a nice generous topping of breadcrumbs and a grinding of fresh pepper, and you're set!  
And I promise you, unless someone spots that empty sauce jar in the recycling, your secret is safe with me!
Print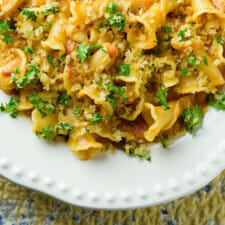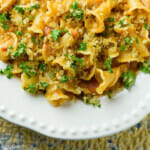 Pasta with Clams, Vodka Sauce and Crispy Breadcrumbs
---
Prep Time:

10 minutes

Cook Time:

15 minutes

Total Time:

25 minutes

Yield:

4

servings

1

x
Category:

Dinner

Method:

Stovetop

Cuisine:

American
Ingredients
8 ounces

pasta (I like campanelle for this, but any short pasta will work!)

2

slices hearty bread

1/4 cup

chopped fresh parsley

1 tablespoon

butter

1

10 ounce can baby clams or

2

6 ounce cans chopped clams, drained

1 cup

jarred vodka marinara sauce

2

chopped garlic cloves

1 tablespoon

fresh lemon juice
Freshly ground pepper
---
Instructions
Bring large pot of salted water to boil, cook pasta according to package directions, drain and set aside.
Meanwhile, chop bread into crumbs in a food processor. Melt butter in a large skillet until bubbling, then add crumbs. Stir until golden brown, about 5 minutes or so, and cool slightly. Stir in parsley.
Add vodka sauce, garlic and lemon juice to large saucepan and bring to simmer over medium heat. Stir in pasta and clams, stir and cover. Let stand for 5 minutes.
Divide pasta among plates and sprinkle with bread crumbs. Grind fresh pepper on top and serve,