This sweet and tangy coleslaw makes the perfect side to any barbecue supper! The only recipe you'll ever need for this favorite summer dish.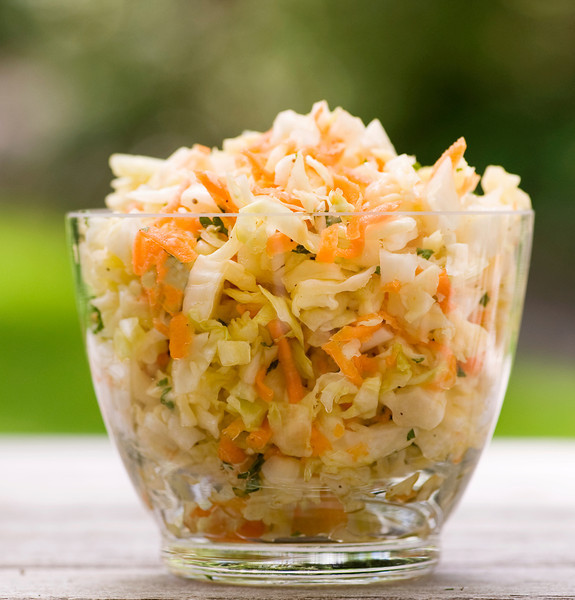 Let me start out by saying, I know coleslaw is a personal decision. Some folks like the creamy kind made with mayo or sour cream or whatever it is that makes it creamy.
I can actually go for a nice bowl of creamy coleslaw every once in while, especially if it has those little caraway seeds in it. Yum.
However, most of the time I am in the non-creamy coleslaw camp. I like the kind that is a little bit vinegary-sharp, a little bit sweet, and with just the right balance of cabbage and carrots.
And the Southern husband…well, don't even TRY to sneak any creamy coleslaw by him. He's definitely a tangy coleslaw guy. It might be the boots…who knows.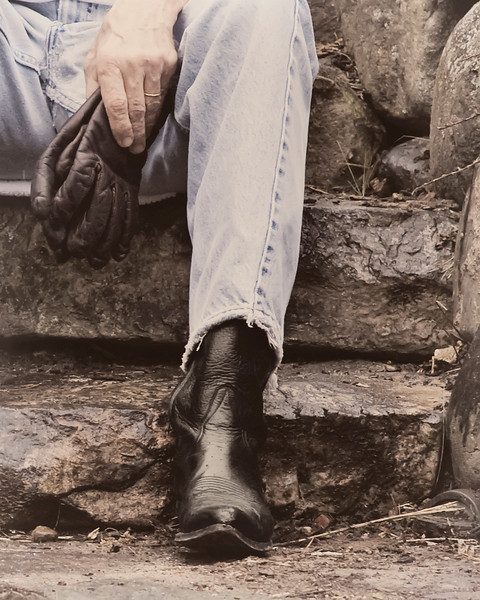 Side note: this picture is not mine…it was shot by the Southern daughter. She had a photography assignment where she had to shoot people's feet in some way that represented who they are. She wanted to shoot her dad in his boots, which I thought was very appropriate.
Then she got to me.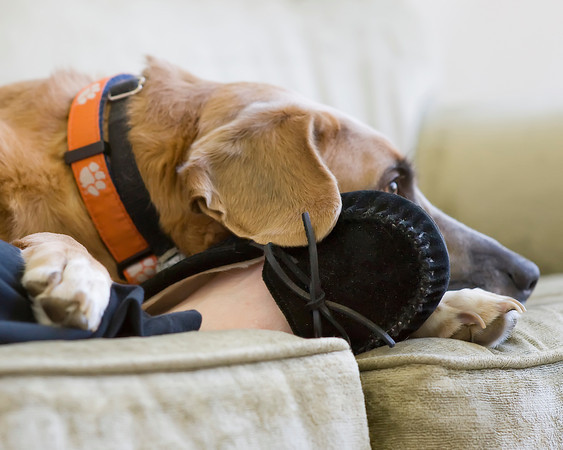 She also photographed my in my sneakers next to a laundry basket. Hmm.
Anyway, back to the coleslaw. I never seem to make coleslaw in the winter…I must have some subconscious rule in my head that coleslaw can only be made when it is above 70 degrees outside.
And every year when coleslaw season rolls around, I have managed to lose whatever recipe I found the year before for non-creamy coleslaw.
This year I figured if I just put it up on the blog, at least next year the search would be a little faster.
This recipe is adapted from one that I ran across from the always fabulous folks at Cooks Illustrated, and as always the recipe itself makes you scratch your head a little when you first read it (put the cabbage in the microwave? Really??) but as always, it comes out perfectly. Trust me.
So here it is…the only coleslaw recipe you will need all summer. And if you want something delectable to go along with it? Slow Cooker Brown Sugar Pulled Chicken. Happy sigh!
Print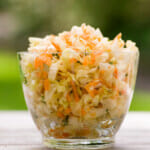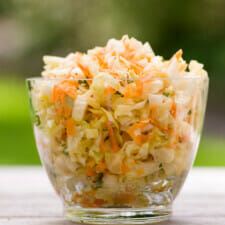 Sweet and Tangy Coleslaw
---
Author:

Prep Time:

15 minutes

Cook Time:

1 minute

Total Time:

16 minutes

Yield:

4

servings

1

x
Category:

Side Dish

Method:

Microwave

Cuisine:

Southern
Description
This sweet and tangy coleslaw makes the perfect side to any barbecue supper! The only recipe you'll ever need for this favorite summer dish.
---
Ingredients
1/4 cup

cider vinegar, plus extra for seasoning

2 tablespoons

vegetable oil

1/4 teaspoon

celery seed

1/4 teaspoon

ground black pepper

1/2

large green cabbage (about 1 pound), cored and shredded fine (about

6 cups

)

1/4 cup

sugar, plus extra for seasoning
Pinch of salt

1

large carrot, peeled and grated

2 tablespoons

chopped fresh parsley
---
Instructions
Combine 1/4 cup vinegar, oil, celery seed, and pepper in medium bowl. Place bowl in freezer until vinegar mixture is well chilled, about 30 minutes.
While mixture chills, toss cabbage with ¼ cup sugar and 1 teaspoon salt in large microwave-safe bowl. Cover with large plate and microwave on high power for 30 seconds. Stir briefly, re-cover, and continue to microwave on high power until cabbage is partially wilted and has reduced in volume by one-third, 30 to 90 seconds longer depending on the power of your microwave.
Place the cabbage in a salad spinner and spin cabbage until excess water is removed (if you don't have a salad spinner then just squeeze it out thoroughly in a clean dish towel). Add cabbage, carrot and parsley to the chilled vinegar mixture, and toss to combine. Taste and add either a little more sugar or a little more vinegar, depending on how you like it. Season with salt to taste.
Refrigerate until chilled, about 15 minutes. Toss again before serving.
Adapted lightly from Cooks Illustrated