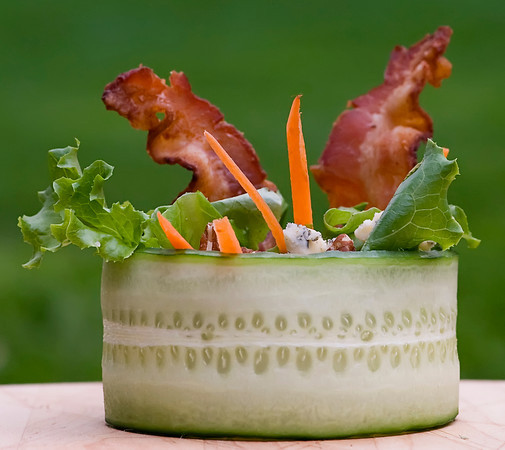 Okay, so I have to state for the record right here that this is EXACTLY the kind of recipe I usually run away from as fast as possible. It looks hard to make, and it involves inserting little strips of carrots into the center just so, and the cucumber-made-into-a-bowl part looks fraught with peril.
But those two strips of bacon. They kept calling my name. And finally one day I gave in to temptation and purchased a cucumber. There's only so much one woman can take before the bacon wins, and so I put it on one of our Friday Night Lights menus.
And guess what? This was pretty much as easy as it gets. You peel thin strips of the cucumber with a vegetable peeler or a mandoline…make the strips as thin as you can, because the thinner they are the easier they will turn into these little bottomless bowls. I have an OXO Good Grips Mandoline Slicer
and I love it…just be SUPER careful if you are using one, because those babies are sharp. Stick the ends together with a toothpick.
In the meantime, cut some bacon in half and cook it up however you like to…I always cook bacon for about 10-12 minutes in a 400 degree oven and it comes out just perfect. Yes, you do have to cut up a carrot into little strips, but with bacon on the horizon, I was willing to cut up carrots. Tear up some lettuce and toss it with your favorite dressing (a balsamic vinaigrette works great with this recipe), some crumbled blue cheese and some chopped pecans. Or walnuts…or whatever catches your fancy. Now take your favorite tongs, scoop up some of the lettuce mixture and nestle it into your cucumber bowls. Fill them right up. When you are done, stand two pieces of bacon and some of those carrot strips into the lettuce mixture.
Now stand back and look modest.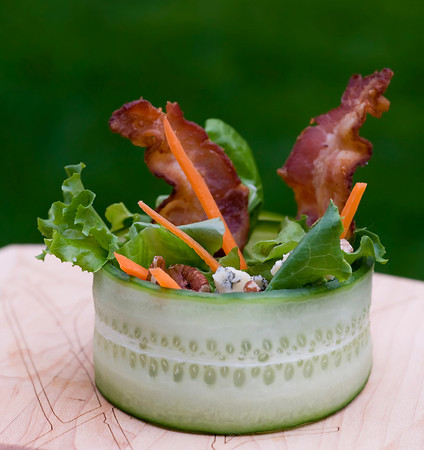 The moral of the story: Never try and resist bacon. It always ends up happily ever after.
Print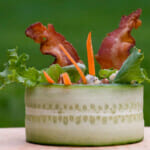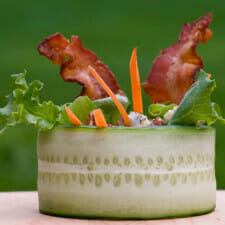 Cucumber Wrap Salad with Bacon and Blue Cheese
---
Yield:

4-6
Ingredients
2 tablespoons chopped pecans
2 medium English cucumbers
3 cups mixed baby greens
2 cooked thick-cut bacon slices, halved
1/3 cup shredded or matchstick carrots
1/4 cup crumbled blue cheese
Salt and freshly ground pepper to taste
Salad dressing to taste (any sort of vinaigrette will work great)
---
Instructions
Place chopped pecans in a single layer in a shallow pan. Bake at 350º for 8 minutes or until lightly toasted, stirring occasionally. Let cool 30 minutes or until completely cool.
Using a mandoline slicer or a vegetable peeler, cut cucumbers lengthwise into very thin strips just until seeds are visible. Discard cucumber core. Shape largest cucumber slices into 4 (2 1/2- to 2 3/4-inch-wide) rings and secure with a toothpick.
Stand rings upright on 4 serving plates. Fill each cucumber ring evenly with mixed greens, next 3 ingredients, and toasted pecans. Sprinkle with salt and pepper to taste. Drizzle each salad with vinaigrette.
Recipe adapted from My Recipes
SaveSave