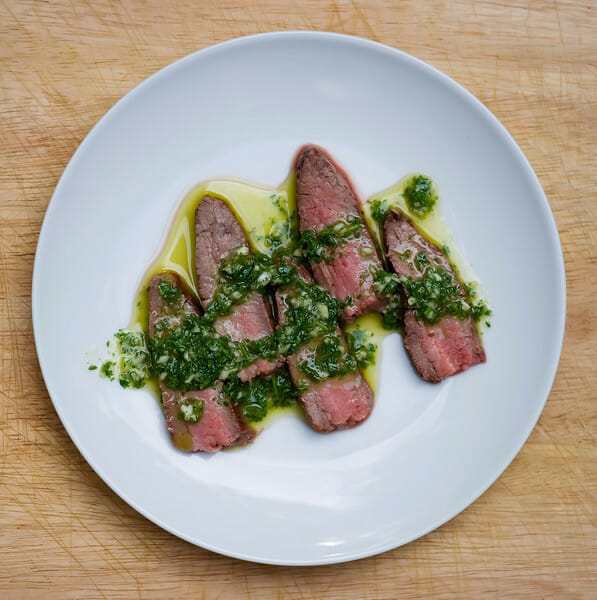 Okay, so this is the time of year I start to get panicky about my herbs. I have these great whiskey barrels right outside my kitchen door, and every Mother's Day weekend I plant them full of basil and rosemary and parsley and thyme and sage and tarragon. They are fabulous in June, and wonderful in May. Around mid-August, though, they start getting ornery. Some of them are struggling in the heat, and some of them are getting tall and woody and tough-looking. It's a sure sign that the summer is slowly working its way towards fall, and I go into herb-panic, trying to use 'em or lose'em before that first frost hits.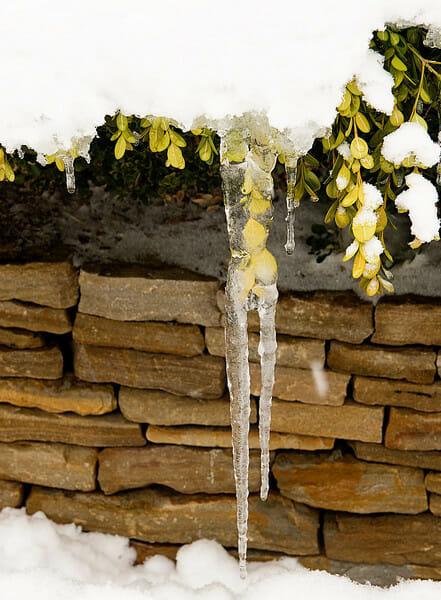 I know, it's 98 degrees outside and I am worrying about frost, but that's just the kind of calm, laid-back person I am.
Anyway, this recipe is a great way to match up steak cooked on the grill (yumyumyum) with some of those fresh herbs made into a quick and easy sauce that also has a fun name. Chimichurri sauce – say THAT three times fast. Chimichurri is a snap to make – you drop a handful of parsley into your trusty food processor or blender, add some garlic, some red wine vinegar, garlic, olive oil, red pepper flakes and salt. Push the button and thirty seconds later you have a fresh and delicious sauce with just a little bite to it. Even the Southern husband, who is a card-carrying member of the Steak Is Perfectly Fine Without Any Annoying Sauce On It Club loved this. So much so that when I was putting the leftover steak away, he made sure that I put the leftover sauce on top of it. That's when I knew for dang sure I had a hit on my hands.
So, go! Use those herbs before the snow flies!
Print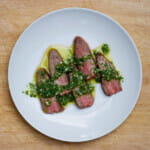 Steak with Chimichurri Sauce
---
Ingredients
One flank steak
1 cup fresh parsley
1 tablespoon red wine vinegar
1 clove garlic
1/2 teaspoon salt
1/4 teaspoon red pepper
1/2 cup olive oil (more as needed)
---
Instructions
Season steak with salt and pepper and grill to your liking, about 5 minutes per side for medium rare.
While steak is resting after being grilled, make chimichurra sauce: add all ingredients except olive oil to food processor and process until parsley and garlic are well-chopped.
Add olive oil in a steady stream through processor tube until the sauce is a nice thick consistency.
Slice steak against the grain, and garnish with sauce.