This easy recipe for S'mores Refrigerator Cookies takes this classic chocolate, marshmallow and graham cracker dessert from the campfire to the kitchen, in this simple to make, no-bake cookie version. All the flavors you love, now in a fun icebox cookie form!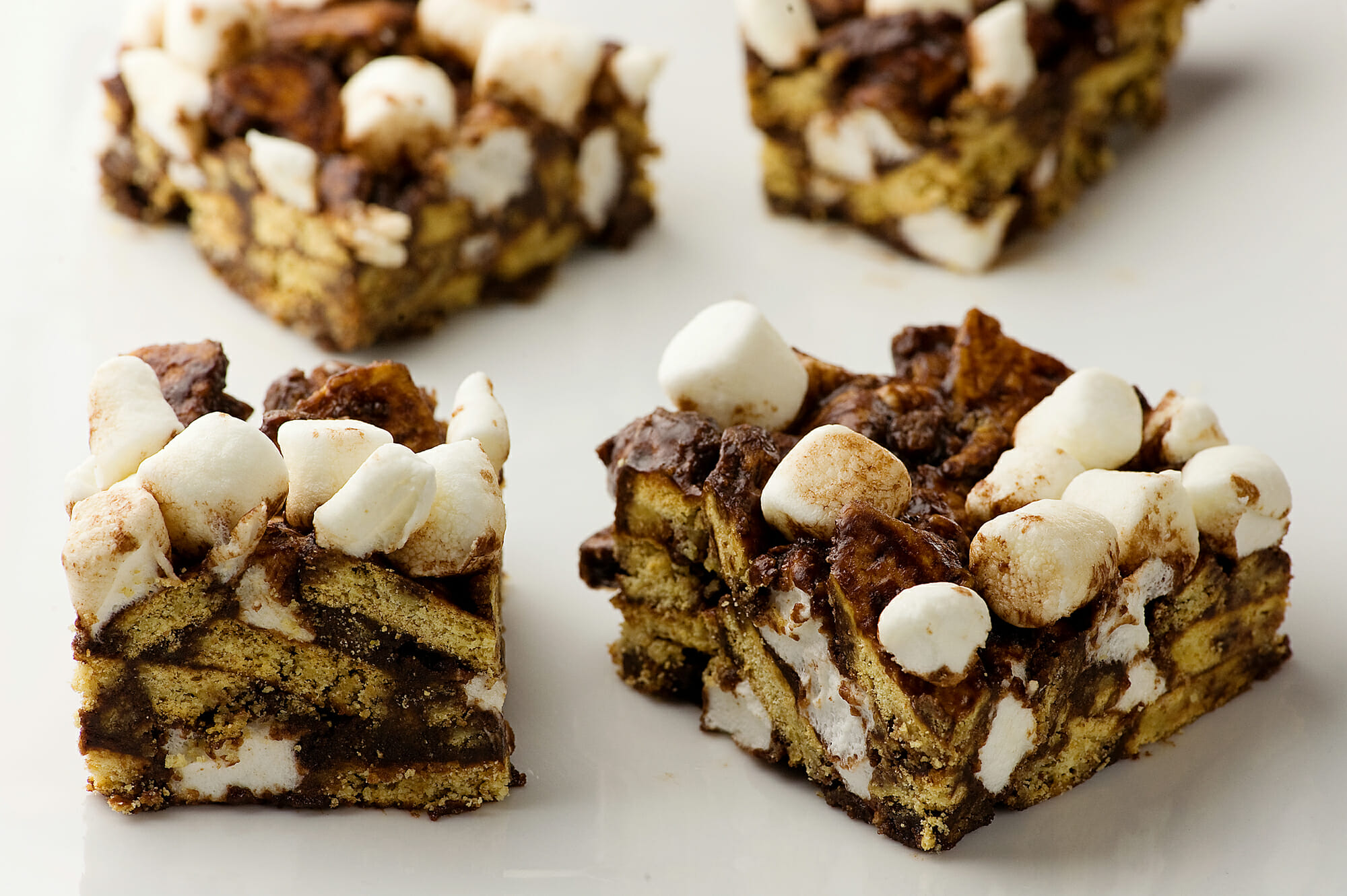 I am such a sucker when it comes to anything featuring the word "s'mores." I was pretty sure I had hit the Holy Grail of s'mores cookies when I made this delicious little cookie recipe, and that version is definitely near and dear to my heart.
And of course there is nothing like the real thing: classic old fashioned s'mores made around a campfire with best friends on a warm summer night.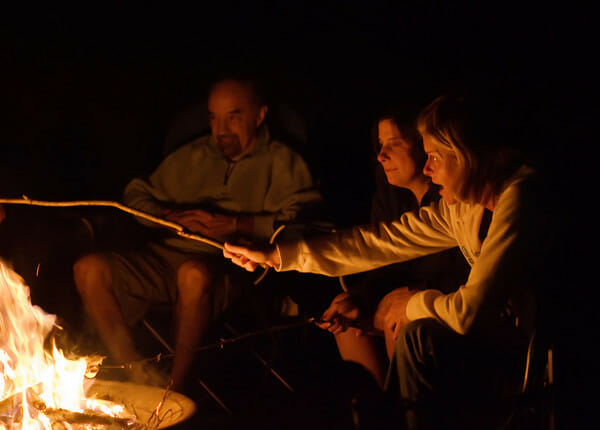 But that doesn't mean I won't jump at the chance to making another version! This recipe does not involve an oven, a campfire or anything else hot…as a matter of fact, it takes the opposite approach. It's all about the refrigerator.
Otherwise known in my house as the source of all information. I have the left side for my papers. The teenager has the right side for her papers. The Southern husband manages to keep all his information in his head.
The dog doesn't plan ahead at all, and is way more interested in the inside of the fridge.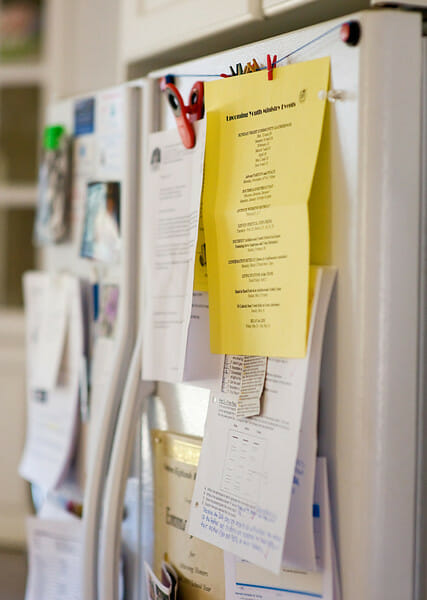 Yikes. It looks a lot better from farther away.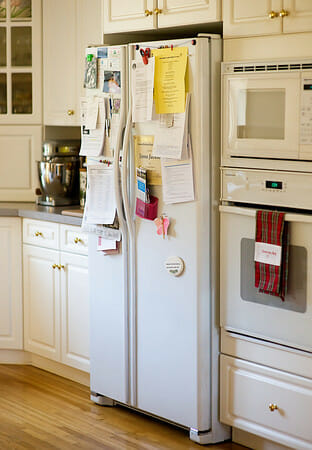 Sort of. Anyway, let's get to making some!
Here's How You Make S'Mores Refrigerator Cookies!
Anyway, here's what you do. Get yourself a box of graham crackers. Yes, the whole box. Break them up into nice bite-size chunks, say about an inch or so. It's a good way to work out all your stress.
Take 2 cups of mini-marshmallows. Test a couple of them to make sure they are okay. It's your responsibility as the chef to make sure all the ingredients are in order. Toss them in there with the graham cracker pieces.
If you have a nice shallow bowl to hold all this it will make the next step much easier….I have one that is for serving pasta and it worked perfectly for this.
Next you melt butter, unsweetened cocoa powder and some corn syrup in a saucepan (okay, so there is some heat involved) until it is all nice and melted together. Cool it for a few minutes and then pour it over your graham cracker marshmallow pile. Stir it around until it is all one big chocolate bowl of happiness.
Now line a pan with non-stick foil or parchment paper and gently transfer the whole thing into the lined pan. Smooth and press down so the whole thing is nicely mushed together and reaches the edge of the pan.
Now pop it in the fridge for a few hours. You want to get it good and chilled down, so if you are able to leave them overnight that is even better. Then you are ready to cut it into bars. I have a big pizza cutter that worked perfectly for this, but a big knife would also do the trick.
You can cut them into any size you like, but these are super sweet, so I find smaller is better. This way you can eat two of them in a row and still feel kind of virtuous.
If there are any left after you cut them out and show them around, you need to store them in the fridge. They are called refrigerator cookies for a reason…if they stay outside too long they get soft and falling apart-ish. But they are a little piece of heaven when they are cold.
So there you have it, the latest in my line of s'mores cookies. It won't be the last…
Print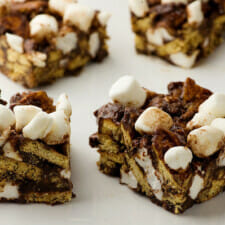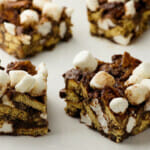 S'Mores Refrigerator Cookies
---
Author:

Prep Time:

15 minutes

Cook Time:

5 minutes

Total Time:

20 minutes

Yield:

24

servings

1

x
Category:

Dessert

Method:

Stovetop

Cuisine:

American
Description
This easy recipe for S'mores Refrigerator Cookies takes this classic chocolate, marshmallow and graham cracker dessert from the campfire to the kitchen, in simple to make, no-bake cookie bar form.
---
Ingredients
3

sticks plus 2 tablespoons butter

3/4 cup

unsweetened cocoa powder

3/4 cup

light corn syrup

1

14-ounce box graham crackers

2 cups

of mini marshmallows, plus extra for sprinkling on top
---
Instructions
Line a 9×13-inch baking sheep with non-stick foil or parchment paper.
Break the graham crackers into small pieces (you are going for roughly an inch in size) and put in a large bowl. Add two cups of mini marshmallows and mix together.
Melt the butter, cocoa, and corn syrup in a medium pot over medium heat, stirring until everything is nice and smooth. Let it cool for about 10 minutes.
Pour chocolate mixture over graham crackers and marshmallows. Stir gently until everything is mixed up, and then gently press the mixture firmly into your prepared 9 x 13 pan.
Put the pan in the fridge for at least 4 hours, or even better, overnight. (I know! The waiting!) Cut into bars and if there are any leftover (ha!), store them back in the fridge.