This recipe for the best chocolate chip cookies ever may take two days, but they are worth every single second that it takes to make them!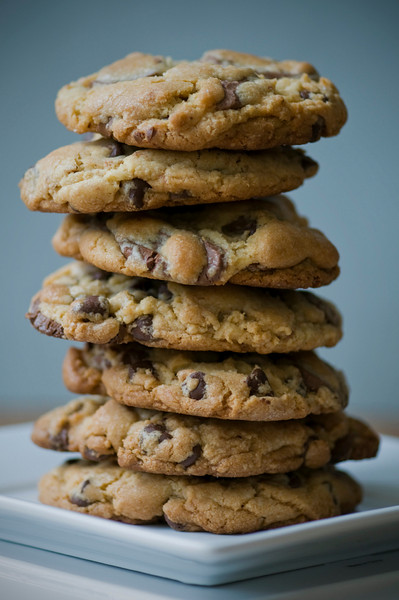 Okay. I will start by saying that this recipe is the biggest break ever with my "if you can't make it in 30 minutes or less we don't eat it" rule, because this one takes two days.
Yes, two days, you read that correctly. And all I can say is, they are WORTH it. They are the best chocolate chip cookies I have ever made, eaten, seen, etc. I have independent teenage verification of this.  Here's the scoop.
A long time ago I printed this recipe out from the New York Times food section, because the author (my dear friend, the fabulous David Leite)  promised these would be cookies like no others, and he gave all sorts of scientific explanation as to why.
I am a sucker for scientific verification of why recipes should be done in specific ways and so I filed it away for future cookie-making. Periodically I would come across it and read the two-day part, and back it would go into the stack.
The two-day part is one of the critical elements — apparently cookie dough that sits for more than 24 hours, and as part of that allows the butter to reform into it's original harder state is way better than your regular dough.
But TWO DAYS? Who has two days for cookies?
And then one weekend I did have two days. On Saturday I made the dough, following the instructions to the last letter. (If I was going to devote two days to cookies, I was not taking any chances.) Into the refrigerator the dough went to mellow, or whatever it was that it was supposed to do.
On Sunday, I measured them out EXACTLY as instructed, sprinkled them with the expensive sea salt EXACTLY as instructed, and baked them EXACTLY as instructed.
And oh. My. Goodness.
All I can say is…two days, expensive sea salt…totally, completely, absolutely worth it. I've eaten a lot of chocolate chip cookies in my day, and these I will remember for a long, long, long time. It's enough to make you cancel your plans for the weekend just to have time to make them.
Here is a link to the whole article in the Times, because all kidding aside, I think it is really interesting to understand WHY all this works the way it does.  And even better, here is a link to David's original, amazing recipe.
Give them a try — life is too short not to have eaten these cookies at least once. Trust me on this – I wouldn't steer you wrong on something so serious as a chocolate chip cookie. I mean, c'mon.