I'll be the first one to admit it – I'm a-skeered of souffles.  They are fraught with peril, and the times I have worked up my courage to make one, I tremble outside the oven waiting for it to rise…and once it does, I tremble outside the oven waiting and watching for it to, well, deflate.  But this easy, light, elegant puff of a skillet souffle?  I've now made it over and over, and it comes out perfectly Every Single Time.  Plus it is laced with creamy goat cheese and fresh herbs.  Plus you can make it in a plain old skillet…no fancy souffle dish needed.  You're in, right?
Let's start with the souffle dish…I don't actually own one.  And if I did, I don't think it would get much use for actual souffle-making, because the whole fraught with peril thing.  I also think if I owned one it would soon be in danger of being given away, because we are about to renovate our kitchen, which is going to involve taking every single solitary thing we possess OUT of the old kitchen to make way for the new kitchen, and one of things I am looking forward to in all of that is the chance to deploy some of my stuff that is perfectly good and not being used to friends and relations who might actually, well, USE it.  And who knows, there might be a souffle dish somewhere in the back of one of my cabinets, but if so I haven't seen it lately.  But I see my skillets on a daily basis, so the whole idea of a skillet souffle opened up all new vistas for me.
It also involves two of my favorite things.  Basil…
And goat cheese.
I know, I just decided the picture of the actual goat was cuter than the picture of the cheese.
Anyway, the way you go about this is the usual souffle method – separate some eggs, and whip the whites up with some cream of tartar and some salt until they are in nice firm peaks.  Beat the yolks up in  separate bowl, and stir in that creamy goat cheese and sweet basil, and then fold the yolk mixture gently into the while mixture until everything is just combined.
Here's where things get different, because you are going to melt little butter in a skillet and cook the egg mixture for just a minute or two – just until the eggs start to set on the bottom – and then you are going to pop the skillet into the oven until the souffle is all puffed and beautiful.
Now take it out drizzle it with a little olive oil, scatter a few more fresh basil leaves on top and serve it right up, because as with all things of this sort it's going to start to deflate just a little as it cools…but not so much that anyone will notice amid all the deliciousness.
So there you have it – skillet souffle!  No fear!  (Well, except for the impending kitchen renovation, but that is a post for another day….)
Print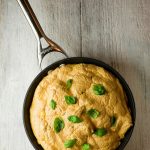 Basil and Goat Cheese Skillet Souffle
---
Yield:

4 servings
Ingredients
8 eggs, separated
1/2 teaspoon cream of tartar
1/8 teaspoon salt
8 ounces goat cheese, room temperature and torn into small pieces
1/4 cup chopped fresh basil, plus extra for garnish
Fresh ground pepper
2 tablespoons butter
Olive oil for garnish
---
Instructions
Preheat oven to 37 Beat egg whites, cream of tartar and salt in a mixer until firm peaks form.
In a separate bowl, beat egg yolks until thick and creamy. Stir in cheese and basil, along with a generous grinding of fresh pepper.
Mix egg yolk mixtures gently into egg whiles until just combined.
Melt butter in a 9 inch ovenproof skillet over medium heat. When melted, pour in egg mixture and cook without stirring until bottom is just set, about 1 minute or two. Transfer to oven and bake until eggs are golden, about 20 minutes.
Remove, drizzle with olive oil, scatter basil on top and serve at once.
Adapted from BEST AMERICAN RECIPES 2000