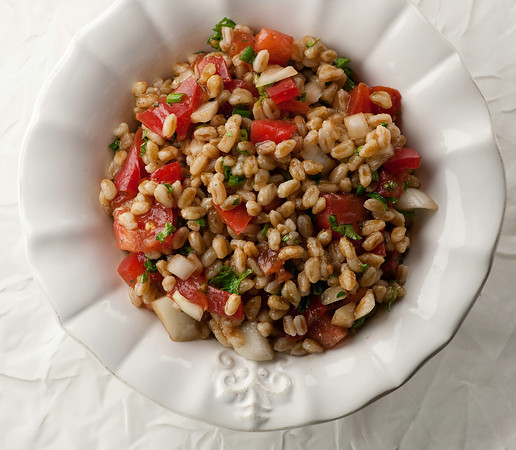 I gotta say, I thought long and hard about putting up this post about one of my favorite, favorite salads, which features farro with tomatoes and fresh herbs and onion and olive oil and other glorious things.  Not because it isn't delicious and healthy and just plain beautiful on the plate.  Not because I'm not a good sharer – I am, I promise!  But because more than one, two or three people have heard me rave about this and then said "Um…sounds good, but what's farro?"
And to be totally, perfectly honest, I had no idea what farro was myself until a few years back when I ran into a bag of it at my favorite Italian grocery store.  It's a form of wheat grain that looks a little like barley, but has a nutty, hearty, comforting taste that has a personality all its very own.  If you don't have a favorite Italian grocery store near you, there's lots of places on line that sell farro (like this one) and I promise, it's worth the ordering. Mine came in a little brown cloth bag with Italian writing on it, which made me love it even more.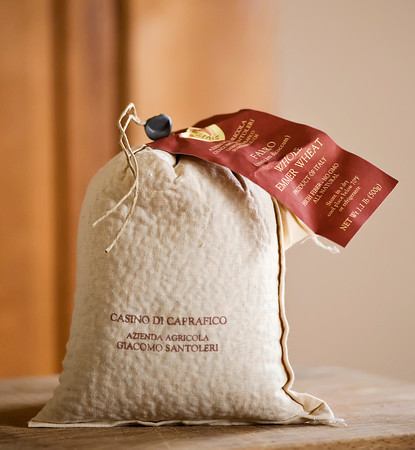 I almost didn't want to open it because the bag was so perfect.  Then I remembered how much I love farro, and I did.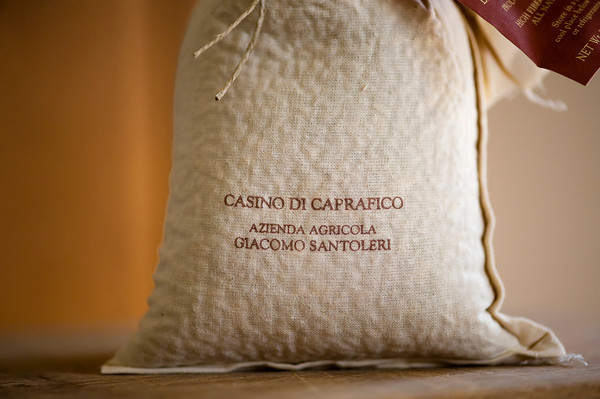 Farro looks like little brown grains of rice, but it cooks up into something that looks more like barley, and tastes like heaven.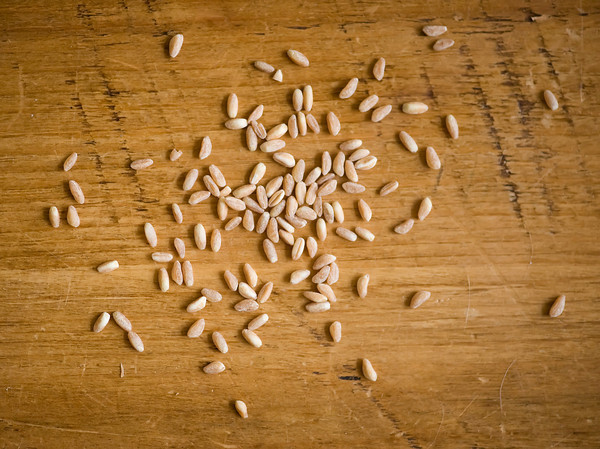 Especially when you mix it into this quick and wonderful salad that lets you use up some of those gorgeous and enthusiastically growing herbs that are all around us, and some nice summer tomatoes (I'm still using sweet little cherry tomatoes in any dish that calls for fresh tomatoes because the big guys aren't quite in season yet, but I'm counting the days!).
After you cook and drain the farro, give it a chance to cool and then mix it up with some of those tomatoes, some sweet onion (I love Vidalia onions in this dish), some herbs and garlic, a little balsamic vinegar and olive oil and a little salt and pepper.  This makes a lovely side dish for grilled chicken or steak or fish.  Or you can do what I do, which is just eat a big bowl of it all by itself and be perfectly, perfectly happy.
So, if you've never heard of farro before, now you have and you've gotta try it!  Here's the recipe.
Recipe adapted from Giada De Laurentiis
Print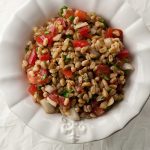 Farro Salad with Tomatoes and Herbs
---
Yield:

6 servings
Ingredients
4 cups water
1 1/2 cups farro
2 teaspoons salt
1 pound tomatoes, chopped (use cherry tomatoes if the big ones aren't in season)
1/2 sweet onion, chopped (I like Vidalias!)
1/4 cup fresh chopped parsley
1/4 cup fresh chopped basil
2 tablespoons balsamic vinegar
Fresh ground pepper
1/4 cup olive oil
---
Instructions
Put water, salt and farro in medium saucepan and bring to a boil. Reduce heat to medium low, cover the pot and simmer until the farro is tender, about 30 minutes. Drain, cool and pour into a large serving bowl.
Add the tomatoes, onion and herbs and toss to combine.
Whisk together the vinegar, pepper and olive oil, add to the farro mixture and toss. Add salt and pepper as needed and serve.