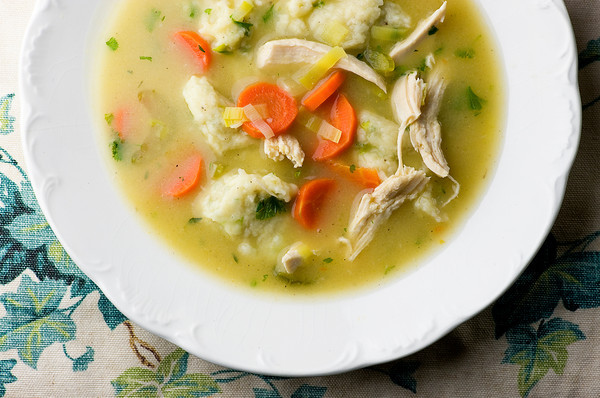 There are few things in life I like better than an adorable, delicious dumpling.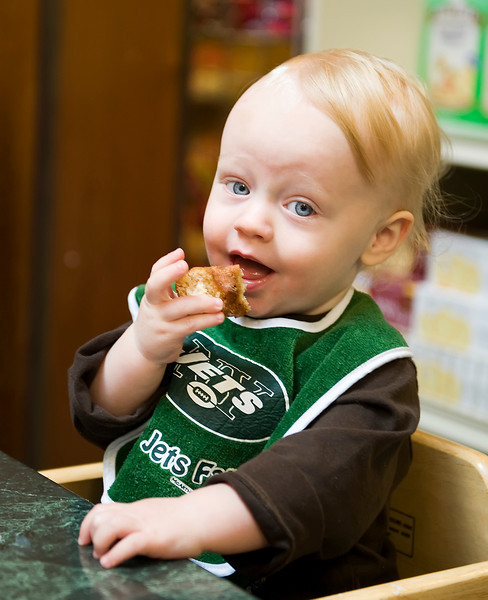 And look at that – a dumpling munching on a dumpling!  Okay, he's technically munching on a doughnut…but I was close.  And he's definitely an adorable, delicious dumpling, but he's not exactly the kind I had in mind right this second.  Nope, I am talking about the kind of dumpling you find in a steaming hot bowl of chicken soup.
Now, making chicken dumpling soup from scratch is a little more than I am up for, especially when there are alternatives that do the hard part (making the broth) for you right in your supermarket.  Stay away from the cans of chicken broth and go for the good kinds in the box…Imagine is the best, and Pacific is a close second.  As for the chicken, you can either use leftovers from your last roast chicken, or pick up a roast chicken in the deli section.  I'll never tell.
Now you are about 30 short minutes away from homemade chicken dumpling soup.  Once you serve this up to your own dumplings and taste how good it is, the little shortcuts along the way will only be a vague memory.  Promise!
Chicken Dumpling Soup
Ingredients
4 tablespoons butter
4 tablespoons flour
6 cups good quality chicken broth (I like the Imagine and Pacific varieties)
6 large carrots, peeled and cut into ½ inch rounds
2 onions, peeled and cut into eighths
4 large celery stalks, cut into ½ inch pieces
1 medium leek, halved lengthwise and slice into ½ inch slices (white and pale green section only)
½ cup fresh chopped parsley
1 tablespoon chopped fresh thyme
3 large eggs
½ cup milk
3 large egg yolks
3 tablespoons melted butter
3 tablespoons chopped parsley
1 teaspoon kosher salt, plus extra for salting dumpling water
¼ teaspoon pepper
1½ cups flour
1½ cups cooked shredded chicken
Instructions
Melt butter in large saucepan and add flour, whisking until smooth. Whisk chicken broth into flour mixture and continue whisking over medium-high heat until smooth and at a low boil, about 5 minutes.
Add carrots, celery, leek, ½ cup parsley and thyme to broth, cover and simmer for 10 minutes.
While broth is simmering, make dumplings. Bring a large pot of salted water to a boil. Mix eggs, milk, egg yolks, butter, parsley, salt and pepper together until well-blended. Stir in flour (batter will be soft). Drop teaspoonfuls of the dumpling batter to the boiling water until tender, about 8 minutes. Transfer dumplings to broth pot.
Add cooked chicken to broth, simmer until heated through, add salt and pepper as needed and serve.