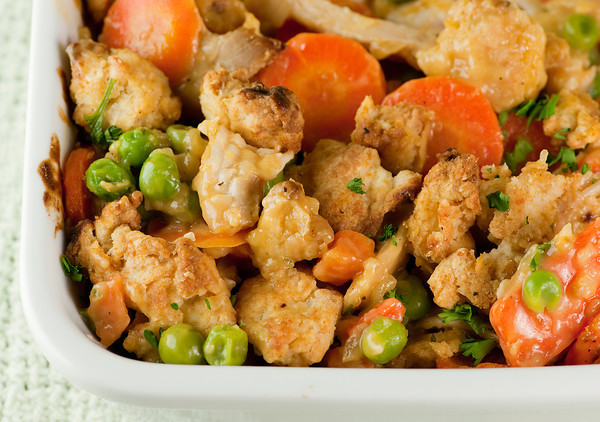 Okay, for those of you who might have some turkey hanging around the house, this one's for you.  But first, a few words about pot pie.
Whenever I go to a restaurant and see pot pie on the menu, I get a pang of longing.  There is something about the words "pot" and "pie" together that just makes me feel all cozy inside.  But then it arrives, and I always find that there is a little too much piecrust and not enough of the wonderful insides.  Now don't get me wrong, I always end up eating all the piecrust part anyway…but it's not the perfect image that was dancing in my head.
Until now.  This recipe is a close cousin to the Chicken Cobbler that I made a while back, but instead of a cobbler topping it uses savory crumbles of what is basically a biscuit dough flavored with parmesan cheese that you pre-bake and then scatter on top of the turkey/vegetable mixture for the final baking.  (Full disclosure: the original recipe that I found at Cooks Illustrated called for using chicken, and doing a bunch of things like cooking the chicken and straining it and doing various things with cremini mushrooms (cremini mushrooms??) and so I took all kinds of liberties with it, but it all came out fine in the end.)  Your leftovers have turned into a juicy and delicious dish that has just the right amount of crunchy topping.  Not too much, not too little, just perfect.
Happy leftovers, everyone!

Print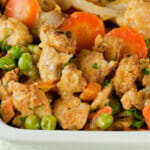 Turkey Pot Pie with Savory Crumble Topping
---
Ingredients
Filling
1 1/2pounds cooked turkey
3 cups low-sodium chicken broth
2 tablespoons vegetable oil
1 medium onion , chopped fine (about 1 cup)
3 medium carrots , peeled and cut crosswise into 1/4-inch-thick slices (about 1 cup)
2 small celery ribs , chopped fine (about 1/2 cup)
Table salt and ground black pepper
1 teaspoon soy sauce
1 teaspoon tomato paste
4 tablespoons (1/2 stick) unsalted butter
1/2 cup unbleached all-purpose flour
1 cup whole milk
2 teaspoons juice from 1 lemon
3 tablespoons minced fresh parsley leaves
3/4 cup frozen baby peas
Crumble Topping
2 cups (10 ounces) unbleached all-purpose flour
2 teaspoons baking powder
3/4 teaspoon table salt
1/2 teaspoon ground black pepper
1/8 teaspoon cayenne pepper
6 tablespoons unsalted butter , cut into 1/2-inch cubes and chilled
1 ounce Parmesan cheese , finely grated (about 1/2 cup)
3/4 cup plus 2 tablespoons heavy cream
---
Instructions
Preheat oven to 450 degrees.
Combine flour, baking powder, salt, black pepper, and cayenne pepper in large bowl. Sprinkle butter pieces over top of flour. Using fingers, rub butter into flour mixture until it resembles coarse cornmeal. Stir in Parmesan. Add cream and stir until just combined. Crumble mixture into irregularly shaped pieces ranging from 1/2 to ¾ inch each onto parchment-lined rimmed baking sheet. Bake until fragrant and starting to brown, 10 to 13 minutes. Set aside.
Heat 1 tablespoon oil in Dutch oven over medium heat until shimmering. Add onion, carrots, celery, ¼ teaspoon salt, and ¼ teaspoon pepper; cover and cook, stirring occasionally, until just tender, 5 to 7 minutes. While vegetables are cooking, turkey into small bite-size pieces. Transfer cooked vegetables to bowl with turkey; set aside.
Heat remaining tablespoon oil in empty Dutch oven over medium heat until shimmering. Stir in soy sauce and tomato paste and cook for a minute or two until well mixed. Add butter and when foaming subsides, stir in flour and cook 1 minute. Slowly whisk in chicken broth and milk. Bring to simmer, scraping pan bottom with wooden spoon to loosen browned bits, then continue to simmer until sauce fully thickens, about 1 minute. Season to taste with salt and pepper. Remove from heat and stir in lemon juice and 2 tablespoons parsley.
Stir chicken-vegetable mixture and peas into sauce. Pour mixture into 13 by 9-inch baking dish or casserole dish of similar size. Scatter crumble topping evenly over filling. Bake on rimmed baking sheet until filling is bubbling and topping is well browned, 12 to 15 minutes. Sprinkle with remaining tablespoon parsley and serve.