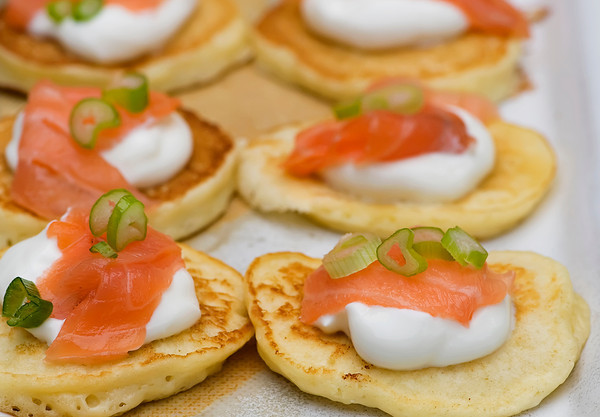 I am all about having breakfast for dinner whenever possible.  Bacon and egg muffins?  Yes please.  Caramel french toast?  Oh yes.  Bacon Cheddar Bagel Panini?  Yes, yes, a thousand times yes!  So I guess it was only a matter of time before breakfast worked itself into our Friday Night Lights appetizer project we have going around here.  And in this case, it is all about pancakes.
Silver dollar pancakes.  Those little baby guys that you ladle onto the griddle with a tablespoon.  Literally…don't be tempted to use more than a tablespoon of batter per adorable pancake, because you want them nice and perfectly finger food size.  Once you have your pancakes cooked and a little cooled off, the possibilities become endless.  In this case, I opted for a savory topping to the sweet flavor of the pancake.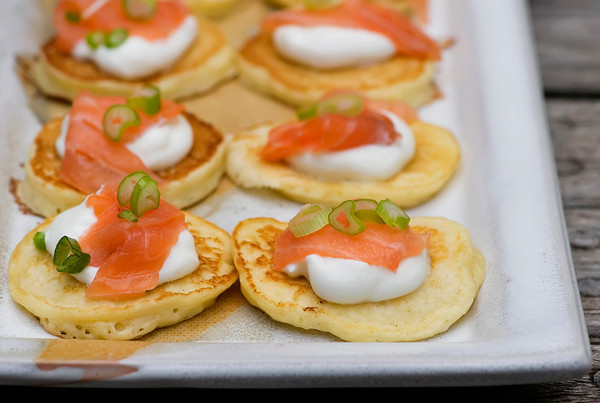 First I spooned on a little bit of sour cream.  Then just a sliver or two of smoked salmon, and final a sprinkle of scallion.  Chives would have been wonderful too, but scallions are what I had and so scallions are what I used.  That's it…on to the platter they went, and before you could say "breakfast for dinner" they were gone. 
Well, almost gone.  Because the pancakes were so tiny, one batch of batter makes a lot of pancakes, and so after I had made as many of the salmon pancakes as I thought the Southern husband and I could reasonably eat,  I still had a fair amount of pancakes.  
Can you say, breakfast for lunch the next day?  Fresh ricotta, a drizzle of olive oil, a little chopped fresh thyme and some fresh ground pepper.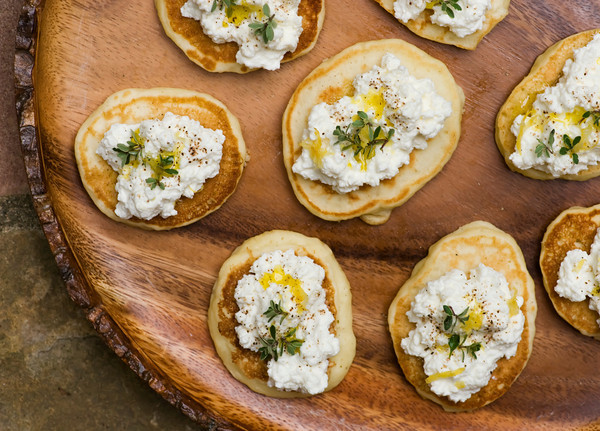 Next time I'm thinking a little guacamole with some chopped tomato and lime zest.  And then….
Smoked Salmon Silver Dollar Pancakes
Ingredients
1 cup all purpose flour
1 teaspoon sugar
1½ teaspoons baking powder
¼ teaspoon coarse salt
1 cup whole milk
2 tablespoons unsalted butter, melted
1 large egg
Toppings
Smoked salmon with sour cream and chopped scallions
Ricotta cheese, fresh thyme and olive oil
Anything else your heart desires!
Instructions
Whisk together flour, sugar, baking powder and salt.
In separate larger bowl, whisk together milk, melted butter and egg.
Add flour mixture to milk mixture and whisk until just moistened...you will still have a few lumps.
Heat a large nonstick skillet over medium heat, and drop batter by tablespoons (no more!) onto skillet. Cook about 2 minutes until bubbles appear on top and bottom is golden. Flip and cook one minute more.
Cool slightly, then top with a spoonful of sour cream and a little smoked salmon. Sprinkle with chopped scallions.