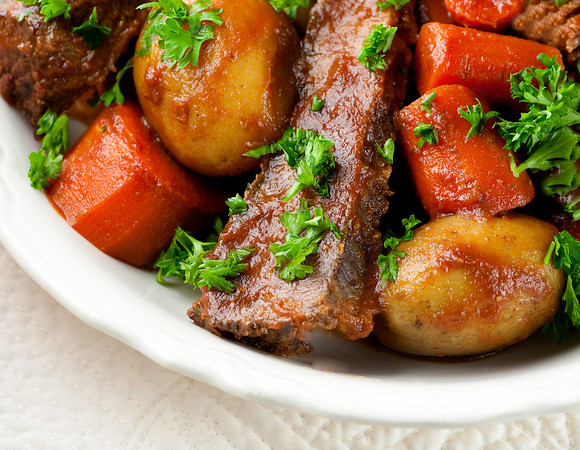 I think I may have said this once or twice or one million times before on this blog, but I wish I liked coffee.  I really do.  It is SO much easier to get a cup of coffee than to find a decent cup of hot, strong English breakfast tea unless you happen to be in the middle of London, and I am usually in the middle of New Jersey, so this is a problem for me.  I've tried to like coffee, just for the pure convenience factor, but I just….can't…do it.
However, I DO (for some mysterious reason) like coffee when it is an ingredient.  Usually that means in ice cream, or in muffins, or other sweet stuff.  But in this case, I like it in a brisket recipe.  Whatever the hours and hours of cooking in the slow cooker do to transform the coffee, the sauce comes out not tasting like coffee, but like some rich, tangy, wonderful thing that you can't quite put your finger on.  (Spoiler alert: it's the coffee.)
For all you slow-cooker fans out there, this one is right up your alley.  Toss a brisket and some chopped carrots and baby potatoes and quartered onions into your slow cooker.  Mix up a sauce of tomato paste, Worcestershire sauce, brown sugar and (you guessed it) coffee and pour it in there, stirring things up so the sauce is generally all over everything, and about half the veggies are on top and the other half are on the bottom.  Cover the slow cooker, press the "LOW" setting button, and go do something else for about 8 hours.
Now come back, slice the brisket into thin slices, put it on the plate with some veggies and pour that rocking great sauce all over the whole aromatic, tender, fabulous thing.  Have tea with dessert.  Feel all smug for liking coffee and tea at the same time.


Print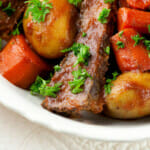 Brisket Slow-Cooked in Coffee and Brown Sugar
---
Ingredients
1 medium onion, peeled and quartered, stem end left intact
1 pound new potatoes (about 12)
1 pound medium carrots, cut into 2 1⁄2-inch lengths
2 1/2 pounds beef brisket, trimmed
kosher salt and black pepper
1 6-ounce can tomato paste
1/2 cup brewed black coffee
2 tablespoons Worcestershire sauce
2 tablespoons packed light brown sugar
2 tablespoons chopped fresh flat-leaf parsley
---
Instructions
Season the beef with 1 teaspoon salt and ¼ teaspoon pepper and place in the bottom of a 5- to 6-quart slow cooker. Add the onion, potatoes, and carrots.
In a small bowl, whisk together the tomato paste, coffee, Worcestershire sauce, and brown sugar; pour over the beef and vegetables. Stir things around just a little until some of the sauce reaches the bottom of the pot. Cover and cook on low until the beef and vegetables are tender, 7 to 8 hours.
Slice the beef across the grain and serve with the vegetables and sauce, sprinkled with the parsley.