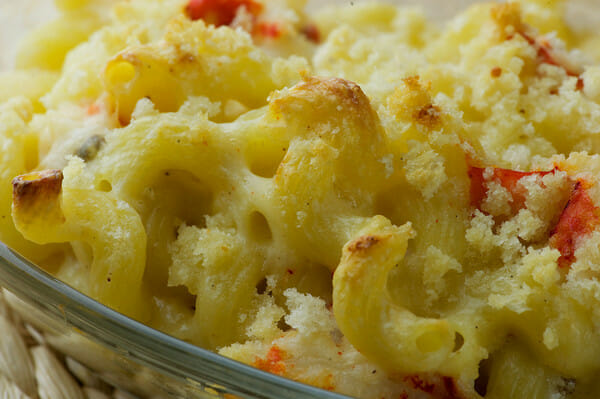 I've been flirting with lobster macaroni and cheese for a looooong time. It's just that I love macaroni and cheese with a deep and abiding love, and I feel the same about lobster. And I knew that if it was made the right way, this could be the Endless Love version of lobster macaroni and cheese.
I also didn't want it to take forever and a day to make. In my quest for the great LM&C recipe, I have come across a whole variety of recipes that have asked me to do things like save the lobster shells, simmer them for hours, strain them through cheesecloth, run around the kitchen three times chanting incantations…you get my drift. I do want an amazing recipe, but I want to be able to eat it the same day without having to take a nap first. So when I came across Ina Garten's recipe on the Food Network website, I knew I had finally found the lobster macaroni and cheese love of my life. Lots of lobster (I was aiming at recipe that gave the lobster equal time with the macaroni). A combination of cheddar and gruyere cheese. Buttery bread crumbs on top. I'm having heart palpitations just reliving it as I type.
Now, here's my usual advice on the lobster. Get your supermarket to steam it for you, and get whomever is going to get the pleasure of dining on this dish with you to shell the lobster for you. After that, this whole thing is smooth sailing.
Lobster macaroni and cheese. Doesn't the very thought of it make you feel like all is right with the world?
Recipe from Ina Garten 
Print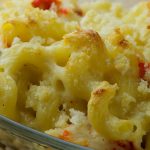 Lobster Macaroni and Cheese
---
Ingredients
Vegetable oil
1 pound cavatappi or elbow macaroni
1 quart milk
8 tablespoons (1 stick) unsalted butter, divided
1/2 cup all-purpose flour
12 ounces Gruyere cheese, grated (4 cups)
8 ounces extra-sharp Cheddar, grated (2 cups)
1/2 teaspoon freshly ground black pepper
1/2 teaspoon nutmeg
1 1/2 pounds cooked lobster meat
1 1/2 cups fresh white bread crumbs (5 slices, crusts removed)
---
Instructions
Preheat the oven to 375 degrees F.
Drizzle oil into a large pot of boiling salted water. Add the pasta and cook according to the directions on the package, 6 to 8 minutes. Drain well.
Meanwhile, heat the milk in a small saucepan, but don't boil it. In a large pot, melt 6 tablespoons of butter and add the flour. Cook over low heat for 2 minutes, stirring with a whisk. Still whisking, add the hot milk and cook for a minute or two more, until thickened and smooth. Off the heat, add the Gruyere, Cheddar, 1 tablespoon salt, the pepper, and nutmeg. Add the cooked macaroni and lobster and stir well. Place the mixture in 6 to 8 individual gratin dishes.
Melt the remaining 2 tablespoons of butter, combine them with the fresh bread crumbs, and sprinkle on the top. Bake for 30 to 35 minutes, or until the sauce is bubbly and the macaroni is browned on the top.