What's better than chicken souvlaki? Chicken souvlaki all in one easy to make bowl recipe!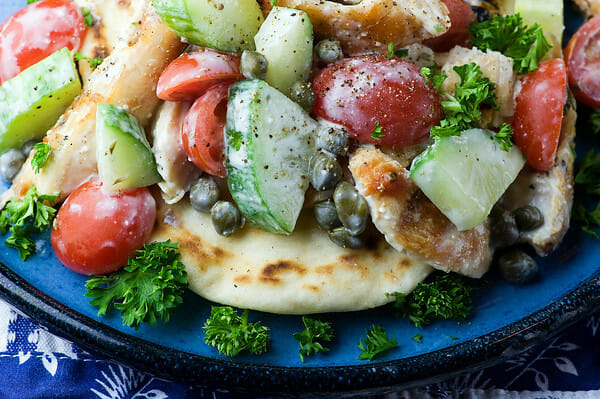 I am a sucker for any recipe that has "one bowl" in the title. And this particular one comes from one of my favorite go-to cookbooks for those crazy weeknights when you come home and you pretty much have no time whatsover to get dinner on the table…or maybe you have the time but you would rather spend it elsewhere…and that is DINNER DOCTOR. The philosophy of this particular cookbook is that it is perfectly fine to use a few convenience foods in the preparation of your delicious home-cooked meal, thereby speeding whatever it is along just a little more quickly to the dinner table.
Ironically, this specific recipe actually doesn't include any convenience foods — unless you count the fact that I sent the Southern husband out into the dead of winter to grill the chicken breasts, so that they were conveniently all nice and cooked when I was ready to make dinner. (My honey. Neither rain nor snow nor dead of night will keep the man from his grill.) Once you have some nice cooked chicken — and I cannot lie, the grilled variety makes this dish just perfection — you are about 10 short minutes away from suppertime.
So here's the drill. Take one bowl. Tear up your lovely grilled or otherwise cooked chicken into bite-sized piece. Into the bowl with it. Add in some chopped up cucumber, some chopped scallions, some capers, and some halved cherry tomatoes. Mix together some crumbled feta cheese and plain yogurt and toss in a little dried oregano and add this to the bowl. Mix it up good. Now divide it among the plates, top it with a grinding of fresh pepper and some chopped parsley, lay some pita bread on the plate…that's it. You're done. You're happy. And you still have the whole night in front of you!
Print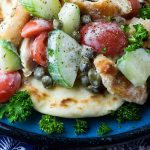 One Bowl Chicken Souvlaki
---
Yield:

4
Ingredients
4 cups shredded cooked chicken
2 large cucumbers, chopped
2 scallions, chopped
2 tablespoons capers
1 pint cherry tomatoes, halved
1/2 cup plain yogurt
1/2 cup crumbled feta
1 teaspoon oregano
Fresh ground black pepper
1/2 cup chopped parsley
Pita bread (you could also use naan bread)
---
Instructions
Combine chicken, cucumbers, scallions, capers and tomatoes in bowl.
Mix up feta and yogurt — you can do this by hand if you like chunkier dressing or in a food processor if you like it smooth. Mix in the oregano.
Pour dressing over chicken mixture and stir just to coat. Sprinkle with pepper and parsley and serve with pita bread.
Recipe adapted from Dinner Doctor