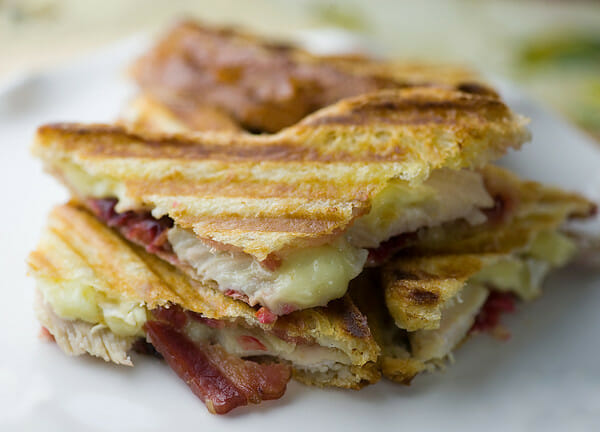 I know, I know, I am a good two weeks late sending you this one, because at this point your Thanksgiving turkey leftovers are just a happy memory. But there is always next year, and in the meantime this sandwich is delicious enough to go get some new turkey to work with. And cranberry sauce.
Here's the deal. You fire up the panini maker — get that baby good and hot. Brush the outside of two pieces of bread with olive oil, flip them over and layer as follows:
Turkey slices
2. Cranberry Sauce (the whole berry kind if you have it)
3. Slices of Brie cheese
4. Bacon
Now put the other piece of bread on top. Put it in the panini maker and press it down. Leave it in there for about 3 minutes. This will make the cheese all melted and wonderful, and will heat up the other stuff and toast the bread. Now take it out, let it rest for a minute or so, and cut it into triangles. That's it — you are ready for turkey panini heaven.
I think that's all I have to say about this one. It's one of those simple yet perfect recipes that you just have to make and see for yourself. Happy Turkey Sandwich!
Print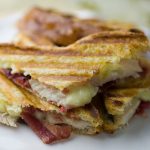 Turkey, Cranberry, Brie and Bacon Panini
---
Yield:

serves 2
Ingredients
4 slices country bread
Sliced turkey
1/2 cup cranberry sauce
Sliced Brie cheese
2 slices bacon, cooked and cut in half
Olive oil
---
Instructions
Heat panini maker to medium high
Brush one side of bread slices with olive oil (this will be the outside)
Lay bread slice oil side down on work surface. Layer with turkey, then cranberry sauce, then cheese, then bacon. Top with second slice of bread, oiled side on the outside
Place in panini maker and press down. Cook for 3 minutes.
Remove, let cool for a minute, slice in quarters and serve hot.