This easy recipe for chili mac is a mixture of pasta, ground beef, tomatoes, cheese and a secret ingredient that folks will never guess!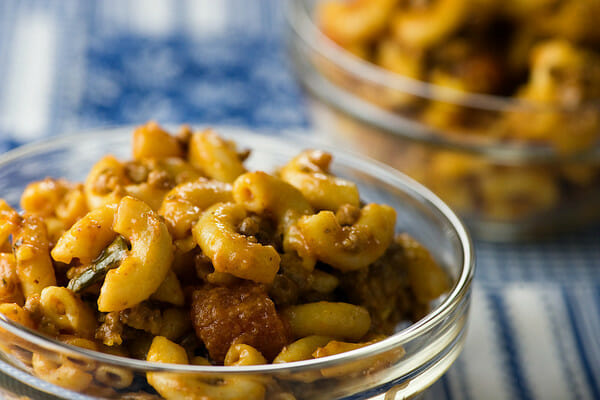 A couple of weeks ago I was cooking up some dinners to take over to my brother and sister-in-law's house – they are the proud parents of Liam, the most beautiful baby boy on the planet. He is almost a month old, how time FLIES!
Anyway, they are just a little tired, and I was cooking up a few things for them, including a batch of chili mac. When who should wander into the kitchen but my OWN baby, who usually only eats things that are perfectly plain and where the ingredients don't TOUCH each other. (Did I mention that my baby is 16 years old? I keep telling myself she will grow out of this. Maybe not.)
Anyway, she looked into the pot and said "Wow, this looks great! When's dinner?"
Hello? Who are you and what have you done with my picky child?
After I broke it to her that her new baby cousin was already getting the upper hand on her and this batch was going to his house, I promised that I would put it on our menu for the following week. There are about a million or so variations on this recipe and you can pretty much customize it the way you want to, but my approach is the non-bean/cheddar cheese variety: ground beef, tomatoes, cheese, spices…and creamed corn.
There it is, my chili mac secret is out. It's all about the creamed corn.
I was describing this elegant meal to a friend and he said, "so it's basically Hamburger Helper, right?" Well, um, yes. Without all the chemical additives. I am pretty sure he meant that as a compliment…because who doesn't love a little Hamburger Helper every once in a while?  Here's mine!
Print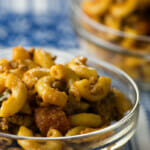 Chili Mac!
---
Yield:

4
Ingredients
1 pound ground beef
1 diced onion
1 17 ounce can creamed corn
1 16 ounce can stewed tomatoes
2 8 ounce cans tomato sauce
3 tablespoons chili powder
1 teaspoon dried oregano
1 teaspoon cumin
Salt and pepper
1 pound elbow macaroni, freshly cooked
8 ounces shredded cheddar
---
Instructions
Cook beef in heavy large saucepan over medium high heat until brown. Remove meat and drain.
Cook onion in same pan about 5 minutes. Return beef to pan and stir in everything except macaroni and cheese. Stir until heated through.
Add macaroni and cheese and stir until cheese is melted.
Serve immediately.
SaveSave