This simple recipe for slow cooked short ribs with carrots and apples cooks low and slow until it becomes a tender and delicious comfort food supper.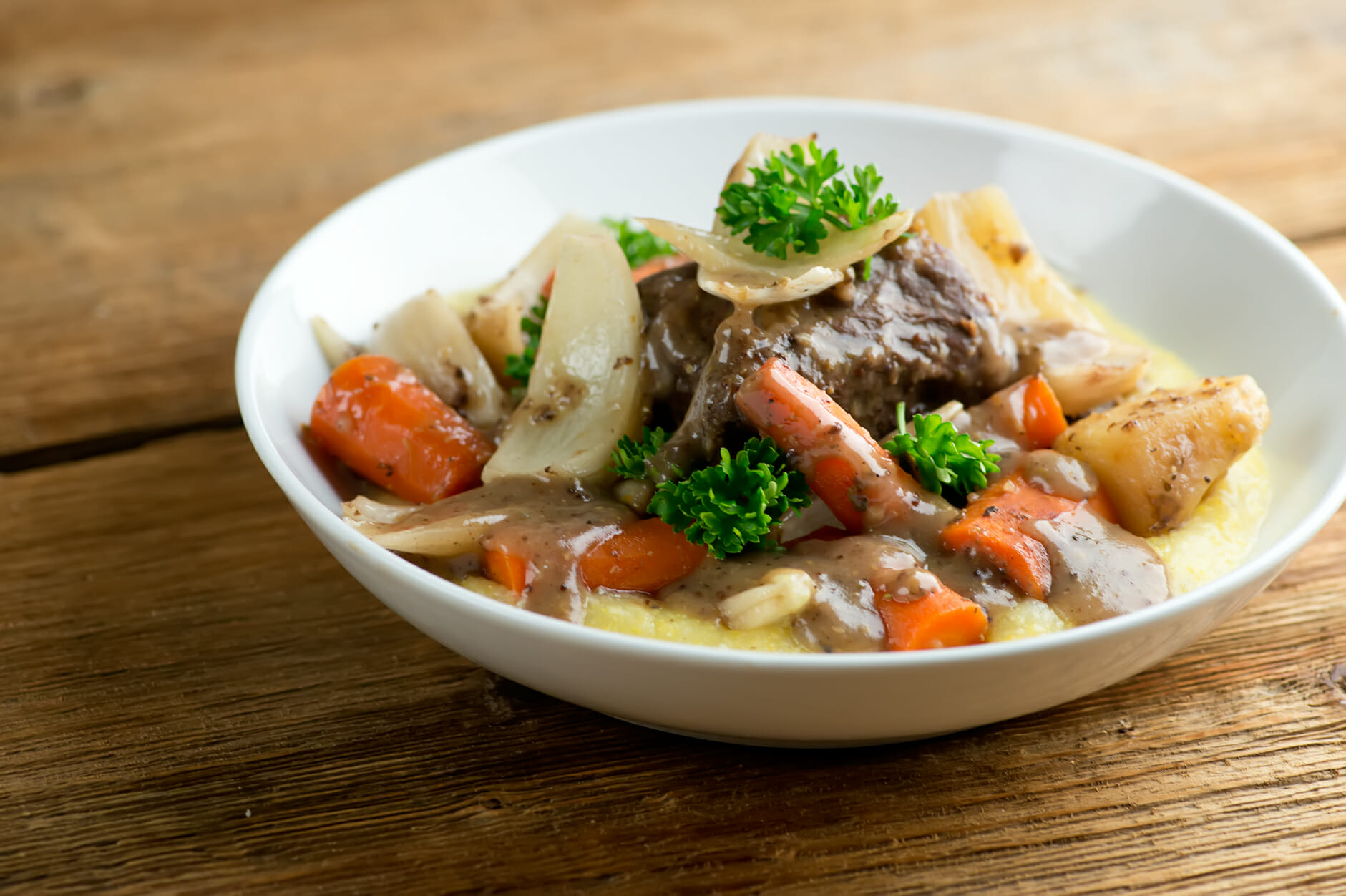 Here's how things go when the Southern husband and I go out to dinner someplace where there are short ribs on the menu: I look at the menu and spot the short ribs.
Then I see something else that seems almost as good as the short ribs. Then I agonize about how much I want the short ribs, but I've had short ribs so many times and haven't had whatever that other thing is on the menu nearly as much.
Then I ask the Southern husband what he's having, and he says he is deciding between the short ribs and some other thing that I have no interest in. Then I say, "Gee honey, if you have the short ribs then I can order this other thing, and I can have a bite of your short ribs because I'm having a hard time choosing!"
And being the knight in shining armor that he is, he orders the short ribs and I get my other thing.
Then our dinners come out and I have complete diner's remorse about not ordering the short ribs for myself, and the Southern husband reads me like a book, gives me his plate of short ribs and takes my dinner…which was not one of his two choices. This has happened more than once, twice or three times. It's one of the nine million reasons that I love the guy.
So to make it up to him, I decided one day that I was going to make my OWN short ribs. For some reason, short ribs have always intimidated me.But that day I bucked up and gathered my ingredients.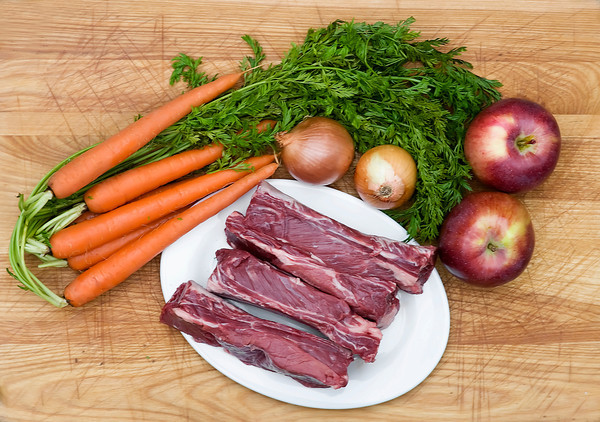 And got out my trusty slow cooker. Somehow things made in the slow cooker are always okay.
Here's how you make slow cooked short ribs with apples and carrots!
It's as easy as this: you peel and cut up the fruit and veggies, toss them and the ribs into the slow cooker, and cover them with a gorgeous concoction of apple juice, vinegar, mustard and other wonderful things. Pop the lid on top and go do other things for 8 or 10 hours.
Laundry-blogging-email-napping-snacking-messing-around-on-Pinterest is usually what I do. Come back, take out the meat the veggies which are now tender and amazing, pour the pan juice into a saucepan and simmer it down with a little cornstarch to thicken it up.
Now pour the sauce over the meat and veggies and have enough short ribs for everyone for a change!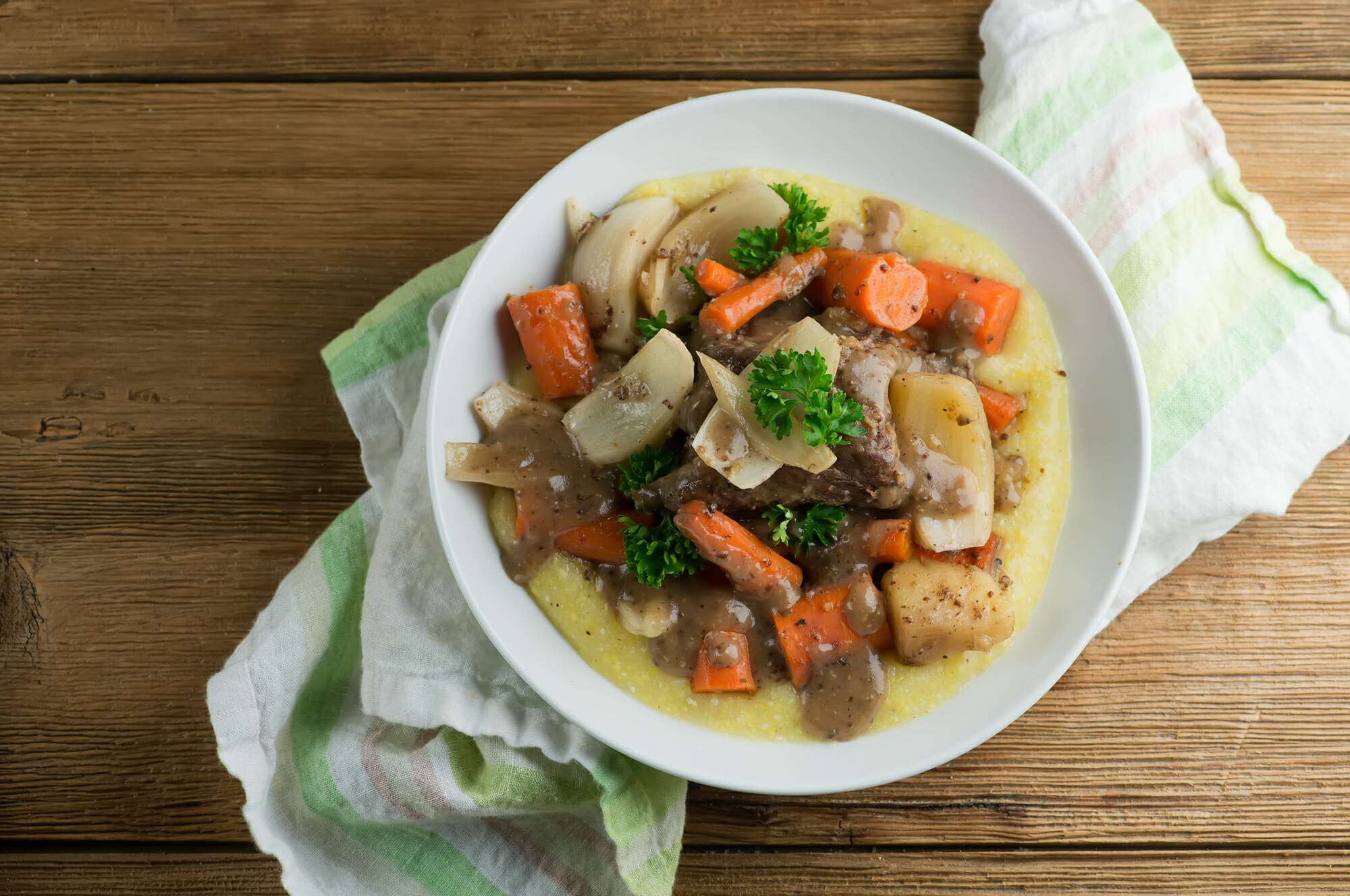 Life is good.  Especially when there is nobody swiping your short ribs.
Print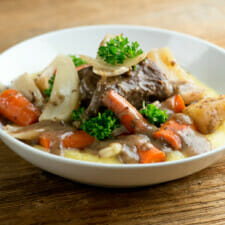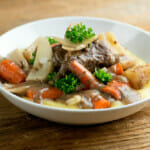 Slow Cooked Short Ribs with Carrots and Apples
---
Author:

Prep Time:

15 minutes

Cook Time:

8 hours

Total Time:

8 hours 15 minutes

Yield:

6

servings

1

x
Category:

Dinner

Method:

Slow Cooker

Cuisine:

American
Description
This simple recipe for slow cooked short ribs with carrots and apples cooks low and slow until it becomes a tender and delicious comfort food supper.
---
Ingredients
1/2 cup

flour
Salt and pepper

3

pounds bone-in beef short ribs

3 tablespoons

canola oil

2

large apples, peeled, cored and cut into large pieces

5

carrots, peeled and cut into

2

inch pieces

1

large sweet onion, peeled and cut into

eight

hs

2 cups

apple juice or apple cider

1 tablespoon

cider vinegar

2

garlic cloves, chopped

2 tablespoons

Worcestershire sauce

1 tablespoon

grainy mustard

1 tablespoon

dried oregano
To thicken the sauce
2 tablespoons

apple juice or cider

1 tablespoon

cornstarch
---
Instructions
Put the flour in a shallow dish or pie plate and season with a pinch of salt and pepper.  Dredge the short ribs in the flour, saving the flour for later.
Heat the oil in a skillet (or right in your slow cooker if it has a sauté function) over high heat.  Sear the short ribs on all sides until brown.  Add to your slow cooker.
Put the apples, carrots and onions in the slow cooker, nestling them around the ribs.
Mix together the apple juice, vinegar, garlic, Worcestershire sauce, mustard, oregano,  a teaspoon of salt and 1/2 teaspoon pepper.  Add the leftover flour from dredging the ribs.
Pour the apple juice mixture over the ribs and veggies, cover your slow cooker and cook on low for 8-10 hours until the beef and veggies are tender.
Transfer the beef, fruit and vegetables to a serving platter. Pour the juices from the slow cooker into a small saucepan and simmer for 5 minutes.
Mix the cornstarch with the cider until smooth. Pour into the simmering juices, bring to a boil and cook for one minute or until the sauce thickens. Pour the sauce over the ribs and serve.
Notes
You can either serve these ribs with the bones or without.  Often the meat will have fallen right off the bones as it has cooked, so in that case just discard them and scoop out the meat.
We like this served over a puddle of warm buttered polenta, but it is also great over pasta, mashed potatoes, or all by itself!
Spiffed up from a previously published Framed Cooks post!