This easy recipe for pasta with grilled tomato sauce takes a whole different approach to traditional sauce by cooking up tomatoes on the grill, giving your pasta supper a sweet and smoky flavor!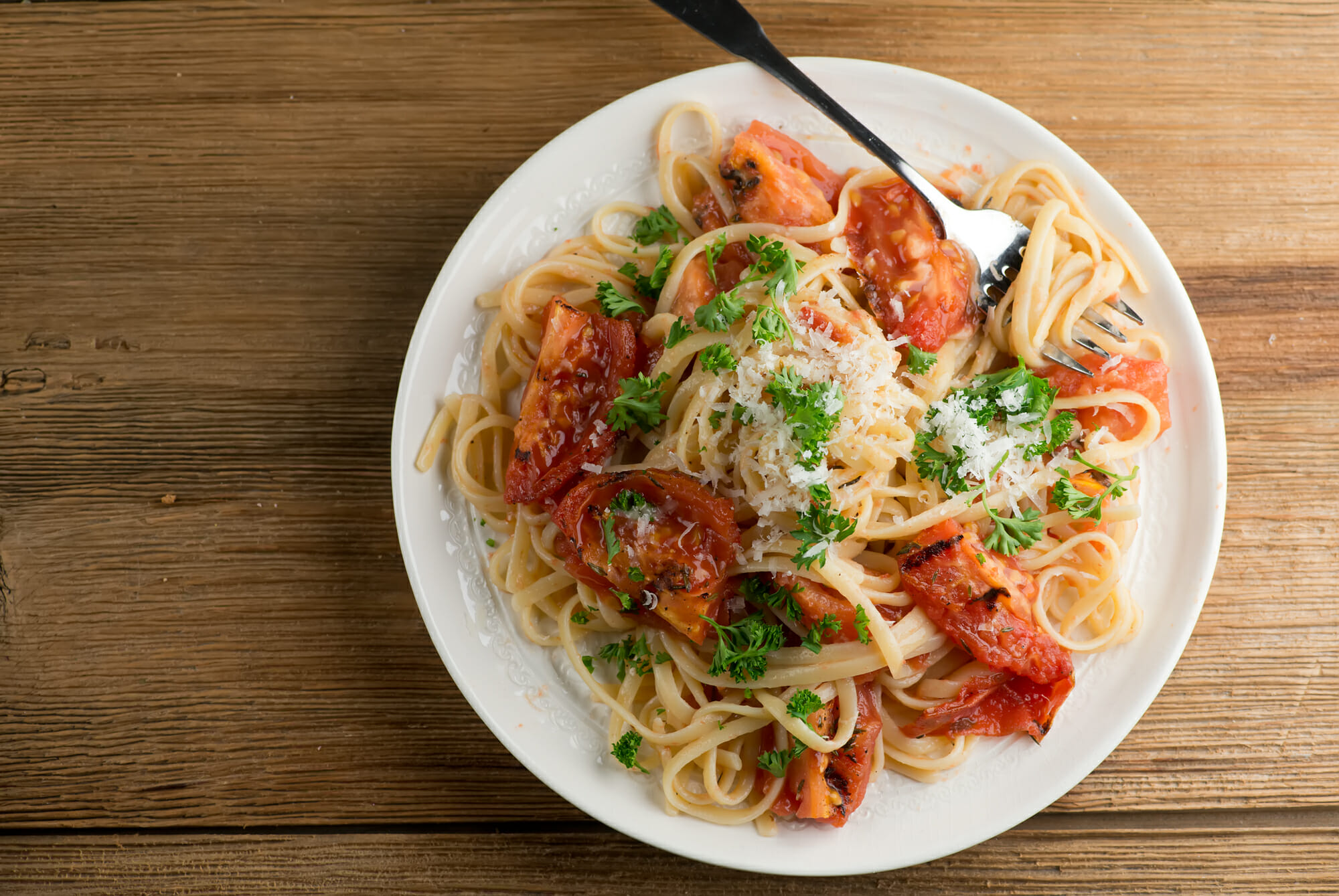 If this recipe sounds familiar, it's because I've had it for a long, long, LONG time, and I've finagled with it enough over the years that I decided I had to post it in its new and improved version. But before I get to that, I need to give credit where credit is due with this quick trip down memory lane.
The first time I worked out this recipe, it was wintertime. In New Jersey. And not early, nicely brisk, you don't mind a quick session with the grill type of winter.
Nope, it was deep-in-the-heart-of-February winter. The grill was covered in a mound of snow, along with everything else in the back yard. But…I really, really wanted to give the idea of a smoky grilled tomato sauce a try. I couldn't get it out of my mind. And so….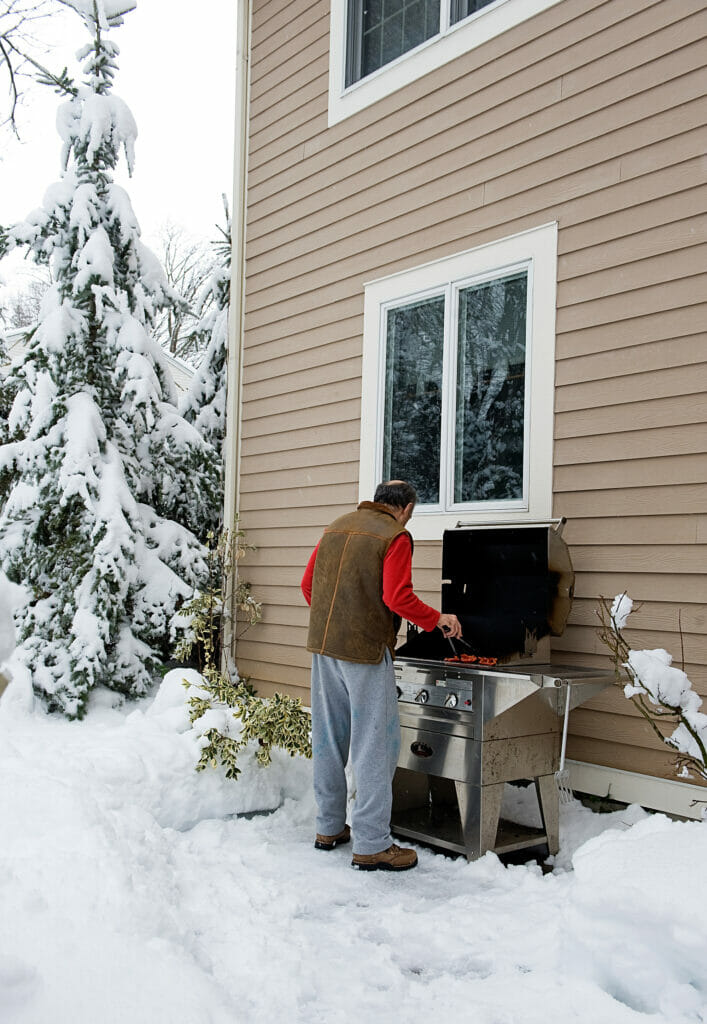 Not only did he grill those tomatoes out in the middle of the snow, he had to shovel out the grill to do it.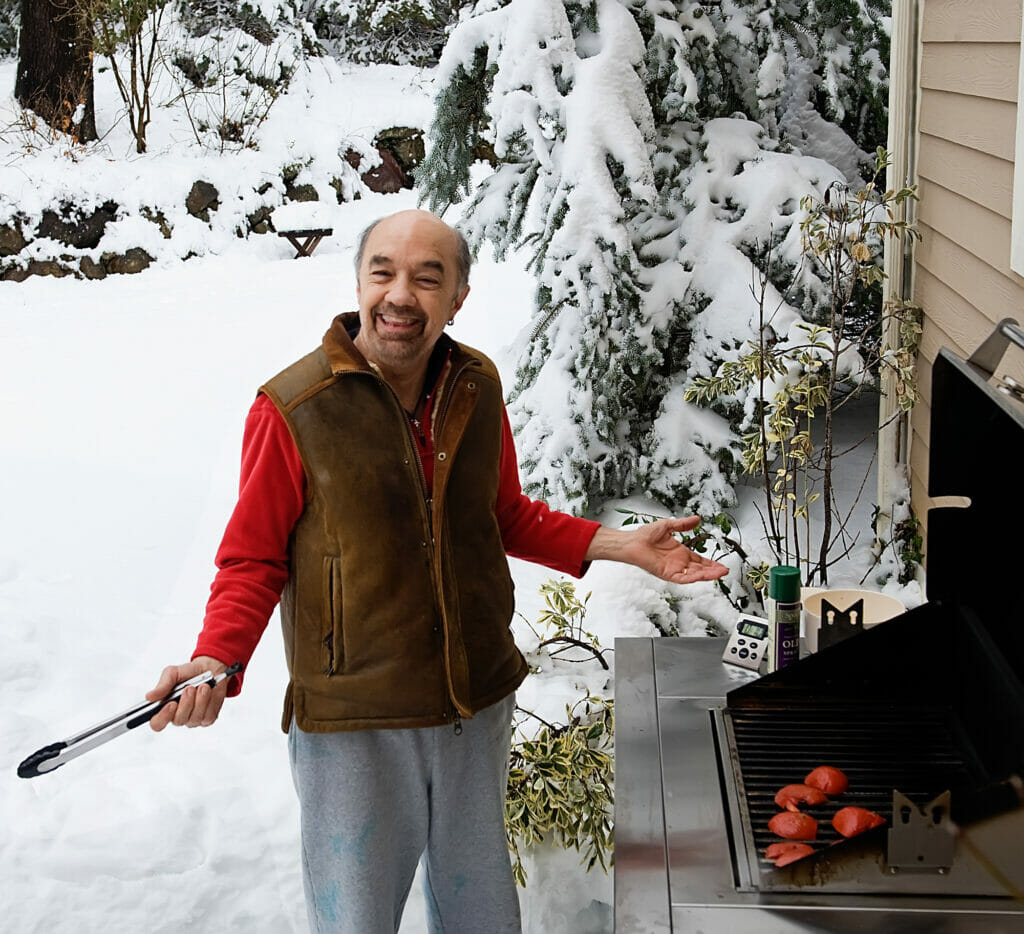 How adorable is he???
We no longer have that grill (although I will bet you anything he still has those sweatpants, no matter how hard I try and get him to Kondo things), but I've made this recipe more than a few times over the years, and I promise I've sent him out to the grill in nicer weather.
But really, this recipe IS worth shoveling out your grill, because those sweet charred tomatoes are going to join forces with some parmesan cheese and pasta to make a hearty, flavorful sauce that is pretty much as far as you can get from the jarred kind.
Here's how you make pasta with grilled tomato sauce!
Grab yourself some plum tomatoes, cut them in half length-wise, and toss them with some olive oil, a little thyme (either fresh or dried will work just fine depending upon what season you are in) and a pinch of salt and pepper, and head out to the grill.
You are going to put the tomatoes cut-side down on the grill, let them roast up for a few minutes, flip them over for another few minutes and here comes the beauty part. Even if you ARE in the dead of February in New Jersey and those tomatoes don't taste anything like fresh summer tomatoes, roasting them on the grill is going to magically restore their tomato flavor.
Now cook up some pasta – and before you drain that pasta, scoop out some of the salty, starchy pasta water. While the pasta is cooking, you can cut the tomatoes up a little to make them easier to eat.
Pour the pasta back into the pot and add a little olive oil, a generous amount of freshly grated parmesan cheese and those tomatoes. Gently toss, and then drizzle just enough of the pasta water into the pot to make a light sauce.
Divvy your glorious pasta with grilled tomato sauce onto warmed plates and sprinkle with some parsley and a little more parmesan cheese and there you are!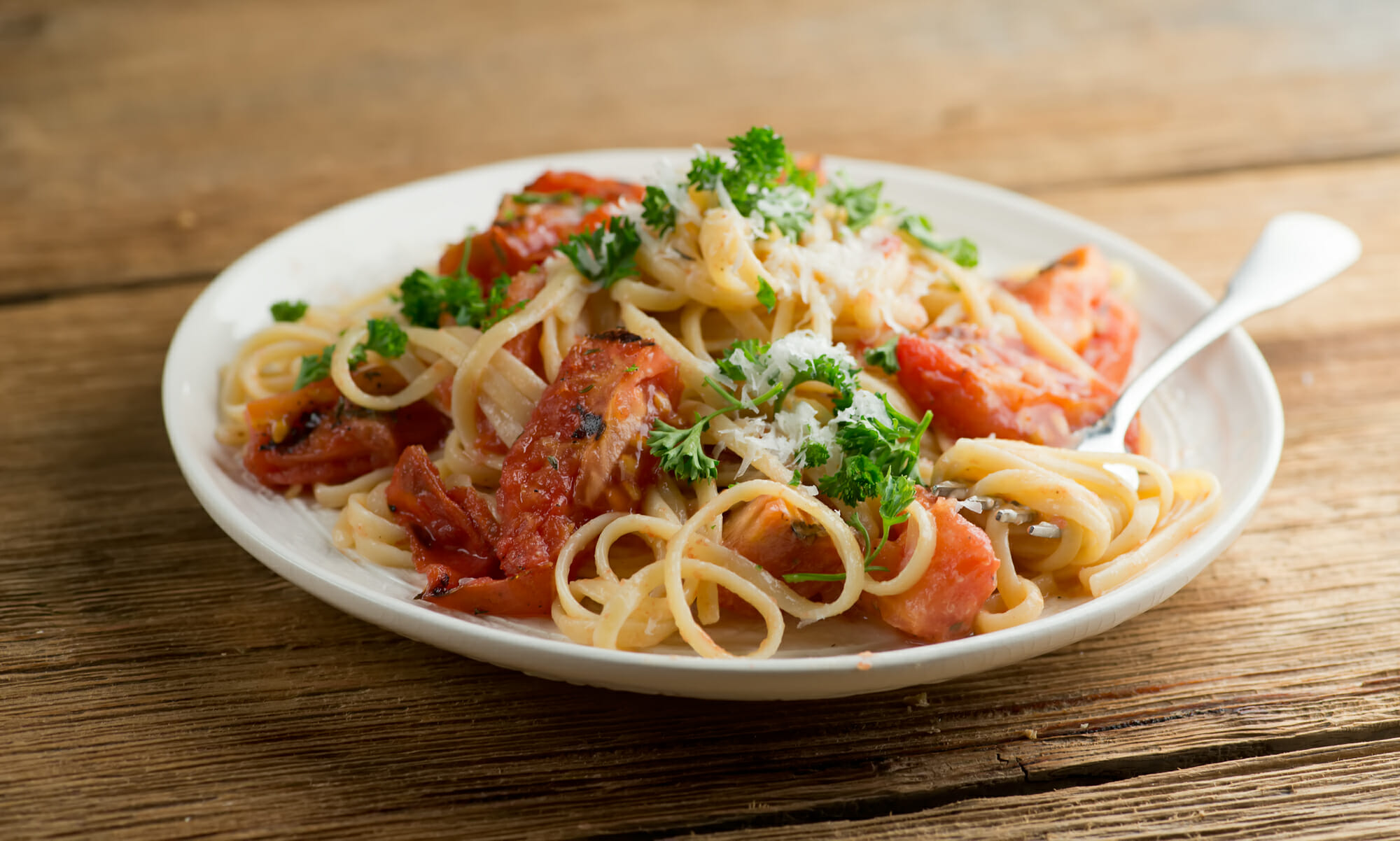 As for the Southern husband, once we make our big move to North Carolina, his days of shoveling his way to the grill will be over.
(I hope I didn't just jinx the entire state of North Carolina into a New Jersey winter as soon as we get down there!)
Want to round out your meal? This recipe pairs well with...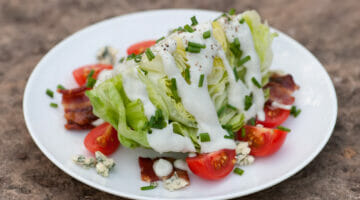 Wedge Salad!
Print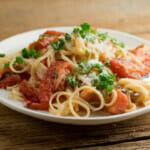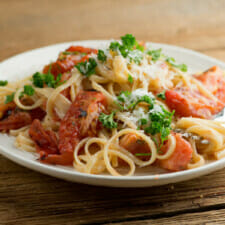 Pasta with Grilled Tomato Sauce
---
Author:

Prep Time:

10 minutes

Cook Time:

10 minutes

Total Time:

20 minutes

Yield:

4

1

x
Category:

Dinner

Method:

Stovetop, Grill

Cuisine:

Italian
Description
This easy recipe for pasta with grilled tomato sauce takes a whole different approach to traditional sauce by cooking up tomatoes on the grill, giving your pasta supper a sweet and smoky flavor!
---
Ingredients
8

plum tomatoes, cut in half length-wise

5 tablespoons

olive oil

1 tablespoon

fresh thyme, or

1 teaspoon

dried thyme
Salt and pepper

8 ounces

linguine or spaghetti

1 cup

grated parmesan, plus more for serving
Fresh chopped parsley for garnish
---
Instructions
Heat grill to high. Toss tomatoes with 3 tablespoons olive oil, thyme and a pinch each of salt and pepper.
Starting with cut side down, grill until soft and charred on both sides, 3 minutes per side.
Cut the tomatoes into quarters or bite-sized chunks with a knife or (even easier!) your trusty kitchen shears.
Cook pasta in heavily salted water according to package directions, and scoop out a cup of pasta water before you drain it. Return the drained pasta to the pot.
Add 2 tablespoons olive oil, the parmesan and grilled tomatoes and gently toss. Drizzle in enough pasta water to make a light sauce.
Divide among warmed plates, sprinkle with parsley and serve!
Serve at once garnished with additional parmesan as needed.