This easy recipe for sweet cornmeal onion rings uses slender slices of Vidalia onions in a cornmeal coating for the lightest and most flavorful onion rings ever. Bet you can't eat just one!
I have very specific feelings when it comes to onion rings.  If they are the kind of onion rings that are thickly sliced and batter-coated – you know the kind where sometimes the onion part slides out and the batter coating is left standing intact – I'm not even tempted.  But if they are the kind that are thin and lightly covered with a crunchy cornmeal coating…well then, I am powerless and must Eat Them All.  Which is why I only make these every once in a blue moon…they are that kind of good.  Ready for light and crunchy  sweet cornmeal onion rings?  Let's make them!
Now, my absolute favorite sweet onion in the whole wide world is the Vidalia onion, and that's not just because they are from the Southern husband's home state of Georgia.  Nope, it's because they are light and gently sweet and cook up into tender perfection.  Most Vidalia onions are grown on family farms across Georgia, and I do love anything and everything that supports family farms.
And we are currently smack in the middle of Vidalia onion season, which runs from April through August, so prepare yourself for a few more Vidalia onion recipes in the weeks to come, because I got me a nice big bowl-full of them.  And I made the very first two into these delectable onion rings.
You want to peel them, and then cut them into the skinniest rings you can manage.  I aim for about a quarter inch or so.  Then I cover them with lots of buttermilk and pop them in the fridge for a good 24 hours or so.
When onion ring making time rolls around, I mix up some flour and cornmeal and salt, drain the buttermilk off of the onions, and coat them in that cornmeal mixture.
Then I pop them in a pot full of hot vegetable oil until they are golden brown, scoop them out onto paper towels, sprinkle them with salt and let the eating begin.  In this case the eating was delayed while I took their picture for you.
Side note: that is my new haircut that I am testing out for mother-of-the-bride purposes.  It's a subtle version of a stacked bob, and I'm eager for opinions.  Meantime, while I was making onion rings, the Southern husband was outside cooking a steak to go with them.
That is the picture of an utterly relaxed hound dog luxuriating in the mistaken belief that the steak sizzling away on the grill is for dogs.  Hey, we all gotta have dreams.  Mine is that at least a few more times between now and August, I will be eating handfuls of glorious sweet cornmeal onion rings.  And I hope you do too!
Print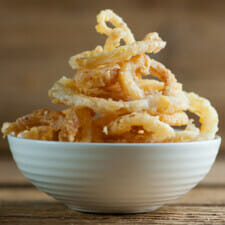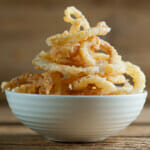 Sweet Cornmeal Onion Rings
---
Author:

Prep Time:

20 minutes

Cook Time:

28 minutes

Total Time:

48 minutes

Yield:

4

servings

1

x
Category:

Side Dish

Method:

Stovetop

Cuisine:

American
Ingredients
2

large sweet onions, preferably Vidalia onions

4 cups

buttermilk
Vegetable oil

1 1/2 cups

flour

3/4 cup

fine ground cornmeal

1 teaspoon

sea salt, plus extra for sprinkling
---
Instructions
Peel the onions and cut them into 1/4 inch rings – as thin as you can get them.  Separate the rings and put them in a mixing bowl.
Pour the buttermilk over the onion rings, making sure they are fully submerged, and put them in the fridge for 24 hours.
When you are ready to make the onion rings, pour enough vegetable oil into a heavy deep pot until it is 2 inches deep.  Turn on the heat to high – if you have a kitchen thermometer, you are looking for it to get to about 350 degrees (this will take about 10 minutes).
Line a rimmed baking sheet with paper towels.
While the oil is heating, mix flour, cornmeal and salt together in a pie plate or other wide dish.  Pour the onions and buttermilk into a strainer, letting the buttermilk run off.
Using tongs, place the onion rings in batches into the cornmeal mixture until they are coated.
Still using the tongs, carefully place the onion rings into the hot oil.  Let them cook for 5-7 minutes or so until they are just turning golden.
Remove them with tong to the paper towel lined pan.  Sprinkle with sea salt and serve – bet you can't eat just one!
SaveSave
SaveSave
SaveSave
SaveSave
SaveSave
*The Vidalia onions used in this recipe were provided courtesy of Porter Novelli.  All opinions and commentary are our own.
SaveSave
SaveSave
SaveSave